2016-2017 Staff
Executive Copy Editor
Executive copy editor and senior, Elisabeth Davies, is ecstatic to be writing for The Lion this year. She has a passion for traveling and visited Madagascar and Comores over the summer. In addition to reporting, she enjoys playing...
See Elisabeth Davies's profile
A&E Writer
Adrienne Joelle Pascual is an Arts & Entertainment writer for The Lion Newspaper. When she's not writing, she can be found singing and playing guitar. She loves music, watching soccer and drinking copious amounts of iced coffee....
See Adrienne Joelle Pascual's profile
Opinions Writer
Angel Lopez, junior, is a staff writer on the Bellarmine Lion Newspaper. A man of mystery and power, whose power is only exceeded by his mystery. When he's not working on making deadlines, he enjoys watching movies with his two...
See Angel Lopez's profile
Brodcast Intern and Features Writer
Max Bessler, junior, is always up for some good journalism. When not chasing down leads, Max spends his time living life to the fullest. He's looking forward to producing not only some great articles, but "brodcast" news videos,...
See Max Bessler's profile
Backpage Writer
Eric VanWinkle is excited to start his first year of Newspaper as a senior. Outside of Newspaper, Eric is involved in ASB and Faith in Formation. He also enjoys playing basketball, skiing, and traveling.
See Eric VanWinkle's profile
Editor and Chief of the Back Page
Dominic Golob is a Senior and in charge of the entire back page of the print edition of The Lion. He is well know for his commitment and dedication to finding and reporting the truth in stories. In addition to the newspaper staff...
See Dominic Golob's profile
Features Writer
Ali Lo is a junior and in charge of features for The Lion. She is looking forward to a new adventure writing for the Lion! Outside the Lion, she's involved in Marine Chemistry, the Nordstrom Fashion Ambassador Program, Nativity...
See Ali Lo's profile
Arts and Entertainment writer
Cristina is a Junior at Bellarmine Prep and is simply euphoric to be a part of the Lion Staff this year. Outside of the demanding life of Bellarmine Journalism, Cristina enjoys playing tennis, petting dogs, and globetrotting.
See Cristina Shaffer's profile
Editor in Chief
Zoë Evans-Agnew, senior, is executive editor in chief of The Lion and a staff writer. She is simply overjoyed to be part of this year's staff, and looks forward to a great year of writing, worrying and working. Her hobbies include...
See Zoë Evans-Agnew's profile
Broadcast Co-Editor
Chloe Hogan is the broadcast co-editor of the Lion Newspaper. She is excited to get this new branch of journalism started. Outside of newspaper Chloe participates in cheerleading and YoungLife.
See Chloe Hogan's profile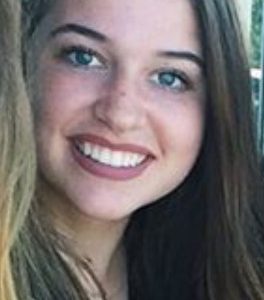 Arts and Entertainment Writer
Katie Mullen, senior, is a staff writer for the Arts and Entertainment section. In her life outside of The Lion, she runs cross country, throws javelin, and watches Arrested Development. She loves cooking, art, going to the beach,...
See Katie Mullen's profile
Co-Editor of Broadcasting and head of Human Resources
Tommy Martin is a proud member of the Bellarmine Lion Newspaper. He felt drawn to journalism due to the thrill of chasing down hard hitting articles. If his paper doesn't put his life on the line, he doesn't write it. Without...
See Tommy Martin's profile
Epicenter Editor
Courtney Hogan is a senior here at Bellarmine. Besides journalism her other activities include tennis, ASB, and Young Life. She enjoys laying in hammocks watching the sunset, hiking, and being on the water with friends. When asked...
See Courtney Hogan 's profile
Executive Online Editor
Lindsay Baerg is the executive online editor. At Bellarmine she is a part of Eucharistic Ministry, Nativity House, and Marine Chemistry. Outside of school she enjoys spending time with friends and family.
See Lindsay Baerg's profile