'My Fair Lady' opens mid-November
By Samantha Bradley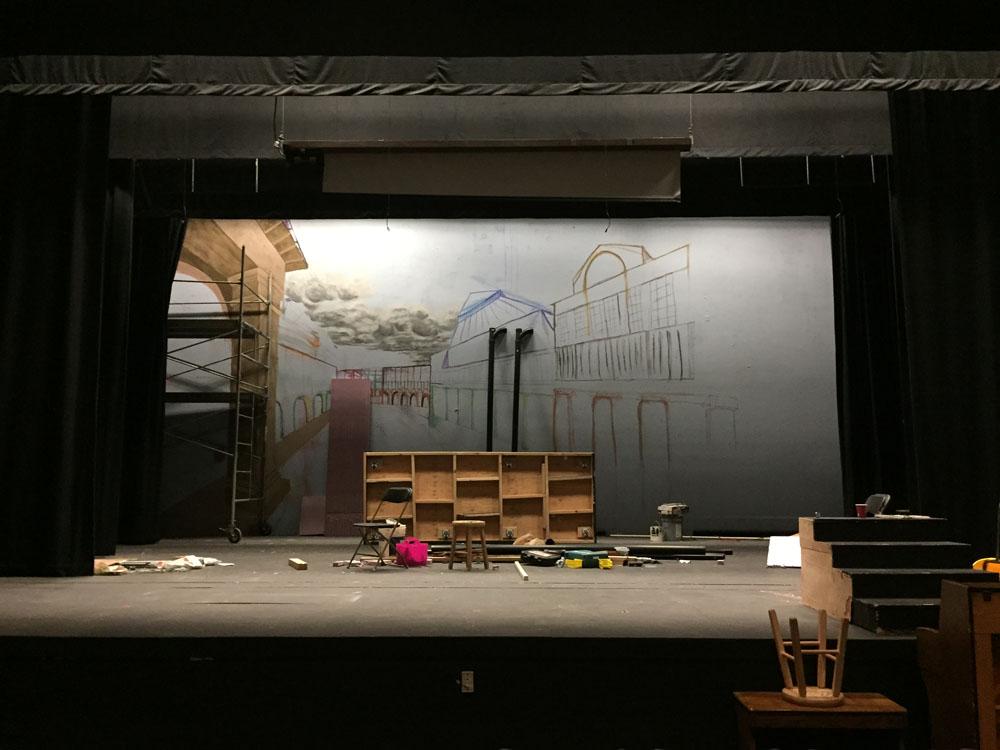 Bellarmine, get ready humor and witty phrases with 2015's fall musical, "My Fair Lady." This year's performance will cover every category, from comedy to drama to feel-good classic.
"It's funny, it's romantic, it's cute… It's got everything," said freshman Griffin Cox, who plays Freddy Eynsford-Hill.
Besides the fantastic storyline, the exclusiveness of this production takes it to the top of the must-see list.
"For the last six years or so, the show has not been available for production because of a planned movie remake and Broadway revival," said Gabriel McPherson, director of Bellarmine's drama department. "None of those plans have yet panned out, so a window of availability was opened for amateur productions to commence. We are the only school in the state to get the rights to do 'My Fair Lady' this season!"
What is this musical made of? A bet. A confident professor. A flower girl.
Professor Henry Higgins takes on the challenge to transform a cockney flower girl, Eliza Doolittle, into a lady of society."The musical is created around two completely different worlds – the one Eliza comes from, a harsh life on the streets, and the one Henry comes from, the refined and formal upper class," said junior Miranda White.
White stars as Eliza Doolittle, and she could not be more ecstatic for the role and for this year's cast and crew.
"Playing Eliza is fascinating, challenging and an absolute honor. She's this character that thousands have loved, either in movie form as Audrey Hepburn or in musical form as Julie Andrews," White said. "I admire both women very highly, they're both quite talented and beautiful!"
Starring alongside White is Eric Graupensperger, who plays Professor Higgins."[Graupensperger's] is an impossibly complicated musical role due to how much speaking rhythms and wordplay are woven into the melodies of Higgins' songs… his musicality is really going to bring these songs off the page," said McPherson.
To top off a legendary musical and solid cast, this performance includes a grand set and orchestra. McPherson said that the orchestra is "possibly the biggest pit orchestra Mr. Lewis has ever assembled," and that he and Ben Meeker's partnership will shine in "a very modern and fluid look for a classic piece."
Surely no one is questioning the grand quality of this musical, but some wonder why the musical schedule was switched with that of the fall play. "The reasons are varied, but chief among them is that the fall is a much lighter schedule for Mr. Lewis and the music department," explains McPherson. "It made sense to lesson the pressures that solo ensemble contest [and other events] put on the department in the spring semester." Besides that, the switch gives the drama department a more year-round schedule, which builds energy and participation in the department.
What should the audience expect in this musical? Director McPherson answers this question best. "I think people are going to be simply shocked by the high level of professional production and performance they see on the Bellarmine Stage. We are a college preparatory institution and the performing arts should be no exception… I can guarantee you that 'My Fair Lady' will be like nothing you've ever seen at Bellarmine Prep!"
There you have it, Bellarmine. With all questions answered, you can expect nothing less than a fine fall musical.
Tickets are available now for shows on Nov. 13, 14, 15, 19, 20, 21, 22.