Music Department hits high note
Music chair Frank Lewis recently announced the results from the 2016 Commencement Bay Regional Piano and Vocal/Instrumental Solo Ensemble Contest. His March 8 email subject title, "Music Department Has Great News to Share," captured the pride of this prestigious program.
Junior Casey Burgess agrees with his teacher's assessment. "Being a part of the Bellarmine music program is such a privilege. I get to sing every day and work with an awesome director in Mr. Lewis. The regional finalists have put in so much work on their solos and duets, and I can't wait to see them go far in competition."
Lewis explained the results below.
In March, Bellarmine students competed against students from the Tacoma, Fife, Peninsula, and Vashon Island districts for the opportunity to advance to the State Music competition in April at Central Washington University in Ellensburg. Bellarmine earned 30 Superior ratings at contest.
(A Superior rating is a performance of the highest caliber, distinctive in every respect.)
Bellarmine will send 33 music students to represent Bellarmine at the State contest in April.
Bellarmine Ensembles and 7 soloists took first place and will advance to the State contest. Additionally, 3 soloists and 2 ensembles took 2nd place earning 1st alternate spots; 3 soloists and 2 ensembles took 3rd place earning 2nd alternate to the state contest.
1st Place Solo Winners Advancing to State
Soprano Voice Category Miranda White
Alto Voice Category Cecilia Lewis
Tenor Voice Category Eric Graupensperger
Bass Voice Category Aiden Brown
Viola Category Rose Heimstra
Bass Clarinet Category Henry Emery
Oboe Category Ashley Ultsch
1st Place Ensemble Winners Advancing to State
Women's Large Ensemble Men's Large Ensemble Mixed Large Ensemble
The Bellarmine Treble Makers The Bell R Men Bellarmine Mixed Ensemble
Justine Sullivan Derek Burgonio Derek Burgonio
Grace Hendrickson Matthew Turner Adien Brown
Marisa Gooding Aiden Brown Riley Galante
Kellie Roscoe JJ McMonigal JJ McMonigal
Julia Gavigan Riley Galante Ryan Baer
Elizabeth Blodgett Dominique Noel-Harrison Lauren Thomas
Lauren Thomas Kevin Yu Claire Colombini
Claire Colombini Sean Lane Miranda White
Miranda White Cameron Wyman Cecilia Lewis
Morgan Robydek Ryan Baer Eric Graupensperger
Cecilia Lewis Eric Graupensperger Grace Hendrickson
Maddie McCann Chasen Misko-Capell Morgan Robydek
Veronica Fransisco Paul Vano Maddie McCann
Sophia Jahns Elizabeth Blodgett Chasen Misko-Capell Paul Vano
Women's Small Ensemble Men's Small Ensemble Mixed Small Ensemble
BPS Women's Duet 2 Men in Black BPS Mixed Duet
Elizabeth Blodgett Eric Graupensperger Eric Graupensperger
Grace Hendrickson Riley Galante Cecilia Lewis
Woodwind Small Ensemble
Dynasty Sax Quartet
Eric Graupensperger
Sharon Ideguchi
Colby Jackson
EJ Velasco
About the Writer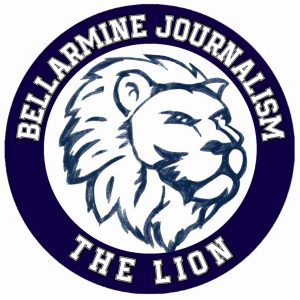 Lion Staff, Writer
The Lion staff loves to fill in and write about anything Bellarmine Prep-related.