Singers welcome holiday season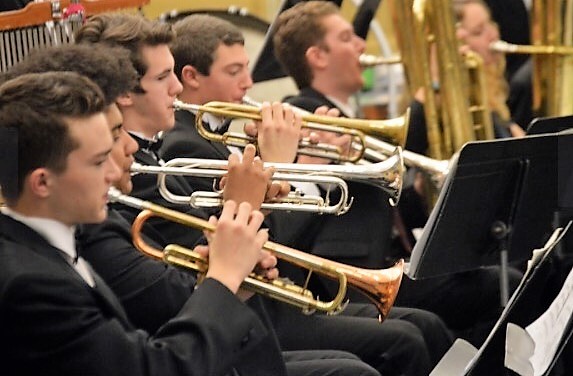 Bellarmine's music department performed on Monday night, Dec. 5, officially bringing in the sounds of the season. They had their annual Christmas concert consisting of performances from all of the different musical groups here at school. It was a fantastic time to get together with families, friends, and even get into the spirit of the holiday season with strangers.
In the Booster Gym, the voices of the Men of Bellarmine opened the show with a song that had a festive feel to it "Thirty Seconds of Fa La La." This was followed by three more songs that were sang with harmony and sounded wonderful, setting the tone for the enchanted hour of performances that followed.
The MOB (Men of Bellarmine) was followed by the chamber orchestra who displayed the Christmas mood by playing "Winter Wonderland/Let it Snow." All of the musical groups have been working hard to get ready for the concert and it showed.
"We've done a lot together and we performed really well," said Lauren Kott, junior. The orchestra sounded great throughout their whole performance.
Eric Graupensperger, senior, said, "All five pieces that the orchestra played were amazing."
Next up was the concert band. The group's first piece continued with the Christmas spirit playing a section from The Polar Express. "It was great, better than expected. When we performed, it sounded perfect," said Claudia Modarelli, junior.
Con gratia and vocal ensemble were next after that. Con gratia performed several
unique pieces beautifully. Graupensperger said, "The girls choir did great! Vocal ensemble followed suit and showed off their talent as young vocalists.
Daniel Beck, freshman, said, "Personally I think vocal ensemble did spectacular. Although the group had no music to accompany them ,they were able to perform it all with just their mouths."
Closing the event was the wind ensemble who performed a few classic Christmas songs, like "A Most Wonderful Christmas" and "Sleigh Ride."
When asked what they liked most about the concert, Patrick McDonough, senior, said, "Just being able to listen and support. We have fun listening and it's a great learning experience."
JJ McMonigal, junior, also expressed what he liked most about the concert. "It was a
lot of fun. It was great seeing all the students and teachers come and watch."
Overall, the annual Christmas concert provides an evening of happiness, all while being a part of the Christmas season spirit.
It's an opportunity for those in the Bellarmine community to witness the talent of the different musical groups. One fan mentioned that "the concert is an absolutely wonderful event and is one that everyone in the Bellarmine community should join in on at least once."
It was indeed an impressive event that left everyone in the audience with smiles as they poured out of the gym and into the crisp December night.