The annual art show is a gem
Deven Patel and Lindon Coulter-Peterson
June 18, 2018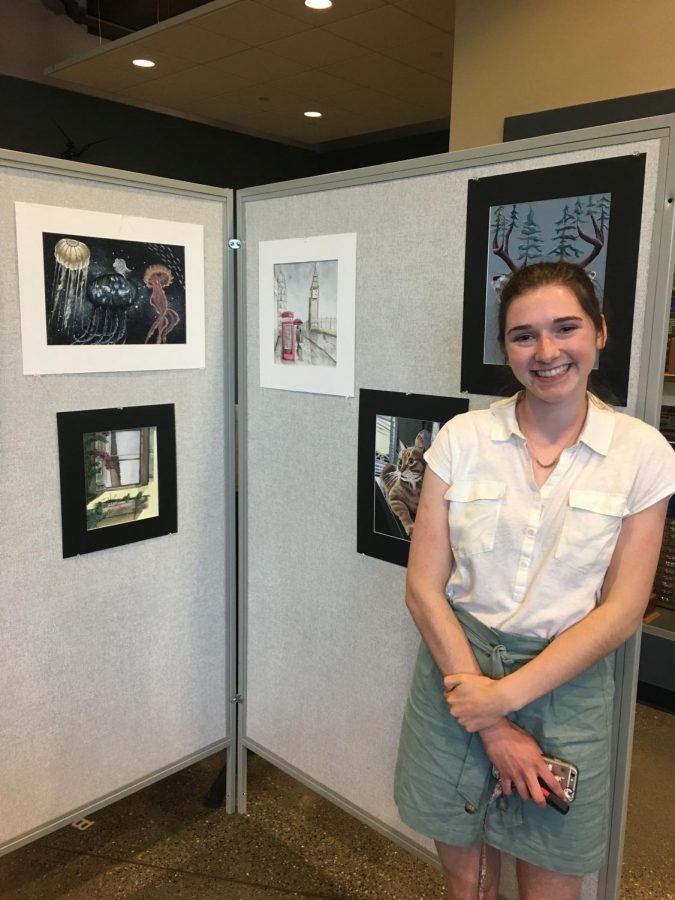 Walking into the gym foyer was an experience like no other on Wednesday, April 25. It was the Evening of the Arts, possibly one of the most under-appreciated events at Bellarmine. The room was redone, with art stands sprawled across the floor. Towards the corner, a large piano sat with a small makeshift stage. Students took turns walking up to the stage and eloquently performing various musical pieces.
Ranging from Riley Galante's masterful voice to Max Gross-Shader playing different playful tones on the clarinet, this performance had it all. The students who qualified for state or who were alternates for state gave performances as spectators were free to walk around and observe the various visual arts on display. However, these musical performances were so captivating it often seemed the whole room sat still and listened.
The music was complemented by the best pieces of art Bellarmine students have to offer. The main showcases were by seniors who have participated in the Bellarmine art program for the majority of their time. In total, there were nine seniors showing off their work: Yelena VerValin, Kate Owens, Jennifer-Nicole Pennypacker, Sydney Gillette, Kyra Marsh, Trielle Alstead, Clare Cantus, Emma Cantus and Nate Graves.
These seniors had everything on display, including beautiful ceramic bowls and plates, surrealist drawings, clay sculptures and even different photographs. Students and proud parents alike walked around in awe gazing at the art. Some of the seniors stood near their displays, while others walked around and looked at others' work, or even watched the performances.
The works of art on display were nothing short than outstanding. The art shown was the result of three to four years of dedication and passion towards the respective fields. Drawing wise, Marsh had extensively detailed 2D surrealist drawings on display. Owens had a little bit of everything, but her favorite piece on display was a colored pencil drawing. In the ceramics world, Graves had a beautiful assortment of different pots and plates he made. Ceramics have been such a huge part of his Bellarmine experience he bought his own kiln for his house. Now, he continues to pursue his passion out of the classroom.
For these seniors, this was the last time they would display their creative talents at a Bellarmine event. Each of them started their respective journeys at different times and places, but they all emit a similar passion for their craft.
This passion creates connections unlike any others at Bellarmine. Graves said, "The art department has given me something to do outside of athletics; it's given me a community."
Bellarmine's music department has also helped create special bonds and relationships amongst its students. Senior Aaron Pantoja said, "If it were not for the music department, my life would be completely different. Bellarmine's band has given me something more than a class or a community; it's given me a family, an identity." The other students of the Bellarmine musical department agreed.
Senior Julian Payne said, "I wouldn't have stayed at Bellarmine had it not been for the band." Still, other Bellarmine students have taken on mentor roles within their different groups.
Gross-Shader stated that Class of 2017 graduate Colby Jackson was one of his biggest influences at Bellarmine, let alone in the music department.
Many students didn't discover their talents until they arrived at Bellarmine. Owens said the three art teachers really pushed her to try new things, and that she wouldn't have found her passion without their help. The influence of teachers is common in every creative student at the event.
Graves started his own ceramics business after finding his skill in Bellarmine's art classes. He said that art teachers Ben Meeker and Dan Cohen have made a huge impact on his life, and that, "Cohen even came to my house to help me set up my kiln."
Marsh said, "Originally, I came into Bellarmine with absolutely zero intention of taking any visual art classes… The Bellarmine Art program truly changed my course of life, encouraging me to be an authentic storyteller, resulting in me now planning on studying visual art and animation in college."
A few seniors said that their artistic interests piqued even before coming to Bellarmine. GrossShader plays the clarinet, saxophone and violin, and learned to play them as early as the seventh and eighth grades.
Galante said, "I come from a family of musicians," and that he loved music long before he enrolled in Bellarmine. He also said, however, that the Bellarmine music department helped him improve his vocals far more than any of his previous programs. Pantoja expressed similar sentiments, stating that his previous band teacher incited his passion for the clarinet, but that Bellarmine band teacher Casey Whitson has played an instrumental role in his improvement.
The soon-to-be graduating seniors all expressed similar pieces of advice to incoming freshmen and current underclassmen. Most tended to encourage traveling outside one's comfort zone and trying activities he or she wouldn't normally consider.
Senior Sydney Gillette said, "Try as many art classes as you can, and don't be afraid."
Graves, Marsh and Owens all provided similar advice. The programs clearly meant a lot to these seniors, and from them, they hope future students can acquire as much experience and passion as they have.