Recipes to fall for
As fall approaches, there is a new smell in the air, more family time, and festivities just around the corner. With all the days in quarantine and the new season coming, you might need to make some fall recipes to pass the time.
Sophomore Camryn Santory shared this much loved pumpkin chocolate chip bread. Baked to a perfect crisp, this sweet bread will fulfill the fall feeling you need. A flawless spongy loaf is all you need to lift your spirits until Halloween.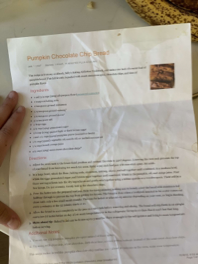 Senior Amelie Steinbacher has made some delicious treats as well. A cookie classic with a pumpkin twist. Her pumpkin Whoopie pies are a perfect dessert to finish the long, cold day. These cookies can be eaten plain or turned into little sandwiches when combined with frosting. Takes only about an hour to make and are super simple!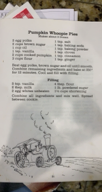 Another sweet dish Steinbacher shared is her morning glory muffins. These wholesome muffins can be for anytime of the day. They are on the healthier side of baked goods, and will make you satisfied and deliciously pleased. The perfect combination of spice and sweet result in a great treat.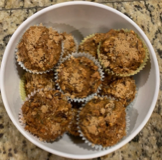 All of these autumn sweets are a great way to lift up your spirits and get in the fall mood. Thanks to these dexterous students, you have some new pastries to make.