Check out these 'can't miss' Christmas events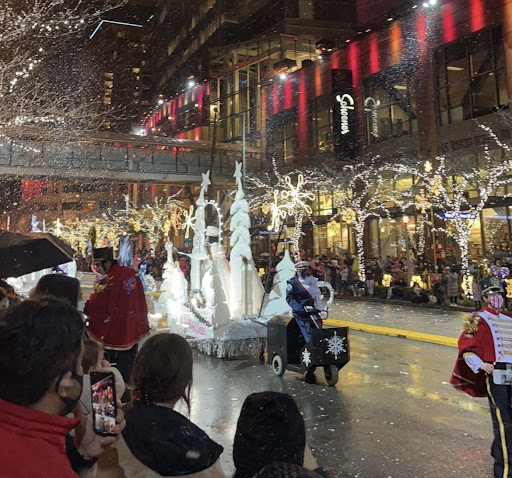 Christmas is a spirited time known for its celebrations of faith, as well as being full of joy, candy canes, music, and enjoying the holidays with family and friends. For many families, company comes flowing in and festivities begin. Whether you need some inspiration to fill up that family time that can sometimes be exhausting, or if you want to drive somewhere local with a car full of friends, this list will give you a head start on your holiday activity list.
Snowflake lane 
This popular event is held outside the Bellevue mall, not far from the Bellarmine campus. Starting at 7 p.m. every night from Nov. 26 to Dec. 24, parades full of decorated floats and enthusiastic actors sweep the main street in Bellevue square. The atmosphere is only boosted by the artificial snow that floods the crowds near the end of the event.
Zoolights
If you had to guess one event to be on this list, it'd be a safe bet you would've said Zoolights. Nevertheless, it is a classic event that can bring up nostalgic memories or new experiences. With 800,000 LED lights strung around the animal grounds, it is a great place to snap some photos and have a good time with friends. Held locally at the Point Defiance Zoo and Aquarium from Nov. 26 through Jan.2, everyone should check it out at least once.
Fantasy Lights Spanaway 
The Spanaway Park drive-through light display is the largest one in the Northwest. There are 300 elaborate displays of Christmas lights through a two-mile drive along Spanaway Lake. Tickets are purchased by vehicles, costing $15 per ticket. The dates are Nov. 26 through Jan. 2.
Reverse Parade of Lights 
A very local event to Bellarmine's campus, the Reverse Parade of Lights is viewed entirely from your car, or with people lining the streets. It is a one day event taking place on Dec. 12. With floats, bands, and classic cars that make their way through Downtown Lakewood, it's a simple event to do on this particular weekend.
Pacific Northwest Ballet "The Nutcracker" 
From Nov. 26 through Dec. 28, a nostalgic Christmas show will be put on by the PNB. With COVID safety protocols in place, the show is set to go on without interruption. Ticket prices differ based on seating level, but this classic Christmas activity is one of the best.
Experience Magic in the Pike Place Market 
Beginning on Nov. 27, this Seattle event will take place from 11 am-5:30 pm. In the market, magical festivities including Santa photos, shops to buy gifts, and photo ops are all surrounded by market lighting.
Leavenworth Christmas Lighting Festival 
A well-known holiday event is one of the most spectacular in the state. In previous years, the weekend festivals have drawn large crowds to see the lights switch on. However, to follow COVID safety, lights will be on 7 days a week for 2021 to lessen the crowds on specific weekends. With dining, shopping, and entertainment options all across the main part of town, Leavenworth has one of the most memorable holiday towns in the Pacific Northwest.