Crumbl Cookie opens down the hill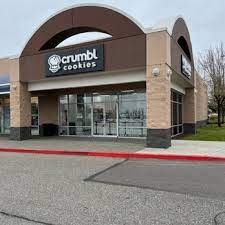 On Feb. 24, Crumbl Cookies, a popular cookie destination, opened down the street from Bellarmine.
Right next to Target you can now find new and creative weekly flavors. Make sure to travel down the hill and check out the new spot to see if you like the new flavors as they change every week.
As a sneak peek I reviewed these flavors: Key Lime Pie, Snickers Peanut Butter, Vanilla Oatmeal, and Triple Chocolate Chip.
From best to worst this is how I rate these flavors: Snickers Peanut Butter, Triple Chocolate, Vanilla Oatmeal, and lastly Key Lime Pie. I'm a fan of peanut butter and the base of this cookie was splendid and the added Snickers made it fantastic. Triple Chocolate was simple and flavorful, a classic. I'm not a fan of Oatmeal but enjoyed this flavor. The vanilla glaze really put it over the top. Lastly, I am not a fan of Key Lime so I did not enjoy this flavor but anyone who likes this flavor I think would enjoy.
Here is what some of your peers think about Crumbl Cookies.
Senior Mia Filand remarks that Crumbl is "good on occasion but not something I would want to eat everyday".
Senior Max Walker said that Crumbl is "caloric gloriousness!"
Sten Rasmussen, a senior, says that he has never been able to try Crumbl but now as it is down the street he's going to make it a daily trip.