An Overview of Tim Burton's New Twisted Adaptation, 'Wednesday'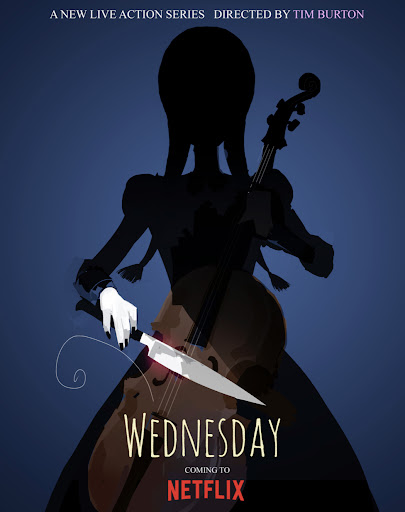 *Cue "The Addams Family" theme song.*
On Nov. 23, the latest adaptation of a cult classic, "The Addams Family," was released on Netflix for the world to see. This new show follows the black sheep of the macabre family, the chronically-pessimistic Wednesday Addams.
After nearly escaping an attempted murder charge, a reluctant Wednesday is sent to a high school for outcasts and her parents' alma mater, the infamous Nevermore. Nevermore, laying outside of the small, judgmental town of Jericho, is home to werewolves, vampires, sirens, and secret societies alike. In other words, Wednesday, an obvious outcast herself, should feel right at home, but that is not the case. After receiving a warm welcome from her colorful and spirited roommate, Wednesday recoils at the idea of spending the rest of her year at Nevermore. Eager to avoid following in the footsteps of her Nevermore-loving parents, Morticia and Gomez Addams, always-scheming Wednesday immediately devises a plan to run away.
With the help of the sheriff of Jericho's son, Tyler, Wednesday sets up the perfect escape. That is, until, she is nearly murdered. Excited about the prospect of a little more action at her new school, an intrigued Wednesday decides to stick around. And, originally sent as a spy for her parents, Wednesday gains the loyalty of her family's helping hand, Thing.
All while trying to find the supernatural culprit behind a series of murders, Wednesday unwillingly gets caught up in the typical high school scene. Nevermore, like any school, has its own cliques, competition, drama, and, of course, rule-breaking.
As she follows every possible lead, Wednesday has her fair-share of run-ins with Nevermore's principal, Larissa Weems, and Jericho's sheriff, Donovan Galpin. However, Wednesday's determination never wavers. And, after finding out that she has her own role in the very mystery she is eager to solve, Wednesday resolves to risk expulsion if it means catching the culprit. To get to the bottom of the case, Wednesday has to avoid getting caught up in friendships, love triangles, and the hands (or claws) of the killer…
Now a month after its debut, "Wednesday" has racked up views, and, according to Variety Magazine has become "Netflix's No. 2 most popular English-language series of all time" (Hailu and Spangler). It is safe to say that "Wednesday" has become everyone's newest favorite series. With an unexpected sprinkle of romance, this gothic teen drama has captured the attention of avid Netflix watchers everywhere, and leaves fans waiting for a second season.