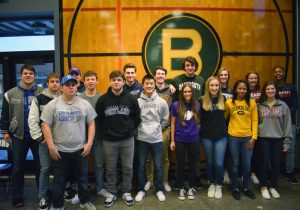 February 7, 2018
On Wednesday, Feb. 7, on National Signing Day, 17 Bellarmine student athletes officially announced their future colleges where they will continue their sports careers. Jordan...
December 8, 2017
Nov. 13 marked the start of a new wrestling season here at Bellarmine. Across the wrestling team handbook reads a short saying in bold, capitalized letters: "Hard work!...
Anaiis Dunbar, Guest Writer
December 31, 2018
As Bellarmine's students of color population rises, inclusion across campus is more important. Through awareness coupled with a staff committed to acceptance of diversity, Bellarmine's campus will become a second home to all students.
December 30, 2018
No one on the girls' soccer team had noticed the man standing by the fence on Memorial Field. It was a particularly sunny October day, and it wasn't until half way through...
Elisabeth Connett, Bea Pugeda and Maxx Stewart
December 30, 2018
This year, two new and somewhat controversial clubs have been formed at Bellarmine:Young Liberals Club and Young Conservatives Club. These two clubs provoked student discussion...