The Lion announces the winners of the 21st annual cookie contest
One of the most anticipated events of the Journalism staff is the annual Christmas cookie contest. While the staff appreciated and enjoyed all of the 17 cookie submissions, the top three winners were decided after careful consideration. The participants received a $5 Starbucks gift card. The 3rd place winner won a $10 gift card while the 2nd place winner won a $15 gift card. The 1st place winner won $25.
Keep reading to find the recipes used.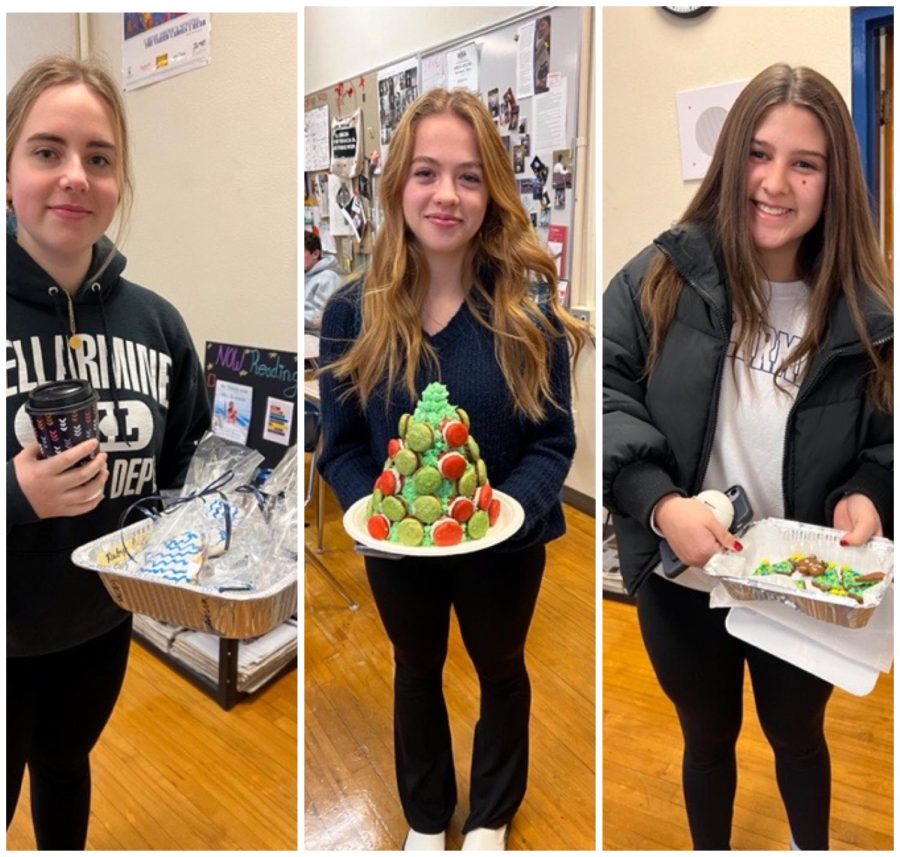 1st Place – Ruby Serra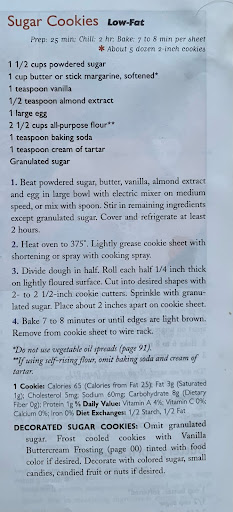 Serra said, "The frosting I made was just trial and error with light corn syrup, food coloring, powdered sugar and vanilla extract. It ended up being like 3 cups powdered sugar, 1/2-3/4 teaspoons vanilla extract, about 3 tablespoons of milk and 2 tablespoons of light corn syrup."
She also added, "My favorite part of baking is how easy and mindless it is for me. I find it peaceful to listen to my music and make yummy food for those around me. It is one of my favorite ways to spend my time especially during the holidays."
2nd Place – Anne Matteson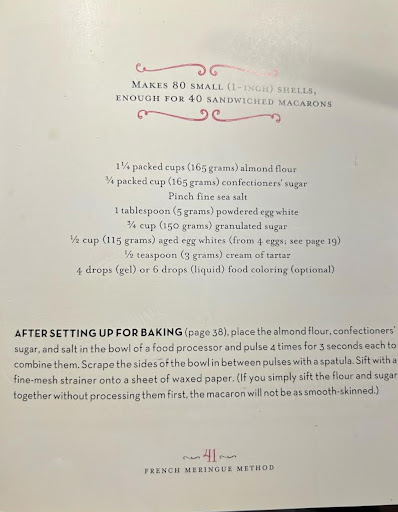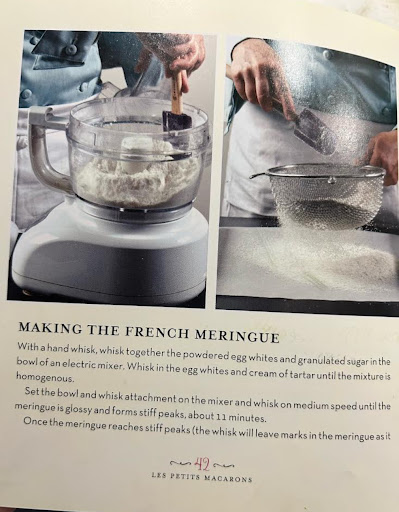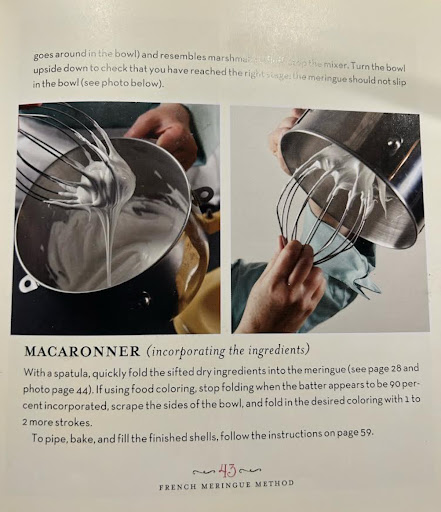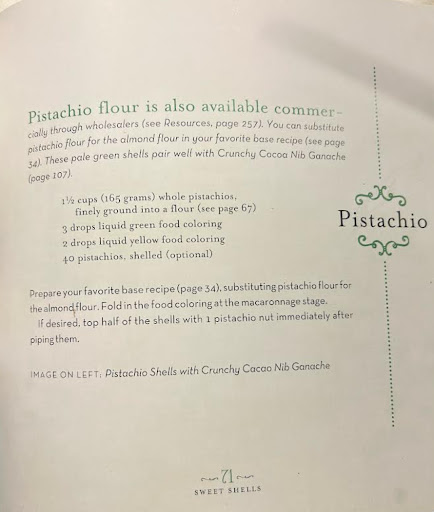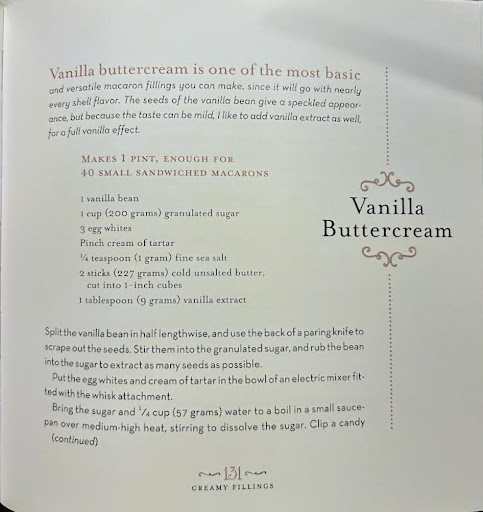 Matteson made both pistachio macarons with a chocolate ganache in the middle, as well as raspberry macarons with vanilla buttercream and raspberry jelly.
She explained, "The tree base was made out of hard card stock which I wrapped into a cone and then stapled. I then wrapped it in plastic wrap a few times. I supported it underneath with tin foil. I then piped on vanilla buttercream that was dyed green to adhere to the macarons."
3rd place – Brooklyn Dennis
Ingredients:
▢ 3 cups all-purpose flour
▢ 3/4 cup dark brown sugar , packed
▢ 3/4 teaspoon baking soda
▢ 1 Tablespoon ground cinnamon
▢ 1 Tablespoon ground ginger
▢ 1/2 teaspoon ground cloves
▢ 1/2 teaspoon salt
▢ 12 Tablespoons butter , room temperature, cut into 12 pieces
▢ 3/4 cup molasses (dark molasses)
▢ 2 Tablespoons milk
For the frosting:
▢ 2 Tbsp butter , room temperature
▢ 2 cups powdered sugar
▢ 2 Tablespoons milk
Instructions:
Add flour, brown sugar, baking soda, cinnamon, ginger, cloves and salt to a mixing bowl and mix.
Add the butter pieces and use a pastry blender to cut the butter in until the mixture resembles fine meal.
With a mixer running on low speed gradually add the molasses and milk and mix until combined, about 30 seconds.
Divide the dough in half, forming each into a ball. Wrap each in plastic wrap and refrigerate for 2 hours or overnight, or place in the freezer for about 20 minutes, until firm, if you're in a hurry.
Preheat the oven to 350 degrees. Line 2 baking sheets with parchment paper.
Remove one dough sheet from the fridge/freezer and place on the counter. Roll out the dough (use a little flour on your rolling pin if needed), until it's about ½ inch thick. Cut gingerbread men and place them on prepared baking sheets.
Refrigerate the gingerbread men for 5 minutes (meanwhile you can roll out the other dough ball).
Bake the cookies until set in the centers and the dough barely retains and imprint when touched very gently with fingertip, 8 to 11 minutes (depending on the size of your cookie cutter). Do not overbake!!
Remove the cookies to a wire rack. Allow to cool to room temperature before frosting.
Store gingerbread cookies in an airtight container with parchment paper between the layers. Freeze for up to 3 months.
For the frosting:
Add butter, milk, and 1 cup of powdered sugar to a bowl. Mix until smooth. Add an additional cup of powdered sugar and mix until smooth. Add frosting to the piping bag if desired.
Dennis said, "What I enjoyed most about making the gingerbread was that it always puts me in the Christmas spirit. I always enjoy decorating the cookies as well. It has always been a tradition in my family to make gingerbread cookies and I am glad I got to share the tradition this year with others."