Lamanna at GC36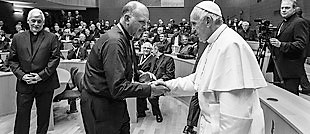 Hang on for a minute...we're trying to find some more stories you might like.
After weeks of anticipation, social studies teacher, Fr. Tom Lamanna, S.J., has finally returned to Bellarmine. Many might think he was enjoying an eight-week Italian vacation, but he was actually busy deciding the next superior general of the Society of Jesuits.
From early September to mid-November, Lamanna flew to Italy and attended the 36th General Congregation of the Jesuits in Rome, also referred to as the GC36. There were 215 Jesuits from all around the world representing their own provinces. At the GC36, they participated in the election of the new head Jesuit of all the world. The congregation also wrote decrees encouraging Jesuits and their works. These decrees will be published. According to Lamanna, "the decrees mainly say what Jesuits and Jesuit works should be focusing on in the future." Another focus during the eight weeks of The General Congregation was to give the Jesuits attending some direction for the next ten years.
Six days a week, Lamanna attended meetings from 9 a.m. to 7 p.m. On Saturdays, he would meet for a half-day. He would have two sessions in the morning, two in the afternoon and then he had mass in the evening. He had a 35-minute commute by foot each day, and he would travel this commute four times a day.
In the meetings Lamanna attended, there were three official lan
guages: English, French and Spanish. The languages would be translated simultaneously in the sessions.
His favorite part of the GC36 was the election process. One thing that was interesting is no one is allowed to campaign for themselves or others in the process of electing the superior general. The Jesuits have four days of one-on-one conversations to discuss interests for the new Superior General. The Jesuits ended up electing Fr. Arturo Sosa, S.J. as the new superior general. He is 68 years old and is from Argentina.
Lamanna also met Pope Francis while he was there. The pope spent three hours with the congregation. During those hours, the pope spoke to them for around 45 minutes, and then prayed with them for another 45 minutes. The Pope then asked questions for about an hour and a half. Before leaving, Pope Francis met with everyone at the congregation, shaking everyone's hand and saying hello to them.
Now that Fr. Tom Lamanna, S.J. has returned, he says, "It was a wonderful experience for the worldwide Society of Jesus." Six