Let's Bag it up
Hang on for a minute...we're trying to find some more stories you might like.
Recently, Eucharistic Ministers have been selling Red Bags as part of The Red Bag project. According to the Red Bag Project website, "The Red Bag is a non-profit organization bringing low-cost bags with basic essentials to the homeless people we see everyday." A Red Bag costs only $5 and can make a real difference in someone's life. Senior Eucharistic Minister Maddy Kokich said, "It's a great way to help out the homeless."
The founder of The Red Bag is Michael McRoskey, a student at the University of Notre Dame. Through The Red Bag he hopes to bring more awareness to the condition and stereotype against homeless people in the United States. McRoskey said, "I started The Red Bag to give anyone the opportunity to make a personal connection and share some love and encouragement with their neighbor in need".
Some people are opposed to giving out money to homeless people so the Red Bag is a great alternative. Senior Eucharistic Minister Lance Joseph stated, "I love the idea of The Red Bag because I'm able to help others in need." The Red Bag is a drawstring bag that consists of an energy bar, water, trail mix, a beef stick, gum, raisins, hand wipes, and a notecard. The drawstring bag is easy to transport and give to a neigh
bor in need. Many people keep Red Bags in their car and hand them out of they see a homeless person in need on the side of the road.
Eucharistic Ministers have sold over 100 bags which is equivalent to over $500. This money will be donated back into the community. If you are interested in purchasing Red Bags visit red-bag.org.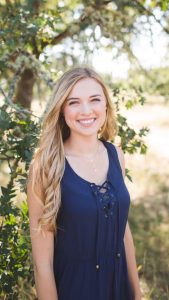 Lindsay Baerg, Executive Online Editor
Lindsay Baerg is the executive online editor. At Bellarmine she is a part of Eucharistic Ministry, Nativity House, and Marine Chemistry. Outside of school...