Profile: not all superheroes wear capes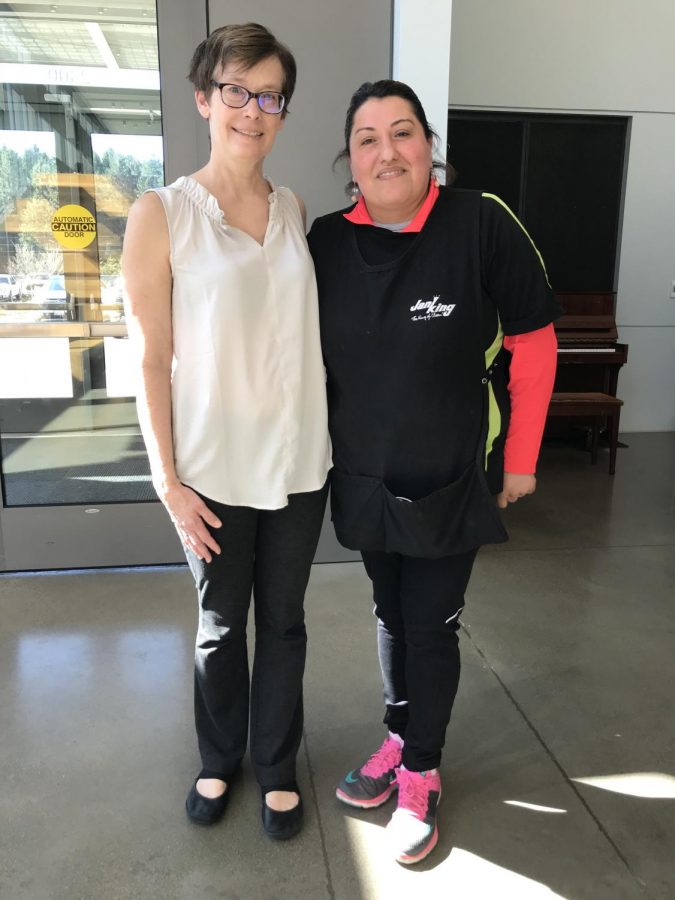 By Amina Kahn
May 31, 2019
When we think of superheroes, we usually think of our favorite Marvel characters like Spider-Man, Captain America or Black Widow. Reality's superheroes, however, don't wear capes. Their uniforms are scrub suits or stethoscopes in hospitals, blazers or suits in courts and badges or bulletproof vests in the field. The same is true of janitor Yessica Ortiz, who is part of a large and largely unnoticed and unappreciated group of workers—the nation's 2.3 million janitors—employed in an industry of cleaning professionals.
At the age of 17, Ortiz began work in the sales section of a mattress store in Mexico City that sells mattresses to the United States, and soon had a second job as a store promoter. She worked a reasonable 8 hours a day, and from there, she decided to move to the United States. Now, Ortiz is a custodian at Bellarmine, while also working in a warehouse after school hours.
Between the two jobs, her work hours are long and hard. She wakes up at 7:30 a.m. to take her son to the school bus and get herself to Bellarmine. She then labors throughout the morning and afternoon, leaving Bellarmine at around 5 p.m. to 6 p.m. to head straight to her warehouse responsibilities. She often has to change clothes because she works in the freezer section of the warehouse. From the warehouse, she works from 6 p.m. to 2 a.m., performing numerous tasks including cleaning 26 bathrooms, 8 offices, and a small dining room.
Ortiz's official title is maintenance engineer.Her work is effectively divided into two jobs here at Bellarmine. A typical day consists primarily of taking out the garbage, cleaning the restrooms and cleaning the tables, floors and kitchen of the Connelly Center twice a day: a total of 4 buildings and around 20 restrooms. This is followed by her restocking sanitary supplies like paper towels, toilet paper and soap. Resupplying and restocking play a significant role in her job her at Bellarmine, as the student population uses supplies at an alarming pace. The bathrooms represent her most difficult work as a custodian, each one being harder to clean than the whole lunch room. It's her least favorite part of the job without question—the work is dirty and has to be done often.
Communication is an integral part of Yessica Ortiz's job. As a bilingual speaker with Spanish as her primary language, clear communication can be a struggle, but most everyone at Bellarmine can understand her well enough. She commented that people who know Spanish, such as Kathy Heiser and others in the Spanish Department, have been a great help.
Ortiz would like the Bellarmine community to know that the work of a janitor is by no means easy. Her hard work is a helpful reminder for the Bellarmine community to respect the facilities and help keep the bathrooms and school clean. Students can respect spaces like the Campus Center and bathrooms by cleaning up after themselves. Being thoughtful about keeping the facilities presentable helps make her job easier and less time-consuming. Ortiz says that she is grateful to be here and that she feels well treated. She appreciates working in a Catholic, welcoming environment.
Ortiz's hard work is an important part of what makes Bellarmine a clean and pleasant place to learn and work. She is among the diligent, tireless heroes whose labor the community should notice and be grateful for. Showing custodians such as Ortiz appreciation by saying hello and thanking them for keeping the buildings and work spaces clean and hospitable goes a long way.
This article was created with the help of Spanish and French teacher and World Languages Chair Kathy Heiser, who helped with the translation. To read more or see photos, visit bellarminelion.com .