Student Julia Witecki's Gold Award project brings free menstrual supplies to Bellarmine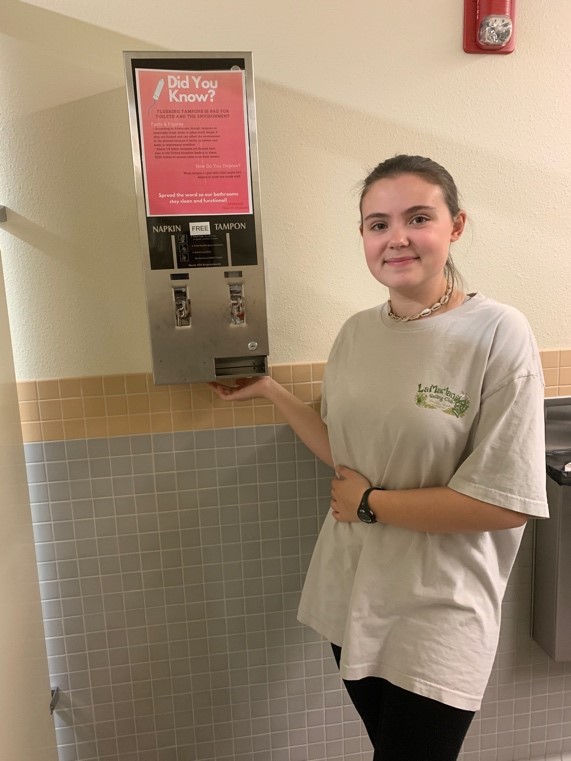 As a Girl Scout, the highest achievement one can earn is the Gold Award, which is similar to an Eagle Scout earned by a Boy Scout. The basis for the award is that it has to be something that will address a root cause in the community, have a creative solution, be able to globally connect to other issues in the world, and be sustainable.
In order to earn her Gold Award through Girl Scouts, Bellarmine senior Julia Witecki decided to tackle the issue of menstrual equity at Bellarmine Prep. The menstrual equity movement is a project that aims to provide girls with safe access to supplies and normalize periods within a community.
To tackle this issue, Witecki decided the first step was to get free supplies in the bathrooms at Bellarmine. Thinking she would be presented with more obstacles, it was refreshing when Facilities  and IT Director Aaron Rogers took her side and agreed to add these products into the school budget. They are a necessity, and including them in the bathrooms at school is an important step, not only for the health of the girls, but for the entire Bellarmine community.
The other part of her project is the education and normalization of periods in the Bellarmine community. It is important to have a safe and open community surrounding this issue, and periods should never be seen as something that needs to be hidden. Menstruation is a natural bodily function and should be talked about whenever and wherever necessary. The first step in her education process is hanging posters in the bathrooms regarding issues such as the flushing of tampons down the toilet, the stigma surrounding periods and other women's health issues.   She was able to advance the education at Bellarmine and open up the community to this issue. Her project this October fit in nicely with the International Day of the Girl, celebrated on October 11.
A little late to that party, Witecki advocates that people should treat every day like International Day of the Girl, always advocating for women's rights.