Bellarmine's K9 Comfort Dog Program Welcomes Senior Students 'Back to Zoom'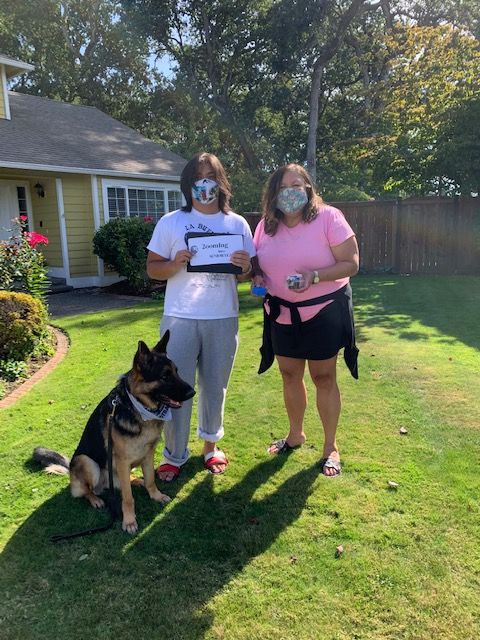 Thought the class of 2020 had it rough?  No spring sports, prom or good-bye hugs from life-long classmates on the last day of school.  What about the senior class of 2021? What's in store for them?
While no one can tell us what the last day of school will look like for the Class of 2021 seniors, we do know how the first week looked.  In early September, the senior class at Bellarmine Preparatory School in Tacoma, like most other high school students in Washington state, had their LAST first day of school online.
First day of school photo for Mom and Dad?  Probably not.  Most simply rolled out of bed and logged onto Zoom.
"Online school has added to the stress and anxiety that COVID-19 has brought to our household," says Tia Gladstone, parent of a Bellarmine senior. "Our kids should be going to football games, spending time with friends and enjoying their senior year."
Like other schools in the area, Bellarmine Prep seeks ways to combat stress in students, even while school is online. Bellarmine is known for educating and assisting the whole student- academically, emotionally, spiritually, and physically. Which is why it is no surprise that for back to school, a Bellarmine teacher and a volunteer brought a comfort canine to some lucky seniors on Labor Day Monday. This dog also delivered a Class of 2021 Zoom card, a mask, a guardian angel coin, and a cupcake to each senior in a particular homeroom.
"These 20 students have been in my Ignatian Formation class for the past three years. However, I have not seen them on campus for six months because of COVID. I am so happy to welcome them to the first weeks of their senior year with a visit from a sweet comfort dog named Titan," said Jeanne Hanigan, faculty member at Bellarmine.  "Socially distanced, of course."
Supporting the emotional side has been a focus for Bellarmine.  Prior to the pandemic, Hanigan also suggested bringing in an AKC Canine Good Certified® dog during finals week last spring.  Students were able to voluntarily visit a comfort dog before, between, or after taking semester final exams.  "We loved it.  It was super cool," said then junior Libby Hearon.
Members of the Bellarmine community, including teachers, faculty/staff, and parents, supported the idea of canine interaction with the kids, including some being willing to fund future CGC® training for more dogs.  In 2019, now seniors Jacob Hanigan and Regan Marsh started the K9 Training Club which will resume when school is back in session.
Titan, a 2-year-old CGC® German Shepherd, is no stranger to the Bellarmine students.  Titan lives near Bellarmine and has attended many football practices and lacrosse games.  Last school year he was the first guest demonstrator at Bellarmine's K9 Training Club demonstrating all 10 CGC® steps to a standing-room-only crowd of students.  During finals week last January, Titan comforted more than 70 students before, after or in-between final exams on Bellarmine's campus.
"Titan seems to understand the kids.  He is also a student himself working on becoming a therapy dog to calm patients who have experienced trauma." said Titan's owner, Nicole Rolfness, a former Bellarmine parent.  "Titan was enrolled to take his own final exam in March to be therapy-dog certified and then COVID-19 cancelled his evaluation.  Such a bummer."
Titan's first week of school visit is a way to bring some happiness to these students and remind them that the entire Bellarmine community is cheering for these kids and their community.