Screen time can cause eye strain and other issues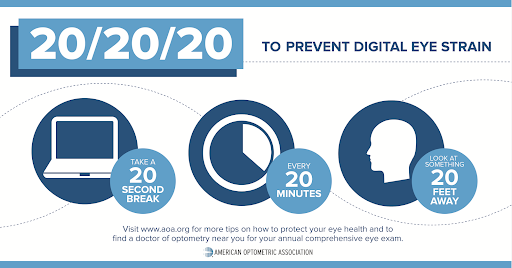 Over the past years, screens have infiltrated almost every aspect of our lives. From changing the radio station in your car to swiping to the next page in your ebook, screens have found ways into actions originally free of monitors.  In consequence of this, it is no surprise that nowadays most people are able to count the daily screen-free activities they accomplish in only one hand.  Many have also experienced small headaches and eye strains from this gradual change to excessive screen use.  But what does this all mean, and can you cause physical damage through too much screen time?
The short answer is no, but also yes.
Many people believe the notion that, like looking into the sun, prolonged screen time can cause permanent eye damage. Although the long term effects on screen time on eyes has not been reliably experimented on as of yet, there seems to be no indication that this is not true.  The sun's UV projections are what may cause corneal damage, and no monitors have emitted this light since the now-obsolete cathode ray screens.  If your eyes seem sore after long screen exposure, they are most likely reacting to the smaller wavelength and higher energy blue light from the monitor.  The American Optometric Association (AOA) describes this as computer eye syndrome (or digital eye strain), and views it as easily curable with limiting screen usage.
So what are some recommendations for lowering your screen time?
Organizations such as the World Health Organization (WHO) and American academy of Pediatrics (AAP) suggest trying to limit recreational screen time to two hours a day.  This can be done through focussing on other activities such as physical and mental exercise, time spent with family, and meditation.  These organizations have observed that many people have the habit of viewing their smartphones or devices before or in bed, and advise to break the routine.  While this may be productive, lots of necessary time reserved for sleep can be wasted during these hours.
On the other hand, the AOA admits that there are times when screen time cannot be avoided.  They have concluded that the typical American worker spends an average of seven hours a day on screens completing work-related tasks. If extended periods of screen time are necessary (for online schooling, perhaps), the AOA recommends the 20-20-20 rule.  This rule recommends a 20 second break from screens every 20 minutes, where you observe something 20 feet away from you.  This technique is used to alleviate eye strain by resetting the slow blink rate while viewing screens.  Another method is to purchase bluelight glasses, which can filter out some of this harsh wavelength.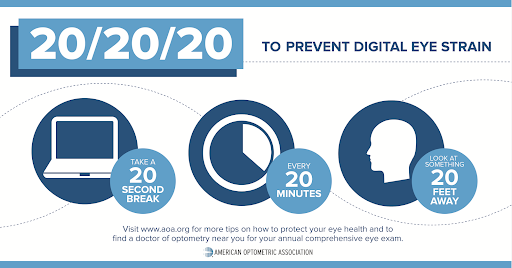 Although you do not need to worry about screen time causing permanent damage to your eyes or health, it is always important to distance from monitors when you are able to go outside and build real relationships with those around you.