My fall semester at The Mountain School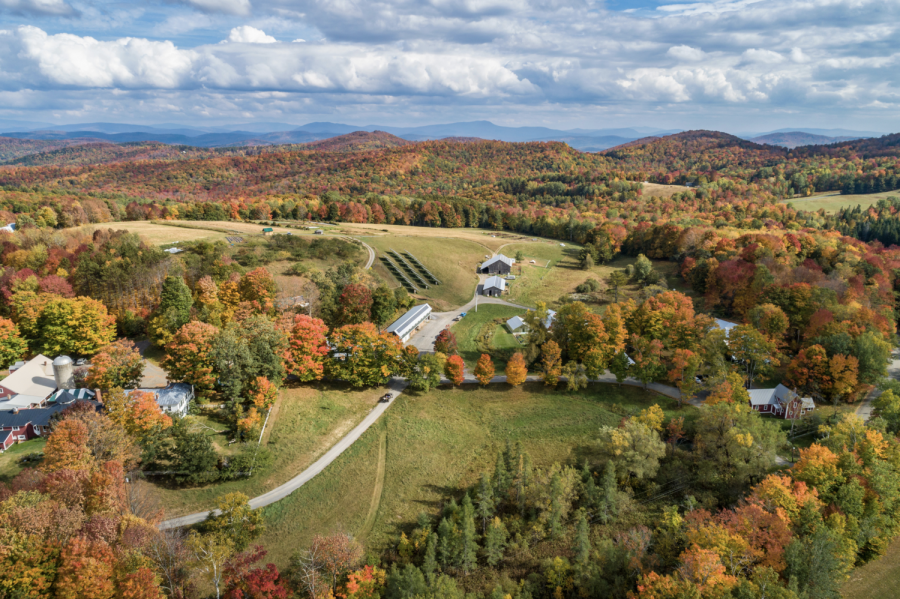 Typically people don't associate junior year of high school with digging for potatoes, cutting down trees for firewood, and herding sheep. Fortunately I was lucky enough to be involved in all of those things and a plethora of other farm work this fall, at The Mountain School. The Mountain School is a semester program for high school juniors, in the tiny rural town of Vershire, VT. The mission of The Mountain School is to cultivate a diverse and interdependent community of scholars who learn to know a place and take care of it, and this fall I was lucky enough to enter a different world of genuine connection to people and clear purpose in a community that I have never seen before.
This fall I attended The Mountain School, and it was decidedly the most formative experience I've ever had. The school is also a farm, and much of our responsibility as students was the maintenance and upkeep of the farm and all of its needs. Every day between classes from about 1:30 to 3:50 was work period, which consisted of things such as wood crew, which involved selectively cutting down trees and turning them into firewood with Kit the history teacher and forest manager, garden crew, which could involve picking corn, tomatillos, carrots, radishes, etc or spreading compost and weeding plant beds. Other work period jobs included harvest kitchen, where harvested vegetables were prepared for the chefs to use, and riding around in a truck bed doing odd farm jobs with Jack Kruse, the math teacher.
Another facet of Mountain School academia was science hike. For three months, each student studied an area of forest, trying to decipher what the land had been used for in different phases of the last five centuries. If you weren't assigned any of these tasks during the work period, you were in Outdoor Program, where students learned outdoor survival skills such as orienteering and shelter-building, all in preparation for a four day solo camping trip for each student with no human contact. For the vast majority of the semester, we had no technology except our laptops. Being without my phone for three months was rejuvenating, however I hardly noticed because we the students were constantly doing something, whether it was being in class, working on the farm, doing homework or eating a farm-cooked meal.
Being at The Mountain School was completely different from anything I've ever experienced. To my surprise, the academics were just as rigorous and engaged as Bellarmine, which challenged me both mentally and emotionally, and helped me grow tremendously both as an academic and as a person. Every student there was lively and inquisitive, highly motivated and intelligent, which made every class conversation and casual dorm room soirees interesting. It was fascinating and exciting to be around so many different types of people who all loved learning with a passion and were excited to strain their brains talking about worldly concepts such as the disastrous effects of capitalism and theoretical solutions.
In addition to the plethora of academic knowledge that was tossed around, I learned a handful of life skills while working on the farm that I hope I never forget. Our history teacher and woodsman Kit taught us how to fell a tree safely and turn it into firewood that was used to heat the school. The Latin teacher and orchard manager Ben taught us how to trim an apple tree, and explained why apples are the most interesting fruit in the world. Gwyen, the livestock manager taught us how to care for and herd sheep, which hopefully comes in handy someday. Throughout the semester we had the veil lifted from our eyes which covered the reality of how much work goes into a place, and through the work taking care of our place, we all learned to love it.
I am incredibly grateful that I got to spend my fall in the mountains of Vershire, VT, and I would recommend this school to anyone who's interested, it will change your life. I am also thankful for all of my Mountain School teachers and their hard work to make the semester possible this fall, to be present at school with no masks in September of 2020 was really quite extraordinary.
My hope is that Bellarmine sophomores consider applying, as I most highly recommend it.