Marine Chemistry goes to Hawaii
Over the past few weeks, many have been caught in the rush of the ever-changing schedule, excited for the return to 50% school attendance. There was a visual excitement throughout the zoom calls as students readied themselves for the return to school. However, the senior Marine Chemistry class was excited for a completely different reason. At the time their classmates would be going back to school, they would be 80 feet underwater, scuba diving off of the shore of Oahu.
In order to be able to go to Hawaii during this time, there was a great effort among the Marine Chemistry facilitators and students. At one point many thought that the trip would be cancelled. But after all pre-flight COVID-19 tests and precautions were taken, they were ready to go. The Marine Chemistry Students departed from SeaTac international airport the morning of Feb. 10, flying across the Pacific and arriving in Honolulu six hours later. 
In Hawaii, the students would complete their advanced underwater diving requirements in the clear waters. The group needed to demonstrate their abilities to navigate possible scuba hazards. This would entail five required dives where the students performed an underwater skill. These skills included taking the diving mask on and off while underwater, identifying different aquatic animals at shipwrecks, and the plotting and executing a dive course with the use of a compass.
"It was really cool to be able to use a compass underwater to rendezvous with the rest of the group during the dives," said senior Brett Kelley. "I had also never been 100 ft underwater before, so that was scary but fun."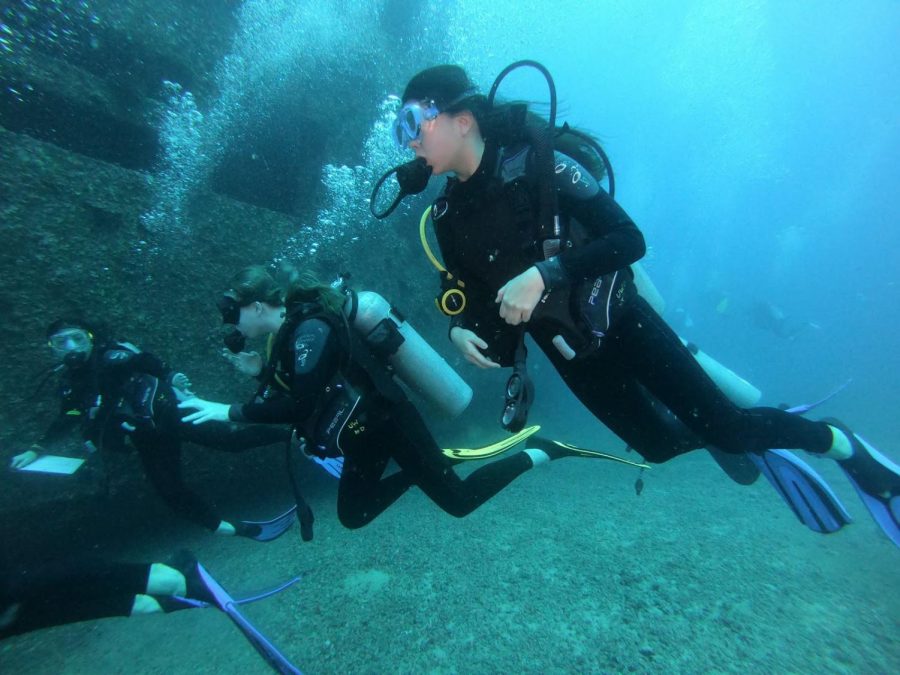 To others, the best part of the trip was experiencing the beauty of the underwater landscape and animals. "I do not think I will ever have the same experience in my life," said Marine Chemistry student Charlie Zelazny. "I had never seen a sea turtle and a reef shark up close, and I could have stayed down underwater for hours just watching them."
Due to the body's tendency to absorb nitrogen at deep depths, divers are unable to stay underwater for long periods of time, and sometimes unable to do multiple dives a day. Because of this, the class had plenty of time to explore the island of Oahu during their visit. Over their trip, the class visited the historic Pearl Harbor monument, hiked through a bamboo forest North of Waikiki, and learned about Samoan heritage at the Polynesian Cultural Center. "It was definitely a full week," said senior Jacob Hanigan. "I am so thankful our mentors were able to make it all happen."
It seems the Marine Chemistry seniors have a lot to say from the trip, so make sure to ask them about their experience as they return to school after their one-week quarantine after their return to the mainland on Feb. 17. They will be happy to recount their experience as they catch up with their missing work. But don't be surprised if they "thank you" with a passing "Mahalo."