Commended scholars share their passions and plans for the future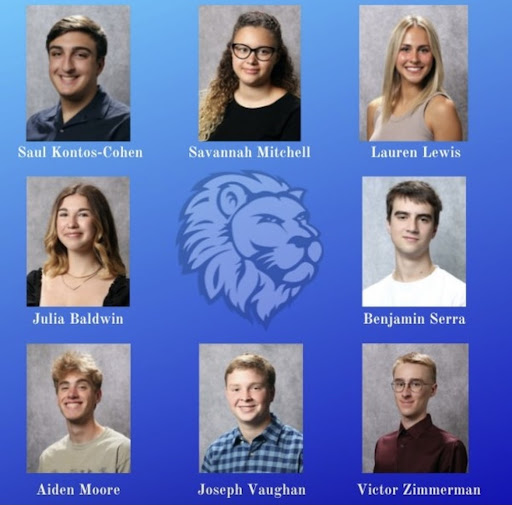 Have you ever wondered who some of Bellarmine's brightest students are beyond the test scores? Bellarmine's class of 2022 Commended Students in the National Merit Scholarship Program represent a wide array of interests and dreams for their futures. Intelligence translates to so much more than PSAT scores in the lives of Saul Kontos-Cohen, Savannah Mitchell, Lauren Lewis, Julia Baldwin, Benjamin Serra, Aiden Moore, Joey Vaughan, and Victor Zimmerman.
Because the PSAT doesn't affect one's college applications, many sophomores don't bother studying for the test. Per this standard, most of these qualifiers did little to no preparation before taking the standardized test. Baldwin said, "I remember telling Macy freshman year, 'I'm just gonna sit down and fill in some bubbles and call it a day!'"
However, Mitchell, Zimmerman, and Vaughan put in the work before test day. Vaughan says, "I did like two practice tests and a few reviews before because I find that they helped prepare me better for the test rather than studying individual sections. You can feel fatigued, so doing practice tests helps combat that."
Zimmerman backs up this strategy as well, claiming that "it's not really about knowing material; it's just getting used to the test". As future sophomores and juniors prepare to take this test in the future, it is interesting to consider if studying material actually impacts test scores, or, is it solely based on one's base intelligence and ability to fight test taking burnout?
Regardless, many students were pleasantly surprised by becoming a Merit scholar, such as Serra who said, "I didn't know what it was until I got it."
Even the students who checked the index score for Washington state and predicted that they might qualify were surprised about how they found out from the school—an Instagram post. Moore says "I knew my score, and it was the best I could hope for, so I knew it was coming. But I was a little surprised because I was not informed directly by the school. I found out when somebody else posted it on Instagram." For such an outstanding accomplishment, students wonder why they were not notified beforehand.
Qualifying for the National Merit Scholarship program is an incredible way to stand out in the college admissions process. These students have applied to around 10-14 schools and are shooting for elite institutions such as Stanford, Notre Dame, Yale, Vanderbilt, and USC. Moore said, "MIT is the dream, but I'd also be happy going to UC Berkeley, Northwestern, UW, and a couple other ones."
Kontos-Cohen has put in the hard work during high school and reasons that his "top school, based on where I'm probably logically going to get it, is UBC in Vancouver, but if I was to get into all my schools, my dream school would be Harvard."
Vaughan shares that he talked to a few coaches about walking on for baseball or becoming a student manager, and depending on where he gets in, this could be a big factor. For now, he, and the rest of the students, will just have to wait and see.
The Commended Students value academic rigor and plan to use their studies in their dream careers. Some students, such as Serra, Zimmerman, and Moore, plan to pursue a career in engineering or something related to math. Moore said, "I don't know for sure. I'm applying for an ROTC scholarship which will influence what I do, but if I get that, I will end up with some career in the military… engineering, physics, or math of some sort."
Zimmerman has high hopes to "work in NASA because they do some of the coolest stuff in engineering and I feel like I could handle the things that astronauts need to do."
Saul Kontos-Cohen looks forward to pursuing the STEM route as a "pediatrician because I really like working with children, and I hope to go into medicine."
On the opposite side of the spectrum, Mitchell plans to explore the humanities and says "I'm not sure what I want to do yet, but I'm hoping to head in a humanities direction… I want to end up in a career that I will be happy in and enjoy what I do in the future."
Baldwin, Vaughan, and Lewis are eager to dive into the business world through different paths. Baldwin plans to become a sports agent while Lewis may focus on the finance realm. Lewis said, "I thought about becoming a hedge fund manager and managing people's money is something I'm interested in."
Vaughan is eager to turn his passions into his profession and wants "to work in an MLB front office, something with stats and analytics. My dream job would be an MLB GM. Just going back to the sports, and I love math. For my chem project, I'm working with some of the Mariners' front office to look at minor league baseball stats and see how they translate to the majors using a data coding language called R."
While it goes unsaid that the biggest priority for the Commended Students is academics and college applications, when asked what they do outside of school, the students represented a wide variety of interests. None of these high academically achieving students mirrored another student in their diverse extracurricular activities.
Baldwin hosts an impressive list of her involvements at school and says "I presented my capstone project finally [in December]. I do theater. I'm in the mental health club. I do Link Crew and Sustainability Committee, and I bake prolifically."
Moore has a love for music and athletics and said, "I did cross country throughout high school. I'm in the wind ensemble and jazz band at school and The University of Puget Sound as well as recreational soccer."
Lewis enjoys "working out a lot on my own and hanging out with friends. I do a lot of cooking too."
Zimmerman says he is "big into the robotics team here at school. I play tennis and also do mountain biking and skiing when there is time to ski. I also do martial arts up in Redmond."
Vaughan loves to do anything he can with others and gets involved in whatever opportunities that come his way. He has participated in "freshman and sophomore year football, baseball all four years. I started Let Others Play club and participate different Lion Outreach and community stuff… Model UN, and I started a podcast with a few of my friends to talk about sports because I find that interacting with others is what makes my life better."
Other students, Ben Serra is a lector in campus ministry and plays piano. Mitchell, a theater sound crew member, and Kontos-Cohen, student body president, enjoy piano as well.
When asked if they had any major life goals, some of the students admitted they don't think that far in advance.  Zimmerman argues that "making goals this early on is ridiculous because they are going to change, so I'll make new goals when I achieve the 30 I have right now."
However, most of the Commended Scholars said they want to be happy and enjoy what they do. Saul Kontos-Cohen plans to give back to the people who have helped him succeed in life, and Moore sums up his hopes to "[wanting] to do fun things. I don't want to end up just going to work every day and going home. I want to continually be doing things that interest me and that I'm passionate about."
By examining the lives of just a few of Bellarmine's high achieving seniors, it is evident that there is not one path to success. Intelligence looks different for every person and pursuing passions is more meaningful than a fleeting test score.