Commuters seek opportunities at Bellarmine, but at what cost?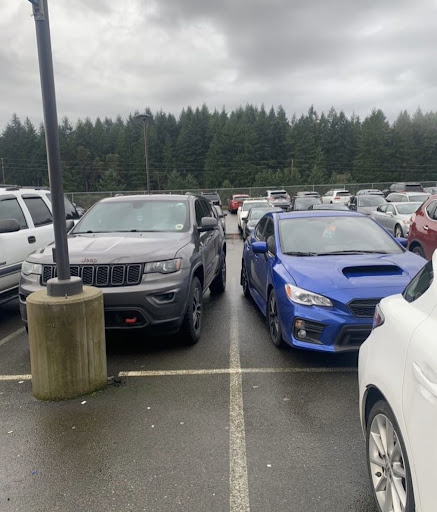 Bellarmine's community is anything but confined. The emphasis on college prep education and the plethora of opportunities offered, including a wide variety of clubs, programs, and sports, draws students from every direction. While some students live a few minutes away, others spend hours in the car every day to attend Bellarmine Prep.
A survey showed that while around 40% of students live locally in Tacoma, 20% live in Gig Harbor, and the remaining 40% live in a range of locations, including Lakewood, Puyallup, Lake Tapps, Federal Way, Olympia, Auburn, SeaTac, University Place, Port Orchard, Graham, Vashon Island, and a variety of other places.
Unlike local district high schools, not all students live near each other which allows friendships to form without confinement to location. Senior Mateo Arturo said, "I have friends from Lakewood, Olympia, Tacoma, and even SeaTac. I never would have made these friends without Bellarmine as a hub."
Pulling students from many locations and backgrounds is a way that Bellarmine can challenge ideals and find exposure to different perspectives and student experiences.
Although there are benefits to pulling out-of-town students, commuters often struggle with being on time to school and after school activities due to heavy morning and afternoon traffic. Survey results revealed that most students drive five to 30 minutes to school, 20% live 30 to 45 minutes away, and 10% commute 45 to 60 minutes. Some students drive over an hour just to get to school in the morning. Compared to other schools, Bellarmine hosts a significant population of commuters.
Despite the many commuters, Bellarmine has had little flexibility with tardiness. "Teachers should excuse tardies for 10 minutes for 1st and 5th periods," an anonymous student said, "People don't get to school that fast, and there is always traffic." Late students are often sent to the office to get a ticket which only makes them miss even more of class. Students question if this is a productive policy or not.
Unfortunately, the unpredictability of traffic sets commuters at a disadvantage.
The out of school life experiences for locals and commuters are drastically different. Senior Ella Borsheim says, "I usually get up at 7:20, and I eat breakfast and get ready to go. I usually leave by 8:25, and my commute is only 8 minutes." As a track and field recruit for The University of Washington, Borsheim's afternoon routine consists of lots of training.  Borsheim said, "After school I go to practice. Then, I go home and eat the whole kitchen, do homework, and then I crash at 10." Living so close to the school allows for Borsheim's hectic schedule to stay somewhat manageable.
On the other hand, students like senior Abby Bunn, who lives in Olympia, have a much different schedule. "I usually get up at 6:15, and days when I'm not running behind, I like to do a little bit of homework before I leave. If I don't go early to get homework help, the latest I leave is 7:55." Bunn is a ballet dancer at a studio in Olympia and said, "The drive back is long, and I usually have a lot of hours of dance after school. By the time I finish my homework, it is usually midnight or later."
Distance causes students to form communities at Bellarmine and in their hometown. Bunn said, "I have two seperate lives, one at Bellarmine and one in Olympia."
Students like Bunn, Simeon Cady, and Cece Elliott carpool to school, along with 30% of Bellarmine students. Because they can take turns driving, one student can do homework in the car one way, making the commuter lifestyle easier.
Commuters are a testimony to the opportunities offered at this school. The fact that so many students make the sacrifice to drive long distances, pay the extra gas money, and spend countless hours in the car shows the quality of a Bellarmine education.