Seniors reflect on Magis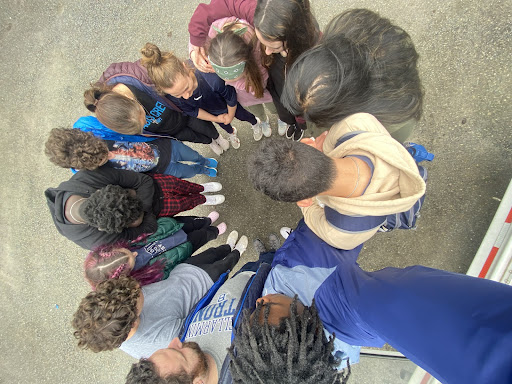 As the Class of 2022's time at Bellarmine is coming to a close, the opportunities for seniors to spend quality time with one another on a deep level are running out. Many seniors embarked on Magis, a four day retreat offered for seniors to bond together one last time.
The demand was high, as a waiting list accumulated after the over 80 spots were filled in March. At this point in their high school experience, the retreat was designed to allow seniors with more free time to hang out with friends in less structured settings, playing sports, games, and having deep conversations with friends. "I was so happy to get off the waiting list for this retreat. One of my favorite parts about Magis was the free time offered to do fun things with friends like play football, spikeball, and card games. I feel like I also got to know a different side of my peers that I don't see at school" senior Aiden Jackson says "Magis was a great way to close out senior year, and I will remember all the memories I made during the weekend as I leave Bellarmine."
Another crowd pleaser were the multiple social hours where students were given intentional settings to chat with new and old friends, eat snacks, and play games like ping pong, pool, and foosball. However, the real show stopper was karaoke night where students sang and danced together to their favorite songs. Students certainly brought the enthusiasm and energy such as Abby Bunn who said "I busted it down to 'Baby' by Justin Bieber, and I will never forget Nolan's iconic performance of 'Thunderstruck' and how everyone hyped him up."
While the retreat was received positively overall, students were not impressed by the food options. No healthy options were included at meal times, and many students did not feel properly prepared for the lack of variety. University of Washington Track and Field commit, Ella Borsheim, says "As an athlete, maintaining a healthy diet is important for my training, and I felt as though the options offered at meal times were not healthy or fueled me properly." Meals offered included a "fried food fiesta," pulled pork sandwiches, sugary cereals, pastries, and other less nutritious foods.
Although the food did not meet expectations, the retreat's overall impact on students spiritually and relationally exceeded what many expected. Students had the opportunity to listen to peer leaders give talks about the trials they have faced and how their relationship with God or a certain outlook on life delivered them from their time of struggle. After every talk, students gathered in faith sharing groups to debrief on their time of quiet reflection to answer thoughtful questions. Students expressed that they loved the environment of the faith sharing groups that allowed students to open up to peers who they may have not otherwise grown to know better. As a result, the senior class grew closer through discussion and supporting each other.
Many seniors deepened their faith through the evening activities such as kneeling at a cross to give up all one's struggles to God and partaking in confession. The last night offered students the opportunity to express what the cross means to them and how they could bring this notion into their lives. The act of sharing in front of peers was extremely impactful for many seniors such as Jennifer Liu who says, "Before I went to the Magis retreat, I wasn't really a religious person, and I never truly understood what the story was behind the cross or who Jesus was for me, but the retreat was a really uplifting experience where I felt so much support and love from the people surrounding me. I now feel closer to Jesus and am open to learning more about him."
Just as the seniors on the retreat felt deeply impacted by the activities they participated in, fellow peer leaders felt equally impacted from leading such a special retreat, "It was one of the most meaningful experiences I've ever had in my entire life because I got to watch everyone connect on such a different level" said senior Magis leader, Everett Johnson, "coming together as a grade one last time was really special to see and lead."
As Bellarmine's class of 2022 embarks on a new chapter of their lives, each and every student will remember the memories made together. Through both the trying times during the pandemic and joyful moments of their high school career, such as this retreat, this new generation of leaders has prepared themselves to take on this new world with kindness and courage.