Lions Online: A Look at Bellarmine's Social Media Presence
Many students regularly use social media— whether talking with friends over Snapchat, posting pictures on Instagram, or mindlessly scrolling through TikTok— at home, lunch, or perhaps, even during passing periods.
Communication from the administration on these platforms is fitting, especially because technology is central to a Bellarmine education; however, there are so many accounts, both active and deactivated, that many are unsure who to follow.
"Three years ago, we began a policy of teams or programs needing approval from the communications office to create an account, but we are still working through this process," said communications director, Craig Coovert.
There are different pages for each club and sport, and student-created, unsanctioned gossip profiles, like the highly controversial and now-deleted "@bps_confessions," are common. "@bps_doppelgangers" is the latest account to appear on Instagram. To add to these, the Associated Student Body unveiled a new, student-run account at the beginning of last year, dubbed "Lion Life."
"@bps_lionlife, created by the students of the 2021-2022 ASB, communicates information about activities and school events to their fellow students," said ASB moderator Kristine Zelazny. "Lion Life" posts about game themes, spirit days, and other relevant information to relay to the students, but some think the account can use improvements.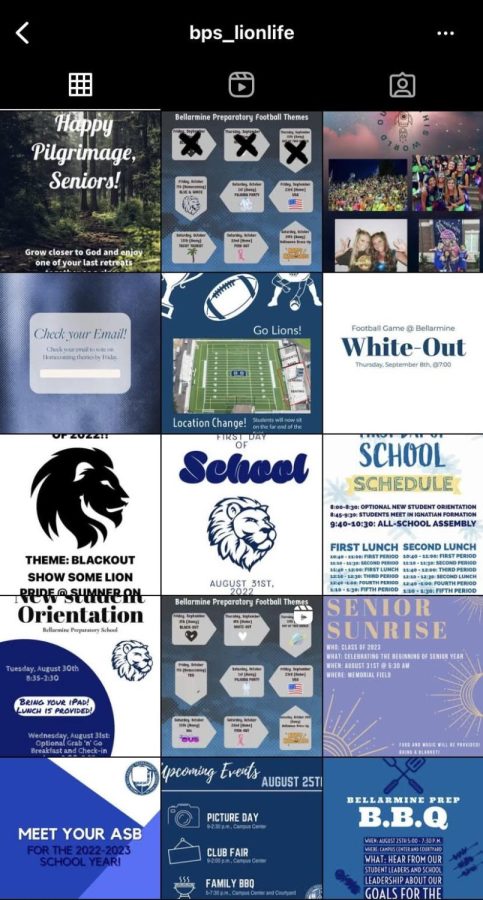 "I would like to see more current events on 'Lion Life,' because we tend to get stuck in our Bellarmine Bubble," said junior Audrey Sherman. There are critiques not only about "Lion Life's" content, though, as less than half of the student body follows it, with even fewer people liking their posts.
"I believe ['Lion Life'] could have a larger social reach than just Instagram," said sophomore David Añel. "There are several students without the platform or even a phone."
In September, the student government and moderators released an ASB-specific email to address these rising concerns ([email protected]).
The answer to whether it will be an additional help or harm to an already convoluted and ambiguous technological realm at Bellarmine will arise within the next couple of weeks. In the meantime, try shooting them an email.