Students express their homecoming expectations for this year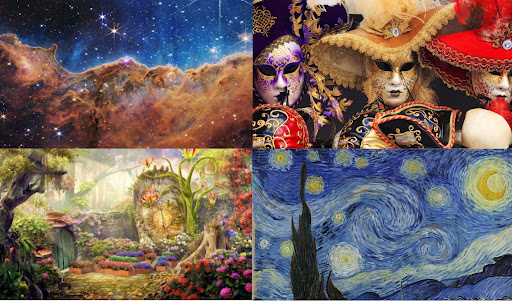 The sudden implementation of Covid-19 led to the suspension of in-person schooling, resulting in the absence of homecoming. Two years later, the students are fully returned to campus and the school tradition is back in motion.
Julia Shimshock, a member of ASB, broke down the theme selection process. Shimshock states, "When deciding on themes, we focused on choosing themes that are unique and captivating. We want to get students enthusiastic about homecoming and we kept that in mind while suggesting themes that are memorable and will encourage a lively, convivial atmosphere."
After hearing the four choices, Starry Night, Enchanted Garden, Out of this World, and Venetian Carnival, the student body provided insight of their own opinions on the variety.
Freshman Skylar Vasko said, "I picked starry night as my favorite theme. I have pretty mid expectations for this dance, but I hope to see some decorations that look like it is nighttime along with some stars."
Another freshman Carson Holler has expectations that exceed the previous statement. Holler stated, "I have pretty high expectations as I have not been to a Bellarmine dance. I thought the selection of themes was great, and I hope they present whatever theme they choose well."
Aside from the class of 2023, the majority of the students have not experienced a true all-school Bellarmine dance. Many freshmen, not attending a dance at all, expressed that they have middle to high expectations. The rest of the  student body expects a big comeback after the lack of dances due to Covid-19.
Payton Anderson, is ready to go out with a bang senior year. Anderson said, "I really want to look back on my senior homecoming as a memorable experience. I chose enchanted garden as my favorite theme because I thought it looked really cool. I hope Bellarmine uses our tuition money to its full extent and to not cut back funding for this dance."
Junior Olivia Croy also chose enchanted garden as her favorite theme and stated, "I really love the idea of enchanted garden. I think that it is important that the school capitalizes on the use of colors in this theme. I really want to see a cool color scheme of purples, pinks, and greens throughout the school. I am excited to see what Bellarmine can do."
On Sep. 19 the ASB announced Starry Night as the 2022 homecoming theme. Prospective insight was given by the Bellarmine community. To execute the theme, decorations and lights are essential to creating the whimsical nature of a starry night. Snacks and drinks would be a nice addition. A popular request is the use of explicit music, due to the lack of clean songs in the present culture.