Team building through fantasy: Bellarmine's newest club, Dungeons and Dragons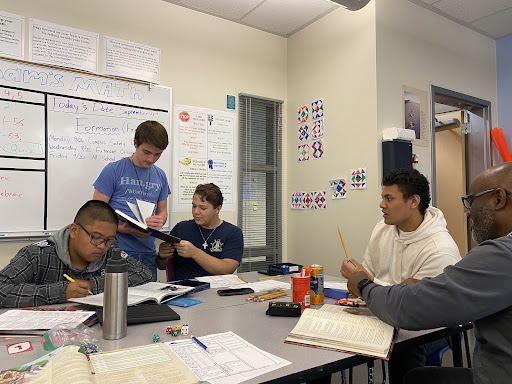 Dungeons and Dragons is a tabletop board game where players take on an interactive set of challenges and quests with elements of both strategy and luck. Since the mid 1970's, D&D has taken pop culture by storm with its heavy inspirations from various works of fantasy and fiction.
Student Anthony Gunns ('24) is the founder and president of the "Kobold Fellowship Club," an extracurricular centered around teaching beginners the basics of the game as well as providing a space for more experienced players to interact.
"Once you have a party member… you can make bonds as strong as sports. I guarantee it."
Gunns has been playing D&D since 7th grade, and has been friends with a group of players as well. In early September, the idea of starting a Dungeons and Dragons Club floated throughout his friend group. The integration of a gaming community within the Bellarmine student body was a proposal that interested many, yet none had made an action to start it. Gunns decided to take the initiative to start the club and form the 2022 – 2023 Kobold Fellowship Club.
Student Anthony Gunns wanted to focus on the lighthearted nature of the club. He wanted to make it a place that didn't take itself overly seriously. The desire for a catchphrase that not only highlighted this attribute but also attracted people to the club was something that him and his friends desired. After much deliberation and debate the name was decided. The acronym KFC is a parody of the popular fast food chain Kentucky Fried Chicken
Each two and a half hour session from 2:30 p.m. to 5 p.m. is filled with adventure and excitement. Players sit in small groups and follow the instructions of the party's Dungeon Master. The Dungeon Master plays the role of leader, and manages the quests that attract so many to the game. While the roll of the dice may determine the abilities they have, it is up to the Dungeon Master to create the narrative that goes along with the story. As Gunns notes,
"Some of the strengths are critical thinking skills… 'what are you going to do right now?'"
Every other Friday, the club meets in B-2 with advisors Liu Johnson and Kenny Pham.