Prepping for Homecoming Week 2022? Look back at Homecoming Week 2021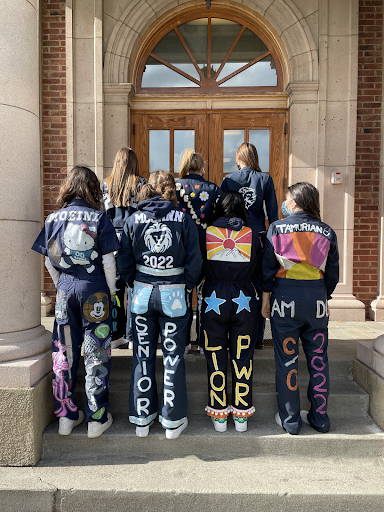 While Bellarmine's 2021 Homecoming dance was postponed, Homecoming spirit week was not put on hold. Homecoming week took place from Oct. 11-15, 2021. The week topped off with the Homecoming football game, played on Friday, Oct. 15, 2021. The Lions took on Rogers on Memorial Field at 7 p.m.
Every year, the ASB chooses the main Homecoming theme as well as five spirit days for the five weekdays of Homecoming week. The main theme for the 2021 year was decided by the student body through a survey sent to all grades' emails. Casino Royale, Old Hollywood, and Decades were among the choices for the theme. However, the one that came out on top was "Tangled. Students and faculty/staff who brought their lion pride to school, by dressing up according to these themes, are featured below.
Monday – Purple and Yellow
The week kicked off with a spirit day relating to the overarching theme of "Tangled." The two colors chosen for the student body to wear were yellow and purple. Students from all grade levels are pictured below.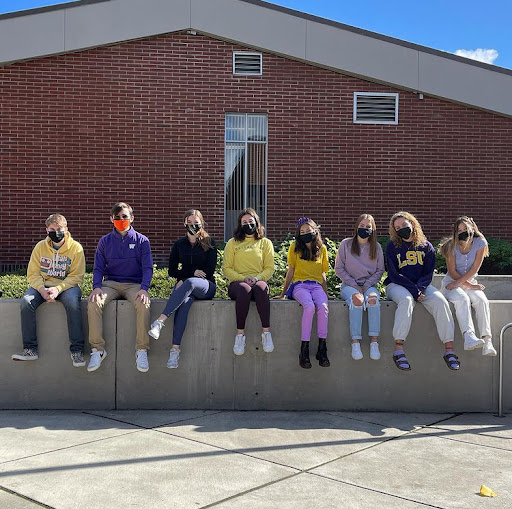 Tuesday – Movie Character Day
Tuesday's theme was to dress as a movie character. The math department showed up ready to hit the graphs with Heidi Lewis dressed as Cruella de Vil, and the rest of the math department were the dogs from the movie, 101 Dalmatians. Math teachers Paul Sweeney and Conor Unruh were dressed to the occasion with their crafted dog ears, spotted shirt, and finalized it with their dog masks.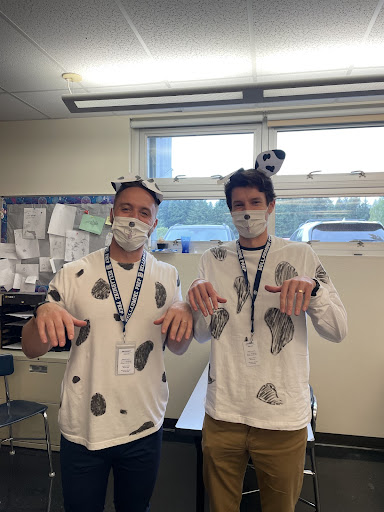 Sasha Owen (left) and Chloe Mau (right) were two juniors last year who also brought their spirit. With a backwards cap and red flannel, Owen dressed as the famous movie actor, Adam Sandler. Mau was Kai-Lan from the show Ni Hao Kai-Lan with her hair in two buns and a tie-dye shirt.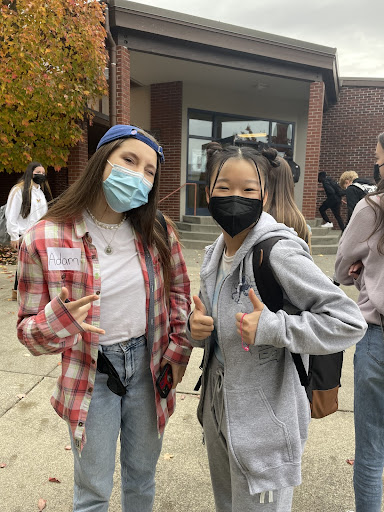 Wednesday – Sweats and PSAT/SAT Day
The middle of homecoming week was a day off for freshmen, a PSAT testing day for sophomores and juniors, and an SAT testing day for seniors. Due to classes being cancelled, wearing sweatpants was the theme for the day.
Thursday – Class Distinction Day
One of the days of Homecoming week is typically reserved for class distinction day at Bellarmine. Last year, the themes were as follows: freshmen dressed as babies, sophomores as cowboys, juniors as preppies, and the seniors wore togas. Last year's sophomore Ava Erickson dressed in style, wearing a red flannel, denim on the bottom, and of course a cowboy hat to top it off. Quinlan Dempsey is pictured to the left. Where was her cowboy hat? We will have to get back to you on that one.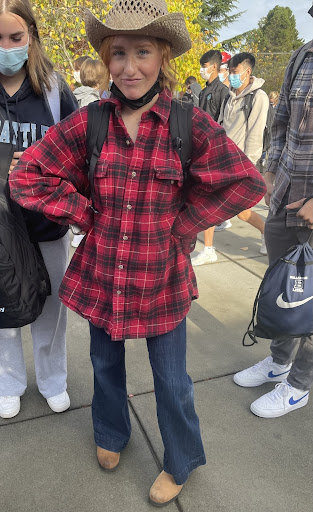 The girls from the junior class also dressed according to theme, and ran with the recently revived preppy 80s theme. They came fully decked out with pleated skirts, long socks, knitted vests, and collared shirts. They arrived looking ready to hit golf balls and get dress coded for their skirt lengths.
Friday – Blue and White
The final spirit day was reserved for Bellarmine's school colors. Students wore their BPS sports and activities sweatshirts as well as regular blue and white clothing. This theme continued into the evening, as it stayed the same for the Homecoming football game. Many alumni joined the student section for the game, and fireworks were lit off at half-time. The Lions finished Homecoming spirit week with a victory over Rogers, ending with a score of 34-6.