Remembering MLK—How we can carry on his legacy
On Wednesday, Jan. 18, Bellarmine held a belated assembly to honor the late Martin Luther King Jr. The Black Student Union and Diversity Club collaborated to orchestrate a beautiful remembrance for King, and highlighted his everlasting contributions to the world.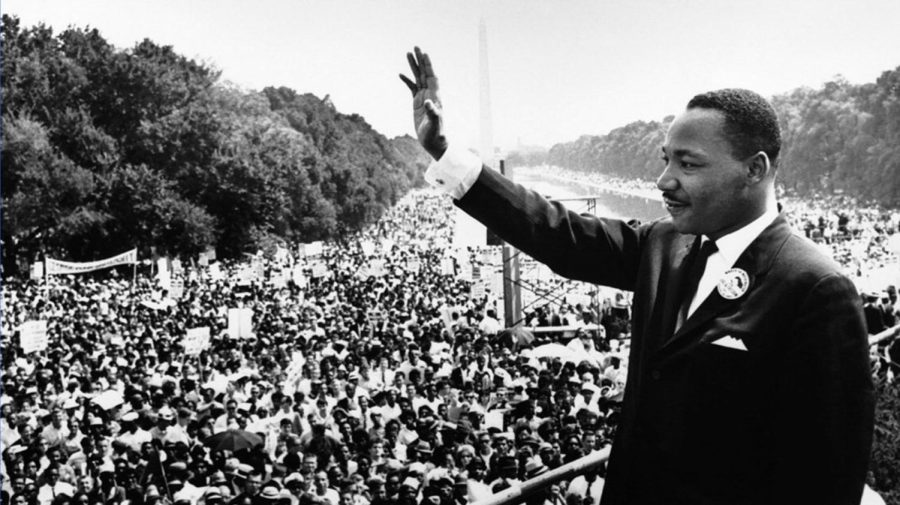 The student body, dressed in their black attire, listened intently as sophomore Natalie Jones opened the assembly. Junior Ava Mitchell and senior Lele Alexander followed with a prayer, using King's own words to unify the audience, captivating them with his eloquent prose. Sophomore JoJo Kunz wowed as she sang the national anthem, followed by senior and student-speaker Chloe Mau. Speaking with confidence in herself and in her words, Mau easily impressed the audience, emphasizing the importance of King's legacy and impact. Succeeding Mau's performance was keynote speaker, Judge Sabrina Ahrens.
Judge Ahrens, with her impressive résumé, shared wise words with the students of Bellarmine. As an agent of change herself, Judge Ahrens encouraged students to incorporate MLK's words into their own lives, and take action to create a more welcoming and thoughtful atmosphere at Bellarmine.
Judge Ahrens was followed by senior Michelle Kamau, who delivered a power piece of spoken word, entitled, "Undeniably Great." The assembly culminated with a video, made by senior Joey Langdon, featuring students who discussed how they would play a part in creating a positive community full of kindness and solidarity at Bellarmine.
Lastly, sophomore Bryce Kiguru closed out the assembly, leaving the student body to reflect on personal steps to take in order to unify the Bellarmine campus.
As January comes to a close, and Black History Month approaches, Bellarmine's annual Martin Luther King Jr. assembly left students thinking about how to embrace inclusivity, and let King's memory live on in our daily actions.
A special thanks to the assembly's emcees, campus ministry director, Aires Patulot, and senior, Amy Mbugua. Additional thanks to Barbara Henderson, Chelsea Rosario, and Tawanna Wilson for their behind-the-scenes help.