Staff Spotlight: Mark Modarelli English teacher and musician?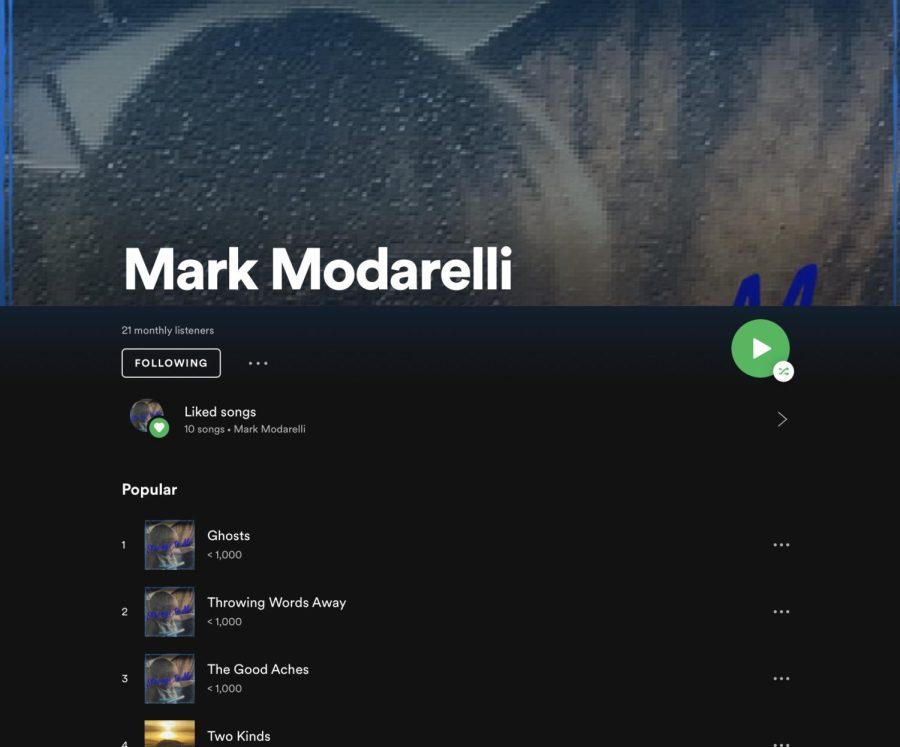 English teacher Mark Modarelli recently has released two albums within the 2022 year, something many people here at Bellarmine may not know about. His two albums are titled, "Strange to Me," and "Songs of Hope and Solace," with one single as well called, "Off the Grid."  Modarelli shares his story of the beginning of his music and his favorite songs. 
What inspired you to begin writing music?
Long story.  I began taking drum lessons in 2nd grade and continued until formal band classes started in junior high at Hudtloff.  I played four years in a jazz band and was in a cover band called the Pop-Tones when I was a sophomore here.  My bandmates were all upperclassmen though and graduated so I didn't really perform in a band for a few years,  though I did write a couple songs with a few classmates in a senior year band called 1/2 the Children.  
Then my sophomore year at the University of San Diego, a few Bellarmine alums (a guitarist and a drummer) came in as freshmen and lived a floor below me in the dorms.  We'd known of each other, but hadn't really known each other.  We quickly became friends and formed a band called Dischord.  I played bass and sang lead vocals.  We were mostly a cover band playing bars and parties but started writing songs just before life changes broke us up.
My brother and I and a few local friends had jammed together off and on over the years and had always said that when we got older we'd play together again.   Just before Covid hit, we went and saw a favorite band of ours play in Texas and my brother was like, "Let's do it."  So that resulted in the band Benson Loop, but then Covid came and made it impossible for us to practice and jam together.   So we began exploring technology that might let us still be musically active even remotely.

It used to be REALLY hard and very expensive to get your musical ideas recorded and mixed.  But when we were locked down I started exploring modern recording technologies and found that it was amazing how easy it was to put down parts and mix, edit, and arrange music.  I could share parts with my brother and bandmates and they could add their parts, etc. It sort of took off from there and we produced an album called "Deer Creek," and later on an EP, "The Rest is Silence."

But life challenges and coming out of Covid meant that the other guys had other things to draw them away but my interest and passion for song-writing was fired up and just kept pushing me on.  So I started writing and recording all of the instruments and vocals myself.  It won't surprise my students to know that I have always written poetry so lyrics came easily at times, and I began to realize that so many of the lessons I've learned from life and literature and that I try to impart to my students could be communicated and shared musically as well. 
What is your favorite song you have written and the meaning behind it?
Tough question. Probably "Living, not Surviving," the last track on my first album,  "Songs of Hope and Solace." I'm currently working on a new remixed and remastered version of that whole album, which I produced myself, but there are some things I really like about that song. It speaks of something I keep trying to teach my students and that I find in great literature and in history, that we're the only thing in all of creation which is not simply content with surviving, but we're constantly driven to find something more out of our existence, to LIVE, rather than simply survive.  Covid lockdowns only highlighted this impulse, in my opinion.
Did you have any help with the album?
I had a friend pitch in on a solo here and there, and a number of friends who responded and gave feedback during the creation process.  Alex Piccio, class of 2022, provided awesome backup vocals on The Church of Saturday Saints.   I've had tremendous help from Mike Loudenback, a really outstanding sound engineer, who heard my stuff and reached out to me, with mixing and mastering the second album, Strange to Me," and now with remixing and mastering Hope and Solace.

Feel free to share any other details about your music!
My website is markmodmusic.org.  You can search me on Apple, Spotify, and Youtube Music just under Mark Modarelli.
Additionally, searching Benson Loop and Modarsky will link to bands of which I have been part.
I owe a great deal to music, in that it has helped me through many difficult times and helped me better enjoy good times and I just want to make music that might do the same for others.  I appreciate feedback and people sharing my music with people they know who might like it.