The [not so] secret life of a college applicant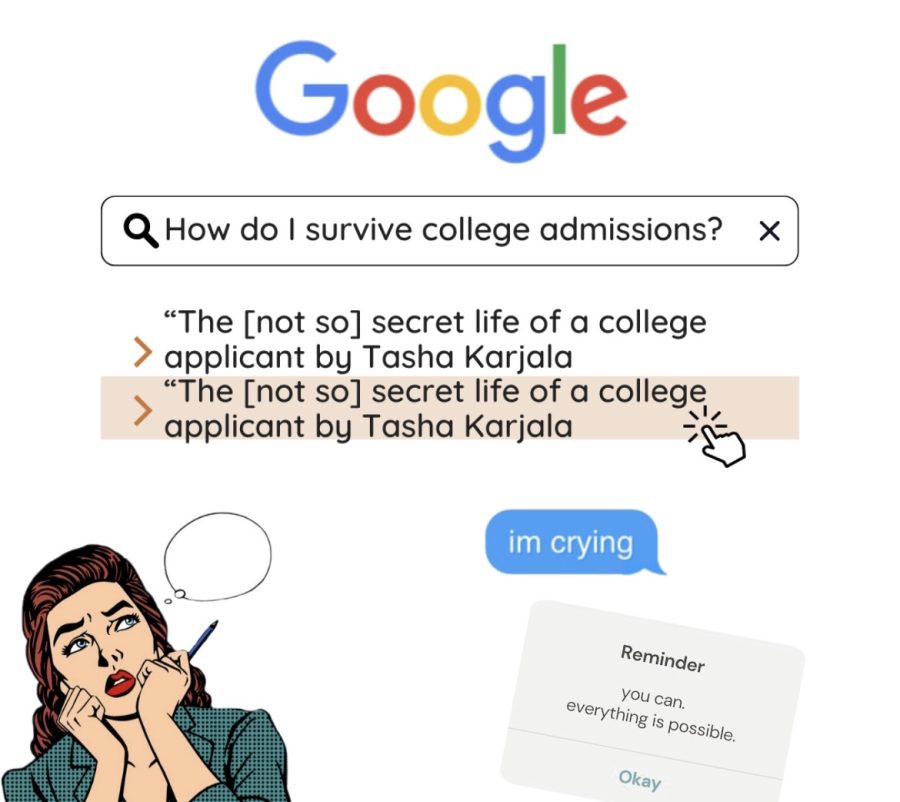 College applications. 
The words themselves bring signs of gapophibia, nagatosis, and extracurricular panic disorder. From SAT deficit hyperactivity disorder, to any other triggering reminders of the application process, seniors have it hard. As ReachHighScholars.org say themselves, these are signs you're losing it over the college admissions process. 
Application season opens its gates in August, hosting a horse race of hundreds of thousands of applicants each year. Though it may be hard to disentangle from the great anxiety that rises during the maddening mishmash of competitive objectives, and golden stories, it's important to remember: you will be okay. Unfortunately, there is no magic formula for getting into a selective college, but here are a few things that may help you navigate the process.
Nobody has biolcation powers, find your passion project.
Selective colleges throughout the country perform a "holistic review" of each applicant through the admissions process. Taking personality expressed through essays, grades, and extracurricular activities into consideration during the review can really help [or hurt] an applicant. However, it is important to note, no applicant has the power of multi-location: balancing building up a competitive application, while taking time for yourself and others is completely possible. 
Trust me, I fulfilled the maximum amount of applications on the Common App allowed, and I am here alive and well. 
While grades carry a significant weight in the admissions process, colleges value several different qualities of an applicant; involvement (all-around) is crucial. There is never one thing that determines your worthiness as an applicant. Take responsible risks throughout your first years of high school, find something you love, and try everything. Do not let anxiety, fear, or stress steer you away from potentially finding your "passion project." Throughout your underclassman years, explore activities your school and community hosts, and locate groups which align with your culture and values. 
It's apparent when an application is authentic and personal to an applicant. Joining clubs and activities simply to fill an activities box on an application is useless. You have to care about what you're doing, and expand on how you can [and will] contribute to this activity. It was not until my sophomore year, after a trip to the Philippines, I found my own passion project; helping others, and advancing underprivileged communities. I started my own non-profit organization, STEM in the Philippines, and it has grown beyond my imagination. However, after finding my passion project, I had to set aside many other activities I had found myself active in. You cannot overwhelm yourself with responsibilities, it's not healthy. 
Find your thing, learn to love it more and more everyday, and create change. Make someone's life a little better or easier, and keep on doing good. 
Don't rely on anyone but yourself.  
Take responsibility for your own tasks, and keep track of your own progress. While counselors are a valuable resource, they are attending to the needs of hundreds of other students' with as many requests and questions as you may have. They are undoubtedly here to help you, but you cannot expect them to attend to every need of yours, within your intended timeframe. 
Keeping track of what you do, and what you have done is crucial to your success in the admissions process. While some achievements shine above others, all honors are important, not only for your academic career, but as a reminder of your hard work. In my eighth-grade year, my father placed a huge cardboard box under both my sister and I's beds. In the boxes, we would place awards, honors, and any sort of academic or physical achievement. This became an invaluable resource, preventing me from forgetting anything I could potentially forget to include on my application.
During the application process yourself, the amount of research you'll be completing feels like an additional class. Create a spreadsheet of pivotal information including admission release dates and deadlines for your schools. Also, while applying, look into early acceptance applications, especially if you are applying out-of-state. The chances of your acceptance increase, and this provides you a blanket, knowing if you are accepted, you have a potential school you can attend. The major and/or school you apply to can increase or decrease your chances of acceptances, depending on the university, drastically, or not at all. If you have a major you are passionate about, APPLY! But, keep in mind that your mind may change, and some universities have a difficult process in changing majors.
Research scholarships online, in your community, and elsewhere in which you fit the criteria to apply for. College is expensive, and while merit can earn you fantastic scholarships, outside scholarships can be your gateway into affording college.
B's, C's, and any thing but A's
Myth bust: freshman year grades do matter. However, it is not the end of the world if your cumulative score does not fit your intended school's average GPA score. Remember, you have 4 years to perform good work, and increase your cumulative. The transition from middle school to high school is difficult, do not expect yourself to immediately adapt to this new environment. 
Struggling is okay if you get help. You go through what you will grow through.
Grades are, and will always be important. The Academic Center of Excellence provides a welcoming environment where students can express their struggles and turn them into strengths. The National Honor Society offers free-tutoring before and after school, by Bellarmine students, for Bellarmine students. When you need help, someone here wants to help you.
So what exactly did I do? 
Well, the application process was five-months of headaches, tears, and hair-pulling. Colleges attack their applications differently, featuring a variety of different essays and questions applicants must answer. In the summer of my junior year, I began brainstorming potential ideas for the personal essay required by the Common Application. I began rough drafting stories that felt authentic to me, that reflected my values, and who I was not just a student, but an entire person. I had to ask myself a lot of questions, some that I couldn't even answer. During the admissions process, I learned alot about myself. 
I knew I loved my family, my culture, and lumpia, and all I had to do was tell how my life would be absolutely incomplete without these things in 650 words. Simple. Personally, it took me roughly three months to produce an essay I was satisfied with, but I also held myself to unrealistic standards of what a "good essay" really was. I paid attention to three important things:
1. Admissions officers want to know about me. This is great, because no one knows me better than, well, ME. While influences throughout my life are great to discuss, explaining my growth through the adversity, challenges, and tragedies I faced was my main priority. The only story I could tell authentically was my own, and my words were intentional. 
2. Show don't tell. I'll insert some excerpts from my essay here: 
"Wild dogs barking, flies buzzing, and I lying on a thin mattress placed atop wood, under a cheap duvet. Though the commotion in the kitchen of clashing pots and pans and the crowing rooster was often a rude awakening, and homes had no verdant soft grassed yards like I knew in America, there was so much to appreciate here." 
"In my second week, the daily blue skies turned a dark gravel-gray as clouds began to oblige and little gleaming drips of silver fell from the sky. Howling and screaming, came the wind as sudden bolts of lightning shattered the ominous sky."
Throughout my essay, my goal was for the admissions committee to be able to feel my feelings, from the temperature of the air, to the sounds in the kitchen. They needed to experience my own experience. 
3. Admissions officers don't know anything more about you, other than what you provide on your application. I often forgot this, especially when crafting my essays. Narrowing down the special things that reflect who you are as a person into 650 words is extremely challenging, but throughout your rough-drafts and erase marks, your writing abilities drastically improve. Everyone has something special, something that brings them hope, faith, and fearlessness, show this. Express yourself, who you are, and tell your story. 
Time is a funny [and fleeting] thing. 
While I could moan and complain about the admissions process, there is no more satisfying feeling than being complete with submitting your applications, receiving acceptances, and knowing your hard work paid off. However, in the midst of my happiness, I get a brutal reminder that my highschool experience is nearing its conclusion. I was told since my first day of freshman year, "it goes by fast" and nothing has ever felt so true. 
Yesterday, I received my tassle to place on my cap for graduation, and the feeling has never felt so real. 
Appreciate it. Take in the moments spent with your friends, learning about yourself, and the world around you. Put yourself out there, be kind, and be a good person. 
So there it is, the [not so] secret life of a college applicant. So far, I have had great success in my admissions decisions going 8/8 in acceptances receiving fantastic scholarships. You have a story to tell, and time to spend growing, learning, and being. 
Be yourself, belief in yourself, and be true to yourself