A bite-size recap of the Russo-Ukrainian war one year later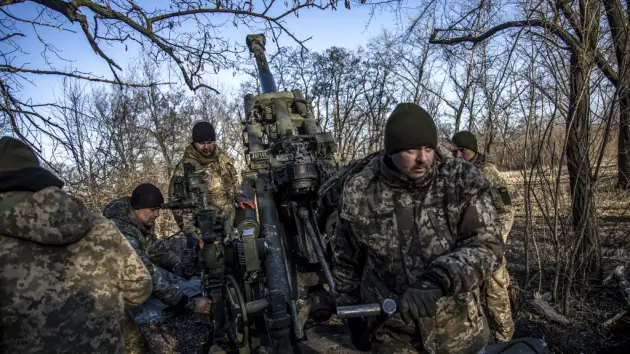 In a little over a year, around 13,000 Ukrainian soldiers have been killed (as of December 2022) and as many as 60,000 Russian soldiers have met the same fate (although some estimates place this number as high as 270,000).
How exactly the Russian people view the war is very difficult to gauge, but Putin's propaganda rages on with unsubstantiated claims of major Russian progress in the region, asserting that as many as 100,000 Ukrainian troops have been killed, a number that may be at least semi-accurate.
Over 7.5 million Ukrainians have been forced to flee the country. The number of Ukrainians displaced within the country is essentially the same and damages from the war are estimated at at least $750 billion. Currently, Russian forces occupy around 17% of Ukraine.
In this article, we will be time-traveling back to February 24, 2022, the day when the war began and will, from there, analyze the conflict month by month from February 2022 to February 2023.
February 2022: The War Begins
Within less than a week, Russian troops reached the outskirts of Kyiv, the capital city of Ukraine, but were met with unexpectedly strong resistance and, as a result, were pushed away from the city.
Putin's motives, purportedly, were to "demilitarize and denazify" Ukraine, which, in his eyes, constituted protecting Russians in the country from unsubstantiated mass persecution in the form of genocide that has allegedly occurred since 2014. Putin was also motivated by preventing Ukraine from joining NATO, which has been neutral on the matter. Currently, Ukraine is a partner state of NATO.
Western nations, although initially hesitant due to Russia's prowess in the oil and natural gas industries, levied sanctions against Moscow, crippling the economy. So far the results of this sanction have been immensely effective. According to NPR in a late December 2022 article, "Russians are seeing their modern economy suffer tangible setbacks. More than 1,000 international companies have idled operations or pulled out of Russia completely, according to a review by the Yale School of Management. The fleeing businesses take with them capital investment, technology and expertise."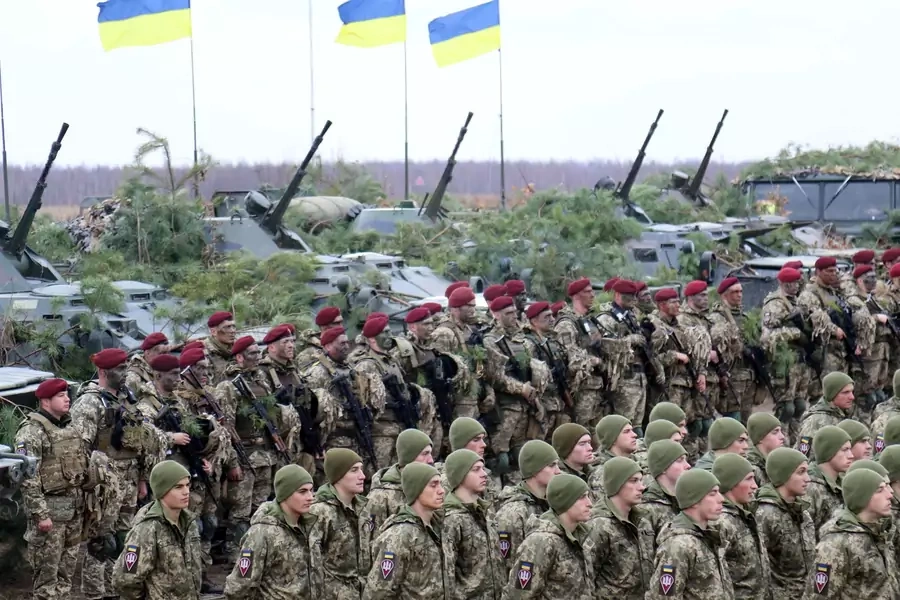 March 2022: One Month Later
After advancing close to Kyiv once more, the Russian army struck a theater in Mariupol. The civilians sheltering there, numbering in the hundreds, were killed in the blast. A total of at least 441 civilians were killed within the first few days of the invasion.
April 2022: Potential War Crimes Uncovered, Civilian Deaths Unveiled
After forcing the Russian army yet again from the outskirts of Kyiv, Ukrainians discovered an array of mass graves in their wake. The graves contained the remains of civilians, their bodies evidencing torture wounds.
After a Russian strike on a train station in Kramatorsk, 52 civilians were killed and over 100 were wounded.
May 2022: Mariupol Ukrainian Soldiers Surrender After Three-Month Hold-Out
After three months, the last remaining Ukrainian soldiers in Mariupol, holding out at a steel mill, surrendered to the Russian troops. The Red Cross described this invasion as "Hell."
Finland and Sweden finally applied to join NATO.
June 2022
Ukraine regains Snake Island, an island which was taken by Russia within days of the war's beginning.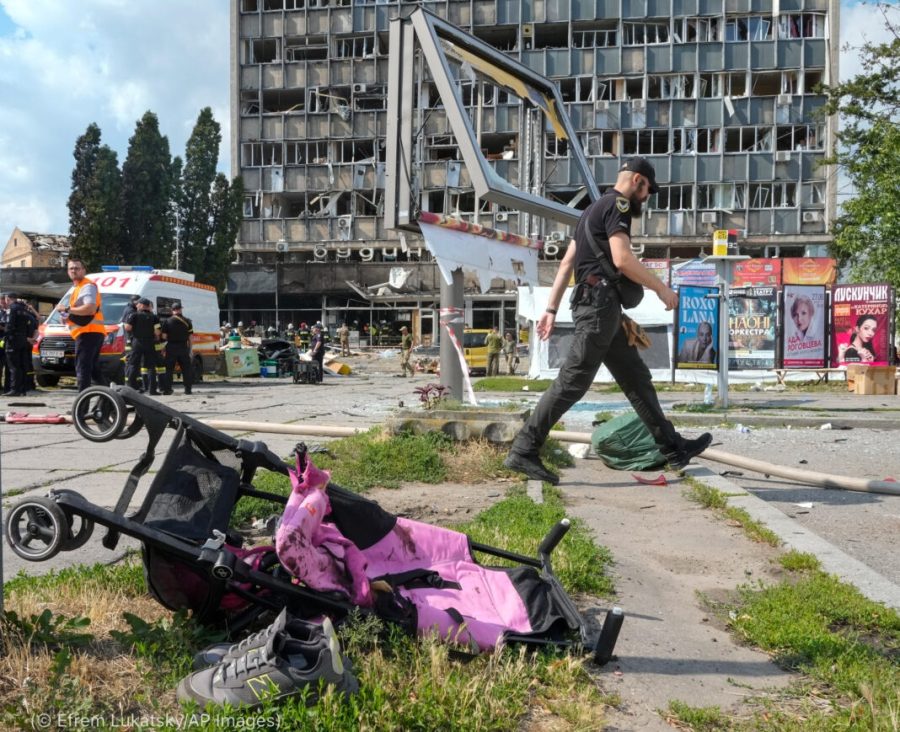 September 2022
Vladimir Putin calls for the mobilization of 300,000 troops. This causes hundreds of thousands of men to flee Russia. Russia implements illegal referendums in its captured regions asking whether or not the citizens would like to join Russia.
November 2022: Kherson Recaptured
Kherson, a southern region of Ukraine north of Crimea, is recaptured. Putin had previously declared that Kherson would be Russia's "forever."
November also saw a massive power outage as a result of Russian missile fire onto Ukrainian power grids. Six million people lost power as a result.
December 2022: Zelenskyy Meets with Biden
Zelenskyy met with President Joe Biden in December. Biden complimented Zelenskyy and the people of Ukraine, saying, "The Ukrainian people continue to inspire the world, and I mean that sincerely. Not just inspire us, but inspire the world with their courage and how they have chosen resilience and resolve for their future."
Biden promised continual military support of Ukraine, stating, "We're going to continue to strengthen Ukraine's ability to defend itself, particularly air defense. That's why we're going to be providing Ukraine with a Patriot missile battery, and training your forces to be able to accurately use it."
January 2023
New Year's Day 2023 sees an Ukrainian missile strike on Makiivka, killing 89 troops according to Russia.
~~~
Today, the war rages on, however, progress has been made. In March 2022, Russia controlled a quarter of Ukraine. Today, the number is roughly 15%. It is evident that the world is watching and the public opinion, at least in the West, is largely pro-Ukraine. At this point who will win the war is still largely uncertain as neither country is close to conquest or expulsion.
Sources:
https://www.lemonde.fr/en/les-decodeurs/article/2022/11/25/nine-months-of-war-in-ukraine-in-one-map-how-much-territory-did-russia-invade-and-then-cede_6005655_8.htmlhttps://www.theguardian.com/world/2023/feb/22/who-is-winning-in-ukraine-and-what-will-happen-nexthttps://www.usatoday.com/story/news/world/2022/12/04/ukraine-russia-live-updates/10832835002/https://www.atlanticcouncil.org/blogs/ukrainealert/more-than-three-quarters-of-russians-still-support-putins-ukraine-war/https://www.forbes.com/sites/davidaxe/2023/02/07/its-possible-270000-russians-have-been-killed-or-wounded-in-ukraine/?sh=64765b252eechttps://www.businessinsider.com/more-russian-soldiers-died-ukraine-than-all-wars-since-wwii-2023-2https://www.bbc.com/news/world-europe-63829973https://www.bbc.com/news/world-europe-63580372https://www.csis.org/analysis/update-forced-displacement-around-ukrainehttps://www.reuters.com/graphics/UKRAINE-CRISIS/ANNIVERSARY-SURVIVAL/movaklxlmva/https://www.bloomberg.com/news/features/2023-02-17/russia-s-war-in-ukraine-timeline-of-key-events?leadSource=uverify%20wallhttps://www.cnbc.com/2022/12/21/zelenskyy-to-meet-with-biden-address-a-joint-session-of-congress-on-his-first-wartime-trip-to-us.htmlhttps://www.nato.int/cps/en/natohq/topics_192648.htmhttps://www.bbc.com/news/world-europe-56720589https://www.weforum.org/agenda/2023/02/ukraine-war-timeline-one-year/https://www.reuters.com/world/europe/ukraine-war-major-developments-since-russias-invasion-2023-02-16/
https://www.pbs.org/newshour/world/1-year-after-the-invasion-began-a-timeline-of-russias-war-in-ukraine
https://www.theguardian.com/world/ng-interactive/2023/feb/21/a-year-of-war-how-russian-forces-have-been-pushed-back-in-ukraine