November Music Reviews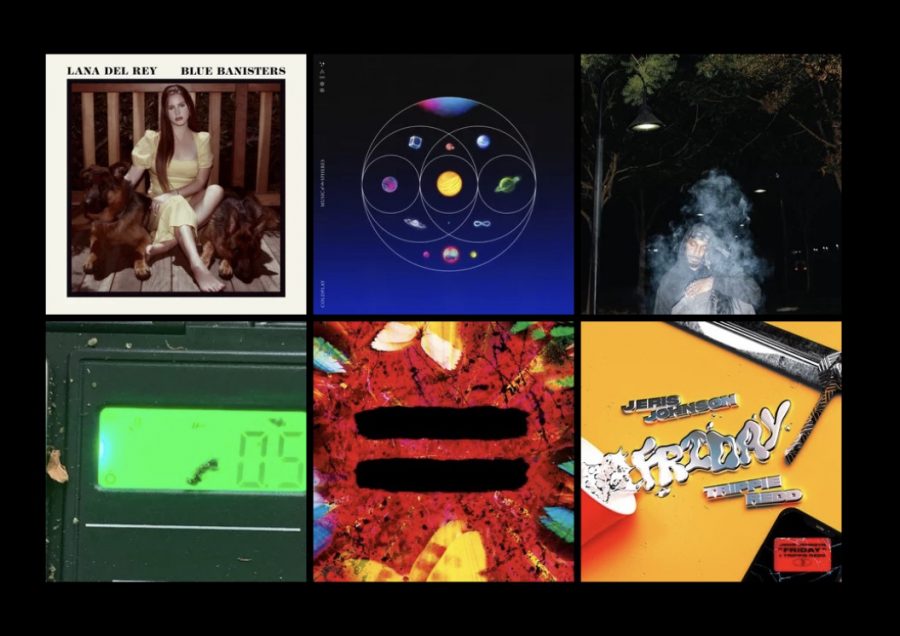 Lana Del Rey, Blue Banisters – 6/10
Pros
    Lana Del Rey's latest release maintains her popular style of slow paced acoustic music. Blue Banisters contains Lana's standard use of southern styles of acoustic music, and what especially shone through in this project was her vocal capacity, holding low and long notes in a way very few artists are capable of.
Cons
    Blue Banisters biggest weakness, in the end, was the sheer size of the project. Lana's style is enjoyable for a very limited amount of time, moving from slow and soothing to just mind-numbingly boring. The lack of range in her style or vocals in this album brought it down entirely.
Coldplay, Music of the Spheres – 6/10
Pros
    Coldplay's most recent album, Music of the Spheres, capitalizes on a new, space-themed style. The album contains the same poppy style, but adds to it featuring a new-age style.
Cons
    As much as Coldplay's most recent project tries to progress the style of pop music, it really just remains stagnant, and has the same boring pop style as a lot of other music. The attempts at a new style feel lazy and uncoordinated, as if the developments were not made through experimentation with music, but more as a cheap attempt at making their music seem more futuristic.
JPEGMAFIA, LP! – 8/10
Pros
    JPEGMAFIA released his highly anticipated album, "LP!", after releasing singles and an EP, with almost all of the contained songs being featured on this project. JPEGMAFIA has always worked with new sounds, for the better or worse, and the majority of the songs on this album resulted in the former, creating a riveting project with something entirely new. JPEGMAFIA's rapping, as per usual, is fantastic. The variety on this album is perfect as well, jumping around in small ways that assures the project doesn't get boring or repetitive.
Cons
    A few tracks on the album interrupted the flow in a way that pushes the listener off of the rhythm of the album. One track in particular, "DAM! DAM! DAM!", clocks in at around 12 minutes.
Tony Velour, 0.5 – 9/10
Pros
    Tony Velour's latest EP, "0.5" is a brief project released within the last month. Velour's new project is a continuation of his style with some new, welcome additions. Velour's vocals smoothed out in this project, stepping away from his regular style of loud, boisterous yelling featured on his other projects. The production maintained the low, bass-filled tune it normally does, but has an additional, more complete feeling. The EP is brief, which compliments the project as it doesn't make it too exhausting. 
Cons
    The one issue with Tony Velour's new release is that there isn't much variety. While the style is new, it really doesn't change much throughout the project, which is one of the downfalls of the EP format.
Ed Sheeran, = – 1/10
Pros
    Considering that this is Ed Sheeran, there really aren't many positive aspects to this project. The tracks, if each were on their own, would be somewhat tolerable. That is pretty much it for the album as a whole. 
Cons
    As for the cons, there really isn't much else to say, other than the album is, simply, bad. The lyrics are vague and boring, the production is cheap, the acoustic performance is that of a summer camp counselor, and Ed Sheeran doesn't do anything special with his singing. There are pitiful attempts at having an alternative style of music, but in the end it amounts to nothing. 
Jeris Johnson, Friday – 3/10
Pros
    The only things working on this single is the production and the feature. The production, while really quite simple, provides a solid repeating beat that is a little bit more rough than standard rap beats, but isn't anything crazy. Trippie Red's feature is a welcome addition, bringing some more experienced vocals onto the track and improving it.
Cons
    On the track, Johnson's vocals are difficult to listen to. It was a late attempt at mimicking the style of Lil Peep and similar artists, making it just sound corny. It doesn't feel natural and is incredibly forced throughout the entire song. THe lyrics aren't any better, as they are incredibly grotesque with sexual references in a way that is nearly intolerable. Songs that feature sexual references are common and are not negatively effected by containing said references all of the time, but with some it feels forced and just comes off as cringey. The song feels like it is tailored to 11 year old boys, and not meant for a general audience. 
Author's Pick
Meth Wax – Meth Wax, Luxury Rehab
Genre: Indie rock, Punk
The Garden – Kiss My Super Bowl Ring
Genre: Hyperpop, Indie rock
Afourteen – Skeng
Genre: Rap
Makeout Reef – Existential
Genre: Indie rock
Enumclaw – Jimbo Demo
Genre: Indie rock