Shooting for the Stars: The success of the play, 'Peter and the Starcatcher'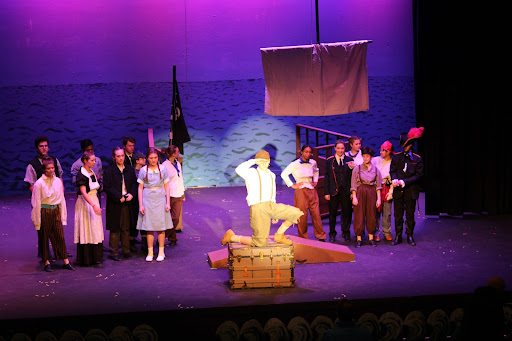 Bellarmine's theater department wowed the audience with their lively performance of their fall play—"Peter and the Starcatcher." The talented crew told the origin story of Peter Pan, following his eventful journey to never-ending youthfulness.
To set the scene, the lighting and prop crews spent around five weeks preparing to tell the tale. They spent two hours per rehearsal organizing and creating everything from the "The Wasp" ship to a heart shadow shining upon characters Peter and Molly. Props lead and senior, Colin Webber, explained the company's vision to help tell the story in the background.
"Mr. O[Loughlin-director] wanted to have a 2D aspect because the show is based on a cartoon," said Weber. "We made a 2D cat out of foam board." A crocodile, treasure chest, and pineapple made of styrofoam heads were also displayed. Props aside, O'Loughlin is not the only Bellarmine graduate returning` to their old stomping grounds.
"Lights crew relies on its legacy system. The current crew is always taught by the former lights lead," said current lead Meg Foley.
Those in charge of lights devote hours to electrical engineering, deciding on lighting sequences, and largely have to base their work on where the actors are standing at a specific moment in time. The behind-the-scenes crew enhances the theater experience through lighting, props, and production, while the actors tell the story through words, song, and emotion.
Senior Drew Albaugh was one of the leads, playing the well-known role of Peter Pan. While talking with him about his process in becoming this character, he felt confident since he had already played it in his seventh grade production. However, prior to the play, he was still nervous. He said "I have 280 lines, and I was nervous before opening night. But after I said my first line, the nerves all went away."
Albaugh explained one of the strategies he always remembers as an actor. He said, "In theater, we have to know our 'wants' on stage for each character. This means having an objective for everything we do." He explained how this helps him fully get into character and help the audience forget he is not really Peter Pan. With his spot-on appearance and expressive performance, he knocked it out of the park.
Similarly, senior Levi Coovert had a blast working on this production. When talking about one of his favorite scenes from the play, he said, "When Black Stache first comes on stage and does his monologue, I could not keep myself together. I just kept breaking character." He laughed even just recalling this scene, and in doing so made it clear that he loves being involved in theater. He also gave his insight on what he is most proud of about the theater department in general. While he thought sometimes there can be stereotypes about the theater community, he said "When you are good at it and enjoy it, then there is nothing weird about it at all. It is only something to be proud of."
The production follows the story of Captain Hook prior to inheriting his name. Junior Christian Nosacka took on this role, playing Black Stache. With his command of the stage and ability to leave the audience laughing at all the right times, you would never expect this was his very first theater experience!
His lack of experience remarkably did not hold him back at all, and he spoke about his acting process in a mature way. He explained, "I watched Peter Pan and picked up on Captain Hook's mannerisms. The more I practiced, the more it came naturally to me." While memorizing all the lines of his leading role, he said "My lines are so fun, so they were easy to memorize. Especially once you see how it fits into the scene, and see how people react. The lines just fall into place."
On the Saturday night performance, Nosacka had to deal with –  what one might call – a wardrobe malfunction. His fake mustache kept falling off during his first monologue. Yet, he did not let it phase him. He said "When it happened, my brain was like 'how can we make this funny? How can we make this natural? How can I entertain the audience,' " and he succeeded in doing so, along with a few extra laughs from the audience.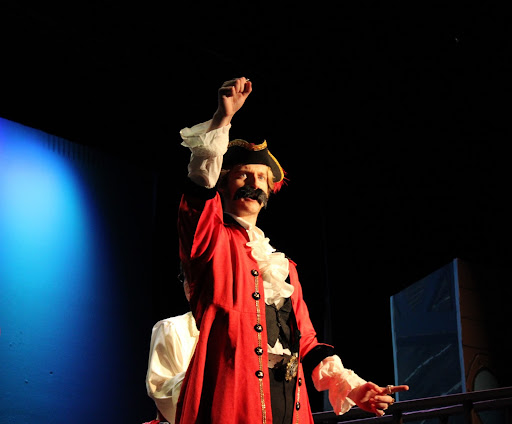 Lastly, senior Ava Herman played the role of Molly, and also commanded the stage with precision. She said, "To prepare for my role I had to think about Molly's motivations, and her emotions throughout the show. Doing this work helped me view Molly more as a person and less as just a character."
All three actors mentioned how important and successful the audience's reactions were for this show. Herman said, "the incredible audience that we had every night helped to build the energy on stage and enhance our performances."
Albaugh weighed in on this success as well, saying "I think the dynamics between each character went really well, and so did the reactions from the audience. The audience is such a big part of what we do."
Regarding the theater department in general, Herman had nothing but good things to say. "The biggest takeaway I have from my involvement in the theater department is the community. The Bellarmine theater is truly a loving and supportive place. It has helped me find confidence in who I am and has helped me grow into the person I am today."
It came as no surprise that this year's fall play was a fan-favorite. With outstanding performances from both upper and lower classmen alike, "Peter and the Starcatcher" will always be remembered for its well-executed comedy, efficient backstage and lighting crew, and, of course, the outstanding acting.