Taylor Swift Albums: Our rankings and thoughts
First place: "Folklore"
Released July 24, 2020
Highlights: "august"; "cardigan"; "my tears ricochet"; "this is me trying"; "illicit affairs" Possible Skips: none
As the 8th studio album for Swift, this masterpiece represented her switch from pop to alternative music. Created and released as a surprise during Covid-19, this album earned 8 non consecutive turns at No.1 on the Billboard 200 with the lead single "cardigan" debuting at number one. Through its in-depth storytelling of not only her life but other outside stories, Swift creates an album that has heartfelt emotion in every song. Important to this album is a highschool love triangle of Betty, Augustine and James. Swift uses a seemingly simple topic and dives through the different perspectives of the love triangle, putting listeners through their emotions of longing, pain, hope, and betrayal. From all of these aspects, it is no surprise that Swift won the highly sought after Album of the Year Grammy in 2022 and first on our ranking.
Second place: "Lover"
Released August 23, 2019
Highlights: "Afterglow"; "Death By A Thousand Cuts"; Lover"; "Cruel Summer"; "The Archer", "False God"
Possible Skips: "You Need To Calm Down"; "I Forgot That You Existed"; "The Man"; "ME!"
As the 7th studio album for Swift, this love-filled pop album ended the dark reputation era and led Swift to a more vibrant palette and future. As the first album for Swift to officially own the masters to, this album represented hope for not only her, but for other artists who were wrongfully taken advantage of by managers. Having 4.3 billion streams on Spotify, "Lover"  is one of the most streamed female albums in history with two lead singles "ME!" and "You Need To Calm Down" charting at number 2 on the Billboard Hot 100. Arguably, this album has Swift's best work through most of her songs, where she explores different aspects of love in her life. Unfortunately, in this album comes her worst work in her discography. Through her corny lead singles, Swift provides cringe-worthy lyrics that hold little appeal to listeners. Overall, despite its faults, this album makes up for it with its lesser-known tracks placing itself at second place. 
Third place: "Red (Taylor's Version)"
Released: November 12, 2021
Highlights: "All Too Well (10 Minute Version)"; "The Last Time"; "Nothing New"; "Treacherous"
Possible Skips: "Girl At Home"; "Stay Stay Stay"; "Run"; "Message In A Bottle"
As the second re-recorded album for Swift, this pop-country album explores the deep emotions of a rollercoaster romance. Not only is the song "All Too Well (Ten Minute Version)" widely credited as Swift's best song, it is also her most loved by fans. Released alongside this song was the "All Too Well Short Film", featuring Sadie Sink and Dylan O'Brien. This film portrayed a dysfunctional relationship between a younger woman and older guy, adding onto the already potent emotions of the song. Often living in the shadow of "All Too Well" is "Nothing New (featuring Phoebe Bridgers)". This coming of age song is relatable at the highschool level, and both artists blend their voices beautifully. Unfortunately, alongside these tracks are others that are not as strong. The worst side of this album provides cheap lyrics and over-produced sounds, ultimately weakening the entirety and placing it at third place on the ranking. 
Fourth place: "Speak Now"
Released: October 25, 2010
Highlights: "Sparks Fly", "Back To December", "Dear John", "Long Live", and "Haunted"
Possible Skips: "Speak Now", "Mean", "Superman", and "Ours"
As Swift's third studio album, "Speak Now" is written entirely by herself leaving it to be a fan favorite. This album recognizes many of Swift's public relationships as "Dear John" is written about her unfortunate relationship with John Mayer and "Back To December" describes her reminiscing on her relationship with Taylor Lautner. Love and heartache were both expressed in this album leaving it open for listeners to relate to many different songs. "Sparks Fly" and "Haunted" remain to be two of Swift's best songs to this day as they provide the lyricism and emotion that many fans seek from her. Swift won "Best Country Song" and "Best Country Solo Performance" with the third single from this album, "Mean". "Speak Now" was the best album from Swift's early days of music as it really portrayed her talent allowing it to place fourth on the rankings. Fans now wait patiently for the release of the "Speak Now" re-recordings that Swift has hinted to in her recent music video "Bejeweled".
Fifth place: "Evermore"
Released: December 11, 2020
Highlights: "champagne problems", "ivy", "gold rush", "'tis the damn season", and "tolerate it"
Possible Skips: "willow", "dorothea", "marjorie", and "closure"
As the followup and sister album to "Folklore", Swift's ninth studio album "Evermore" came as a surprise to fans during Covid-19. This album holds a similar level of lyrical technique to "Folklore" as it puts listeners through tales of love, marriage, infidelity, and grief as she analyzes human emotion to an extensive level. Swift sold over one million copies of "Evermore" within its first week of release, and it continued to top charts like the "Billboard Hot 100". "Ivy", one of the highlights of this album, describes the idea of a man trying to repeatedly root himself in her life as she knows he will continue to hurt her and bring her down. "Evermore" is comparable to "Folklore" in the eyes of lyricism, but it lacks the storyline of the love triangle that "Folklore" possesses. This is why it ranks fifth on the list. 
Sixth place: "1989"
Released: October 17, 2014 
Highlights: "Out Of The Woods"; "Clean"; "I Wish You Would"; "You Are In Love"
Possible Skips: "Bad Blood"; "Shake It Off"; "Welcome To New York"
As Swift's second album of the year, it is no surprise that this album is close to what is considered pop perfection. Created at the peak of Swift's career this album contains her best pop and energetic work. This album most definitely has her best singles, like "Out Of The Woods" and "Blank Space" which both use clever wordplay and lyricism. The final track on the original album, "Clean" is this album's highlight. The song describes sobriety and addiction in terms of trying to escape an unhealthy relationship. It's a perfect and toned-down finish that captures the true talent of Swift. The negative aspects of this album include cheesy and over the top songs, that make them almost hard to listen to. This album is not bad in any sense, but because of the immensity and talent of Swift in her other albums, it places sixth on the ranking. 
Seventh place: "Midnights"
Released: October 21, 2022
Highlights: "Would've, Could've, Should've"; "The Great War"; "Mastermind"; "You're On Your Own Kid"; and "Maroon"
Possible Skips: "Anti-Hero", "Vigilante S**t", "Labyrinth", and "Gitch"
As Swift's tenth and most recent studio album, "Midnight's" has been arguably Swift's most successful album. During the week of the album's release, it held all top ten spots on the "Billboard Hot 100" list. This is the first time in history for a female artist to hold all ten spots at one time. After receiving amazing feedback from fans, Swift revealed news that she would be touring for this album and naming it "The Eras Tour". Swift's tour sold out within seconds and even crashed the "Ticketmaster" website. This album includes elements similar to "Lover", "Folklore", and "1989" as she combines pop music with alternative music. Swift's music expressed thirteen of her sleepless nights throughout her lifetime conveying emotions of anxiety, self-criticism, and insecurity. "Would've, Could've, Should've" the 19th and the best track on the album ties back to "Speak Now's" "Dear John" as she shows the way her relationship with John Mayer has affected her throughout the years but how she has learned from her mistakes in trusting him. This album lands in seventh place as it is just below "1989's" level in Swift's pop category.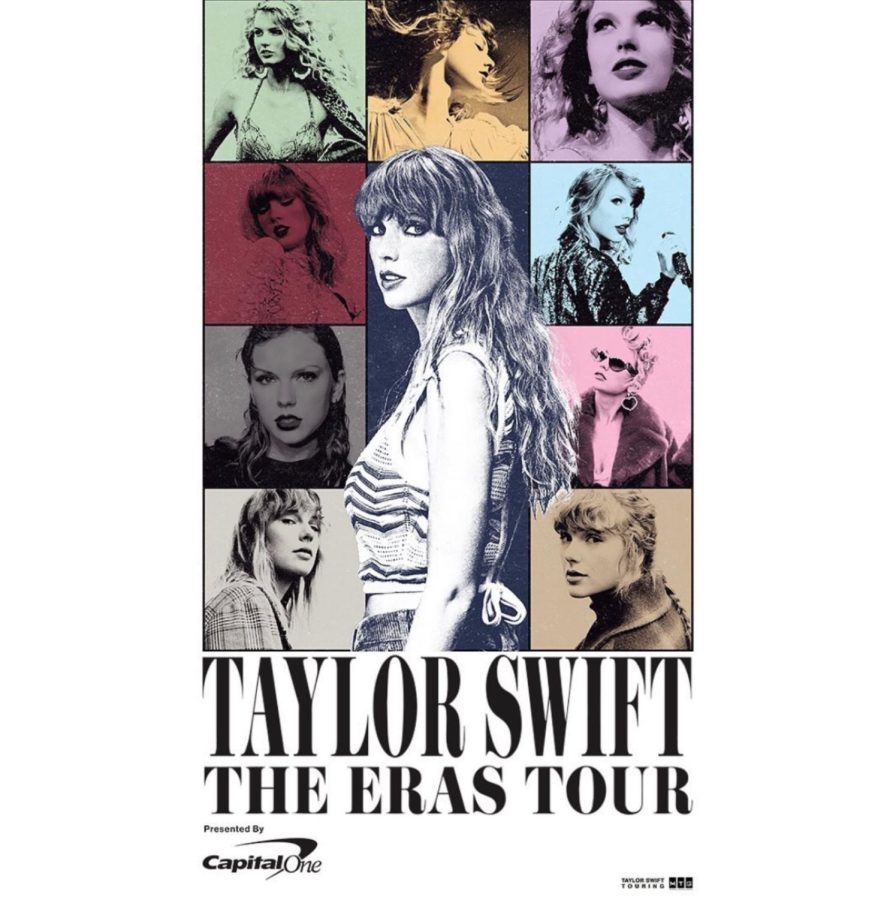 Eighth place: "Fearless (Taylor's Version)"
Released: November 11, 2008, April 9, 2021
Highlights: "The Way I Loved You", "Mr. Perfectly Fine", "Fifteen", "Breathe", and "The Other Side Of The Door"
Possible Skips: "Love Story", "You All Over Me", "Superstar", and "Today Was A Fairytale"
As the 2nd studio album for Swift, "Fearless" started to reveal some pop aspects to Swift's primarily country discography. Swift won many awards for "Fearless" including Grammys, Teen Choice Awards, and VMAs. An award that sticks out in particular was her win of the 2009 MTV VMA for her release of the "You Belong With Me" music video. She was infamously interrupted by Kanye West while accepting her award as he claimed that Swift did not deserve the win over Beyonce's "Single Ladies". This started a lengthy feud between Swift and West that fans speculate produced Swift's inspiration for "Reputation". This album includes lyricism with advice targeting the teenage generation as Swift reminisces on her high school struggles between boys and friendships. She went on to allow this album to be the first of her re-records legalizing it as her own and to rename it "Fearless (Taylor's Version)". This album lacks the relatability to all audiences as many of Swift's albums possess. Even with the newer version of this album, it still holds the immaturity of lyrics and storyline leaving it to be ranked in eighth place. 
Ninth place: "Reputation"
Released: November 10, 2017 
Highlights: "Getaway Car"; "Dress"; "Don't Blame Me"; "King Of My Heart"
Possible Skips: "Look What You Made Me Do"; "End Game"; "This Is Why We Can't Have Nice Things"
After a year of dead silence for Swift, the "Reputation" album came as quite the shock for many people. Dedicated to those who betrayed and mocked her, this album was Swift rising above her tarnished reputation. While Swift never confirmed who her songs were dedicated to, many people assume they were in response to Kim Kardashian, Kanye West, and Scooter Braun. Despite the purpose of this album, the revenge tracks aren't its strong suit. They lack unique lyricism and production value overall. In fact, the songs about her newly developed relationship with actor Joe Alwyn shine much brighter. "Getaway Car" describes Swift at her lowest, where she used a relationship to escape her current reality. It's one of Swift's best pop songs and is the clear standout. While this album lacks overall artistry, its purpose is clearly conveyed and can be a fun album for those looking to channel their inner anger. 
Tenth place: "Taylor Swift"
Released: October 24, 2006
Highlights: "Tim McGraw", "Picture To Burn", "Should've Said No", "Mary's Song", "Our Song", and "Teardrops On My Guitar"
Possible Skips: "Stay Beautiful", "A Perfectly Good Heart", and "Invisible" 
As Swift's debut album, "Taylor Swift" was released when she was just sixteen years old. This album was successful as it brought her great attention and started her rise to fame. This album solely focused on Swift's talent in the country genre as she sings about her time in high school. While many of the songs hold a lot of nostalgia for many fans, the album does not hold the same level of lyricism or production that the rest of her albums have. Songs like "Our Song" and "Picture To Burn" have stayed relevant amongst the fandom but many others have disappeared over the years. This was an amazing start to Swift's career but since then Swift has produced other works of a higher level leaving this album in last place.