Why read 'The Guest List' by Lucy Foley?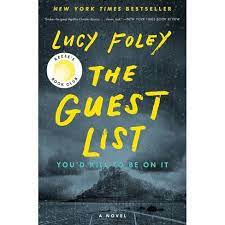 Book – The Guest List by Lucy Foley 
Genre – Mystery 
Rating – ⅗ stars 
This month I read "The Guest List" by Lucy Foley. "The Guest List" is a wedding murder mystery. It is narrated from multiple perspectives, including the narrator, the bride, the groom, the best man, the maid of honor, the wedding planner, and the plus-one, each having very views and timelines on the murder as they are all stuck on an Irish island for the wedding. This book flashes forward from finding the body to the beginning of the wedding, each displaying moments leading up to the murder. As you read, you are also trying to solve the mystery as the book flows from present to future. 
I recommend this book to someone who enjoys true crime mixed with a small amount of romance also, if you enjoyed books like "Murder on the Orient Express" by Agatha Christie, "Nine Perfect Strangers" by Liane Moriarty, "No Exit" by Taylor Adams, and "One by One" by Ruth Ware. "The Guest List" also is on Reese Witherspoon, so if you enjoyed her recommendations in the past, this book is for you.