Lion Pride football shocks the world
Hang on for a minute...we're trying to find some more stories you might like.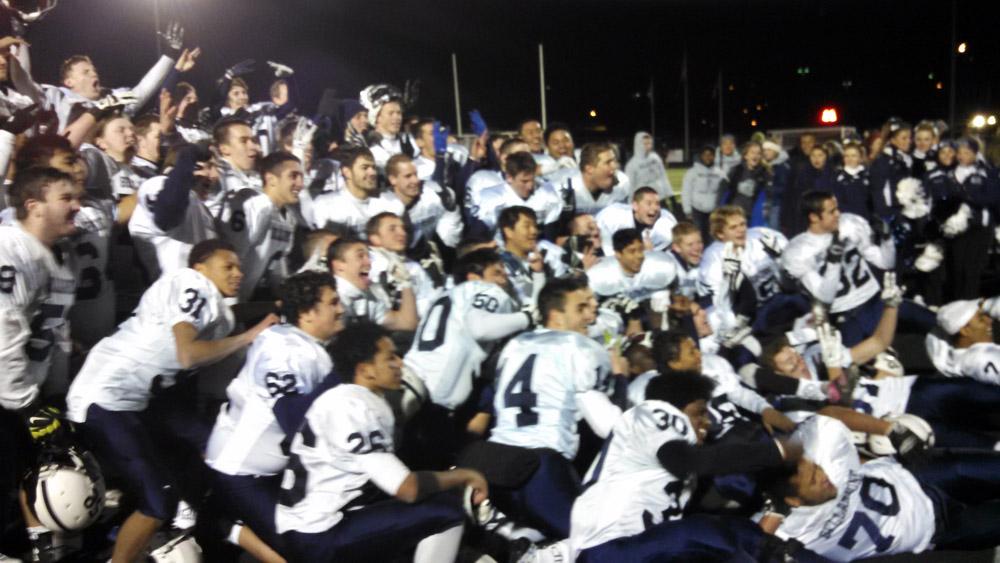 By Joe Lyon
The football team headed into Nov. 15's state playoff game against the Camas Papermakers as significant underdogs. The Camas Papermakers were the second ranked team in the state, and Bellarmine was just coming off of the Nov. 8 upset of tenth ranked Kentwood. Many people feared this could be the last game of the Lions' season, but the players had something to say about that.
From the beginning of the game, the Lions took control. On the third play of game, Lions' middle linebacker, Erik Glueck, intercepted the Papermakers pass and returned it for a touchdown. Kicker Matt Philichi added the extra point, making it 7-0 Bellarmine. On the ensuing Camas drive, the Papermakers scored a touchdown but missed the extra point making it 7-6 Lions. On the very next play from scrimmage, Nate Golterman-Doyle scored on a 70-yard touchdown run. Philichi then added the extra point making it 14-6 with time left in the first. The rest of half went back and forth until right before the halftime when Philichi added a field goal, making it 17-6 at half-time.
As the second half began, the Lions' goal was to just contain the lead and pull of the major upset. Early in the half, Philichi added another field goal, making it 20-6 and giving the Lions a manageable lead.
For the rest of the game, the Lions defense was the major story. Throughout the game, they accumulated 7 sacks, making it difficult for the Papermakers offense to find some rhythm. The Papermakers scored a touchdown before the end of the game making it 20-13, and that is how the game ended. The Lions attribute this win to a strong defensive effort and a well-played first half.
The Lions must carry this momentum into their next game to make it into the Tacoma Dome. On Saturday, Nov. 22, the Lions take on the number one ranked team in the state, Bothell, at Mt. Tahoma.
Even with this difficult bracket and set of games the Lions have faced, the team is still making a run for the coveted state title.