Football plays for B.R.O.O.K.S.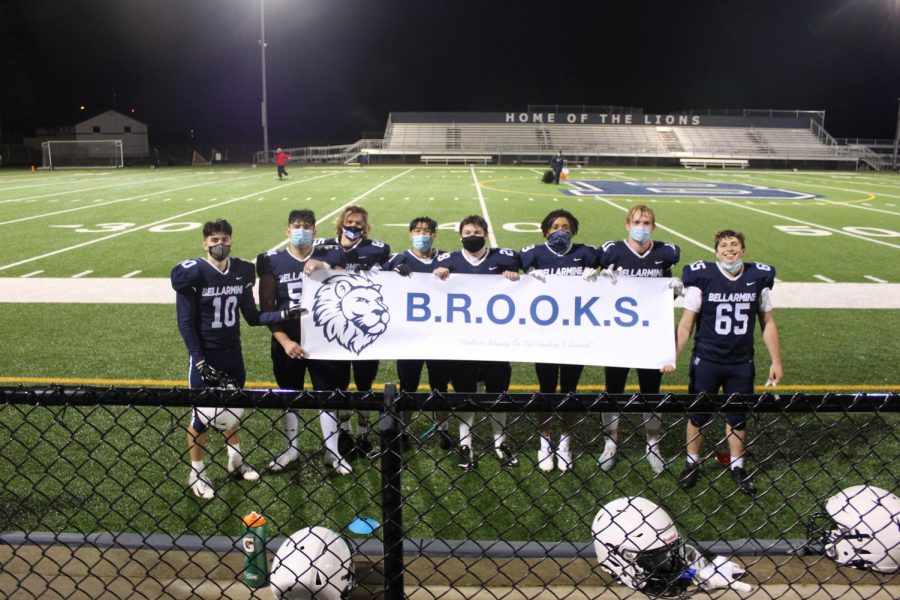 With the beginning of Season 1 of Washington State High School sports, Bellarmine welcomes back some familiar faces. Cross country begins its journey of running a long way at an impressive pace, women's soccer looks to battle it out on the pitch, and football seeks to make its mark on the impressive legacy that is Bellarmine Prep football.
Friday Night Lights will not look the same for the fans as there is no fan attendance and the season is shortened by COVID, but the team is not taking this season any differently and, in fact, some of them think this year is the most important season yet.
During the January senior retreat, the 2021 Lion Pride Football motto was created. The motto is B.R.O.O.K.S. It stands for Brothers Relying On Our Kinship and Service.
Senior Allen Lo said they chose this motto to not only honor our friend, Brooks Rolfness, that the seniors lost their freshman year, but also to emphasize how the team will never fight alone because they are relying on each other every time on or off the field because they are brothers.
Senior Peter Connelly was asked what this season meant to him and if he felt any differently about their season affected by COVID. Peter Connelly said, "This season not only defines but embodies the structure we want and the structure we need."
Connelly says to show how despite the season being different, the mission has not changed and will not change for years to come. So despite the season being very different, the players, especially the seniors, are not discouraged by it, but instead thrilled at the opportunity to create a stepping stone for all the classes to come.