The National Anthem in Sports
In all major sports leagues in the United States, it is a tradition to play the National Anthem before the start of each game. In fact, this tradition isn't just in professional sports leagues, but also in all minor leagues and even high school leagues all over the country. However, since the social justice protest that occurred this summer many players in sports leagues have protested the anthem by kneeling or not being present on the field while it is being played.
The Dallas Mavericks, a professional basketball team, led by owner Mark Cuban, has instructed his team to not play the national anthem all together before home games. This unusual act didn't go unnoticed though, as after 13 home games of not playing the anthem, the National Basketball Association, or NBA, released a statement that said all teams must play the National Anthem before games.
When asked in an ESPN interview about what made Cuban stop playing the anthem, he said, "In listening to the community, there were quite a few people who voiced their concerns, really their fears that the national anthem did not fully represent them, that their voices were not being heard. So we've had a lot of conversations about whether or not we should play the anthem."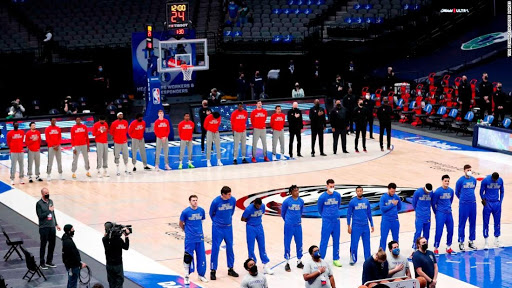 This action by the Mavericks and Cuban is just another example of how teams in the NBA, and the NBA have begun to change with the social climate the country is in. During the Orlando Bubble Playoffs last season, the NBA allowed players to wear social justice statements on their jerseys and also painted "Black Lives Matter" on the sides of the court.
But, Cuban never intended on canceling the anthem completely. He said not playing the anthem initially was an experiment to see how the players and public would react. He also said, "We didn't cancel the national anthem. We still had our flag flying proudly up on the wall at the American Airlines Center and everybody had the opportunity to address it and pray to it or salute to it or whatever their feelings are."