Team captains reflect upon the fall sports season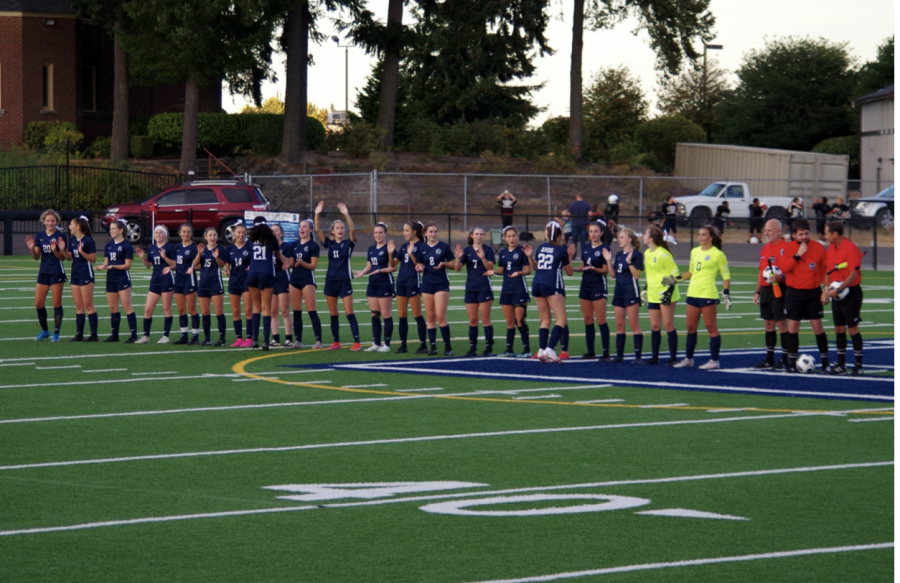 As the fall sports season kicks into gear, Bellarmine student athletes compete alongside their teammates for their team's domination of the local division. Among the numerous student athletes who partake in these activities, the team captains often bear the brunt of their team's responsibility. In a string of interviews with the team captains of Boys' Tennis, Football, Volleyball, and Girls' Soccer (Boys' and Girls' Golf and Boys' and Girls' Cross Country will be featured in another article)  is the team captains of these sports reflected upon their experiences leading their teams and their anticipation for the remainder of the fall sports season.
Boys Tennis is no stranger to local domination. With a currently flawless record reminiscent of the undefeated 2019-2020 season, team captain Philip Deaton and vice-captain Devin Larsen-Nigam reflect on the triumphs and challenges of their role. "Two challenges are motivating the team and building relationships, because we have so many players."
Larsen-Nigam describes the highlights of his task as, "Us cheering after every practice, the feeling after a hard fought win, [and] the feeling after finishing a set of 17s."
Deaton describes the highlights similarly, listing, "Team speeches, yelling, and leading in practice" as his favorite parts.
When asked about his experience as a ninth grader on the tennis team, Mac Brady (B 25) replied, "As a ninth grader coming in from a brand new school the team was really nice and welcoming."
Football, undoubtedly the most popular sport in the nation and the school, is an activity interwoven with incredible athletic demands and mental acuteness.
When asked about his focus on and off the field as a football player, Tristan Warner, one of three team captains alongside Tariq May and Gage Hicks, said, "The main thing is when you are on the field, you are kind of locked into a zone. The key thing that helps me stay focused is knowing that you are playing for God and you will have no guilt if you lay it all out for God. Let that pressure out. Do the best job you can do. Whether it looks good or bad on the scoreboard, knowing that you gave it everything you had. Knowing that you gave it your best is all you can do. Off the field, I guess doing school work is all it is. Stay focused on the season. Just go from there each week."
Switching perspectives from that of a player to a team captain, Warner described his role, saying, "One highlight of being a team captain is knowing that we are accepting the responsibility of the team — knowing that people put trust in you and accepting that responsibility. Secondly, it feels good representing the school in football, since it is one of the most popular sports. A third highlight is that it is easier to get involved in things. You are able to assist people and do more stuff in a community. It is good to put a name on it with Bellarmine team captains helping people out with this. I would say two hardships are consistency, again. You have to be consistent. There is no letting go, not that no one has done that. Knowing that another team captain has your back and not giving up on them. Another hardship would be setting the example — rallying the troops around you, you could say. It is a hard task to do, but it is really rewarding when it gets done."
In terms of aiming to improve the team and the state of the team in general, Warner said, "First I would say the brotherhood of the team, kind of like the bonding. Secondly, the consistency of the team on and off the field and in the classroom. One of the things we have been focusing on as not before in previous years is modeling off of God. We have been trying to model it off of Jesus. We have not had any fights or arguments in the team. We have been more like a family. We have been a family."
Girls Volleyball has geared up for an eventful season with a team of highly-skilled and enthusiastic players. Team captain Hailey Dillow, one of three team captains including Keeley Santillan and Abby Crist, reflected upon the highlights and challenges of her role, saying, "A highlight is trying to create team spirit both on the team and at school. I have made announcements for the team. Telling everyone what to wear on game day to get hyped up for the team. A challenge is holding people your age accountable for attitude and various reasons. You have to know when to say things to your teammates and when to not. I guess another challenge is trying to make sure everyone's needs are met — finding that balance. We will pick outfits and try to throw out an idea [and w]e will try to alter it to everyone's opinions. I guess a highlight is just [the] game settings. It's just a fun time team-spirit-wise to feel at the center of it and get your team excited and that people can look to you if they are feeling down or something."
Dillow further reflected on her team's state as a community. "I think that we have done a lot of focus and we have been staying disciplined. We have an emphasis on communication. Accountability and discipline are the main parts. The role of a captain is changing the mindset in certain dips in the performance and attitude."
Dillow ended her reflection by saying, "I think that even beyond the season we will be a family. No matter what happens, win or lose, the memories that we make on the team and the people we meet will be what we remember."
Soccer is a sport of incredible precision, agility and endurance, the Bellarmine program of which is spearheaded by team captains Kylie Leverett, Kendra Donley, and MaryRose Johnson.
Leverett described her role as a captain, saying, "A highlight is being able to lead by example. A challenge could be keeping our mindset positive so we can reflect that to the team."
Donley added onto the list of highlights, saying, "Another one is being able to set my ideas in motion, like, having a say in what the team does. I think the third highlight would be just the sense of every win we have means a little more to me [and t]he feeling of accomplishment when we are successful."
When asked about the future of the team, Johnson said, "I think we are going to have a very successful season. We know exactly what we need to do. It is just what we need to do to get there. I think once we know each other's strengths and weaknesses, we will be able to connect and build something really special."
Leverett added, "I see our team being a very well-bonded team, a team that plays for each other, a team that wants to win for one another."
Donley further described the bond the team has made, saying, "I guess I see us at our greatest potential. It will be a season that we won't forget."
Clearly, the fall sports season is a time during which the character of many student athletes is shaped and friendships are strengthened and built. With the common focus of excellency on the field, courts, or gymnasium floor, team captains have clearly expressed a desire for excellency and the success of their teams and a hopeful outlook on the future of the season.
Look for the future article featuring Boys' and Girls' Golf and Boys' and Girls' Cross Country.