Basketball Senior Nights: What did they look like, and what does this say about how the greater Bellarmine community supports its teams? 
On Jan. 28 and Jan. 31, Bellarmine Prep's basketball programs took on both of their senior nights; the girls facing off against a tough Emerald Ridge, and the boys against Olympia. All of these teams were incredible matches for each other— the games had their audiences on the edge of their seats almost the entire time. In the end, Bellarmine girls took the win in a 60-47 final, while the Bellarmine boys experienced a devastating 55-56 loss.
I had the pleasure of attending both of these events to support my classmates in what may have been their final time on the floor of the Booster gym. After both of these games, however, it was clear that my peers and the larger Bellarmine community perhaps did not hold the same sentiment.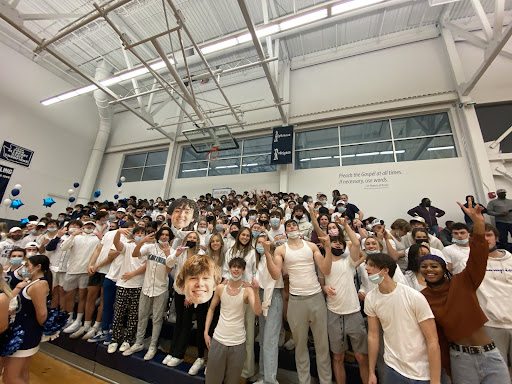 The image above shows the student section that showed up and out for the boys senior night. There are balloons on the left side, "fatheads" of varsity players such as Sten Rasmussen (B'22) and Tommy Hanly (B'22) are riddled throughout the body of this section. Not pictured were large banners of all of the senior boys' pictures with their names hanging above the hoop. When each of the starting players' names were called, and they rose from the bench to greet a teammate down the court, waiting to do their honorary handshake, the lights came down. A spotlight was shown on whichever senior boy was running down the court, ready to thank the refs and shake the opposing coaches hand.
None of these celebratory actions or accoutrements were present at the girls' senior night; which, ironically enough, was on a Friday night as opposed to the boy's Monday night face-off. I would think that a Friday night game would warrant more people than a Monday night— but I guess I can't blame anyone for wanting to support their seniors. If only this support from the students, faculty/staff, and greater Bellarmine community was even distributed among the teams. That would've been amazing.
I have been attending Bellarmine girls' basketball games since I was in eighth grade, and I even participated in the program my freshman year at Bellarmine. Both of these programs have been through so much in the last few years that I, among many other students, have recognized and have contributed to my overall respect for all of these teams. One thing that has remained unfortunately consistent throughout all of these years is the overwhelming disparity of support between the Boys and Girls program. This is what I have observed— I do not know entirely what happens behind the scenes, and I know that a lot of these celebratory additions are parent-led— but I do know what I've seen. What I have seen are students not showing up for their teams; not backing them, not coming out for games, not appreciating them. I don't understand why one team would be received so much better than the other. To me, it begs the question: Do the students really care about these teams and these athletes, or is the immense social element of these (boys) games all there is to it?
The students here at Bellarmine, and I'm sure at most other high schools, have a herd mentality. We flock to the greatest social experience— which is precisely why hundreds of people go to football games, and in the same season, half of that can't make it to a girls' soccer game. They are both held outside, on the same bleachers, in the same weather, but there is clearly an uneven presence of people between the two.
This uneven presence isn't due to one team or gender winning more over another, which is, in my opinion, the only reason I can see a perhaps justified wide range of attendance. No, that can't be it. To be straightforward, the boys basketball team in recent years hasn't even come close to the record the girls have left.
This problem is not about the teams. This is not about basketball. This is about a social event where one group of people is favored over the other because of the systemic and internalized connotations surrounding them. We associate men and athletics to things such as winning, strength, power, entertainment, ability, and domination. Women-based athletics are automatically written off as "boring". This is how most of society in the United States feels; and Bellarmine is no exception. Being a person who has been observing both sides of this coin for the last few years, I can confidently say that, based purely off of the performance of the sport alone, that is not true. We know that is not true; the numbers show that is not true.
It is in the hands of the people to determine how both of these programs are received socially. If the Bellarmine student body cared about their constituents, and wanted to support them as people while also watching some great basketball, then my experience at both seniors nights wouldn't have had such a noticeable gap in enthusiasm.
It is important to note that none of this means one team should be chosen or prioritized over another— it is the exact opposite. Since Bellarmine Prep emphasizes the importance of athletics in our school culture, all sports should be received greatly from this community. The margin of participation between a Bellarmine girls' basketball game and a Bellarmine boys basketball game needs to decrease drastically. I could only hope that with the future incoming  classes they not only bring the spirit that is required of a Bellarmine Lion, but also an increasing desire to support all of their fellow Lions.
Please consider attending the girl's regional match against Woodinville, Feb. 25, 6 p.m. at Jackson High School. Depending on the outcome of that game the girls will continue their season at the Tacoma Dome on March 2. See you there.