Lions lose 34-14 against cross-town rivals Curtis despite offensive improvement
The Lions traveled to play their longtime cross-town rival, the Curtis Vikings on Saturday, Oct. 1.
The Lions, who entered the contest with an underwhelming 1-3 record, were hoping to turn their season around against the Vikings. Instead of winning their fourth straight game against Curtis, Bellarmine fell 34-14 consistently being outplayed on both sides of the ball. Although not mathematically impossible, the playoffs became out of reach with Saturday's loss barring an undefeated end of the season which is deemed more than unlikely as the Lions have still yet to play Emerald Ridge and Puyallup who both are atop the South Puget Sound League.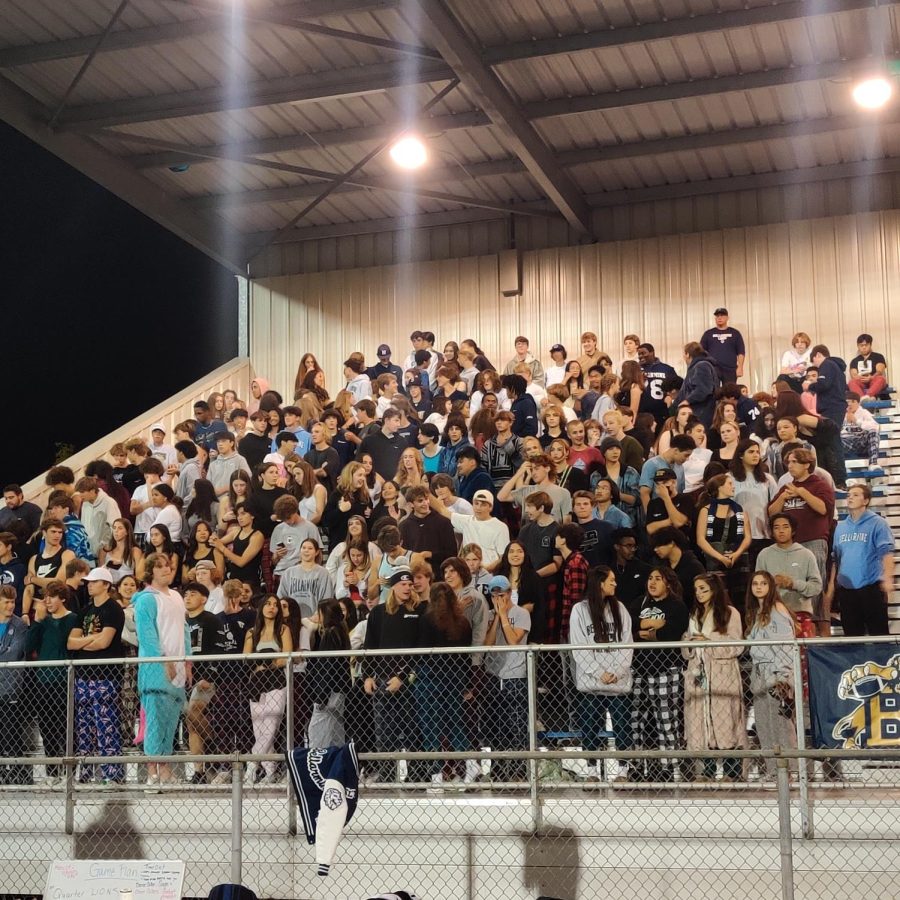 Upon arrival in Vikings Stadium, the Lions were greeted with an uproar of support by a Bellarmine fan base who traveled especially well even with being the underdog. Junior Jacob Hundven kicked off for the Lions under the lights suspending the pigskin into the October night and commencing the contest. The Vikings drove down to the Lions' one-yard line before facing a crucial fourth and goal where the stellar Lion's defense proved why they are one of the best units in the league forcing a stop and letting the Lions take over deep into their territory. One of the main storylines coming into the game was sophomore Dawson Hedrick making his first career start at quarterback, in the hope of a spark to a previously underwhelming offense. On the first passing play of the night, Hedrick, hoping to convert a third down to standout senior Lucas Kokich, threw an interception subsequently giving Curtis seven points.
Curtis continued to dominate early in the game, forcing a stop on the following Bellarmine drive and taking it downfield for a long 78-yard scoring drive led by star quarterback Rocco Koch. The Lions were stuck in an early 14-0 deficit. Fortunately, they were about to catch a huge break. In the second quarter, senior linebacker Gavin Ostrander snagged an interception near midfield and returned it deep into Vikings territory. This set up a 19-yard Dawson Hendrick's touchdown pass two plays later, to sophomore wideout Cooper Fournier. It was the first TD of the season for the sophomore duo, and it helped give the Lions' offense new momentum. Unfortunately, the Vikings took it to the house on their 1st play of the next possession, for a 76-yard touchdown run. The Lions would go into the half down 21-7.
The Lions came out in the 3rd quarter with renewed energy. After starting the game just 4/12 passing, QB Dawson Hendrick hit his stride, completing 13 passes in a row on the next two Bellarmine drives. Led by Hendrick and running back Joey Bambrick, the Lions executed a 79-yard touchdown drive to open the second half, capped off by Alex Quintanilla, who scored his first touchdown of the season. The Vikings kept up the pace, going for their scoring drive immediately after and keeping it a two-score game. Late in the 3rd quarter, both teams traded turnovers, with Joey Bambrick fumbling at the Vikings 21 yard line. On the very next play, Rocco took a deep shot which was picked off by junior cornerback Nick Nino.
Unfortunately, this interception was one of the final things Bellarmine had to cheer about. Their final two drives would end in punts, and the Vikings punched it in one more time to finish the game with a commanding 34-14 victory. Bellarmine fell to 1-4, with Curtis moving to 3-2 on the season.
Overall, there are positives to look at after this game, especially considering the 2nd half. In his first start, Dawson Hendrick showed improvement. He turned his game around after the touchdown to Fournier, finishing the night going 18-29 with 149 yards of passing, 14 yards of rushing, one touchdown, and one interception. Both Fournier and Quintanilla scored for the first time of the season, and both Nino and Ostrander contributed with key interceptions. Once again, junior Joey Bambrick led the rushing attack with 56 yards on 11 carries. And in the passing game, Bellarmine finally had a balanced attack. Three different receivers checked in for at least 3+ catches and 30+ yards (Lucas Kokich, Drew Johnson, Nick Nino), and Hendricks completed passes to 7 different receivers, including both his running backs in Bambrick and senior Dagim Heiser. Return man Spencer Truebenbach also had a nice game, taking 4 returns for 47 yards, an average of 12 yards per return. And once again, Junior Jacob Hundven put up a strong performance, with 4 punts for a total of 118 yards (30 yards per punt). He also ran for 7 yards on a fake punt and was a perfect 2/2 on PATs.
The Lions look to keep their season alive this upcoming Friday against a one-win South Kitsap Wolves team whose only victory also came against the Roger Rams. Bellarmine has still yet to score a point at home and desperately hopes that will change on Friday. It is Bellarmine's homecoming game and the Lion Den will be roaring for a complete game on both sides of the ball and an eventual Lions win. Although the Lions are favored in this matchup it will seemingly be a competitive game against two teams fighting to save their season.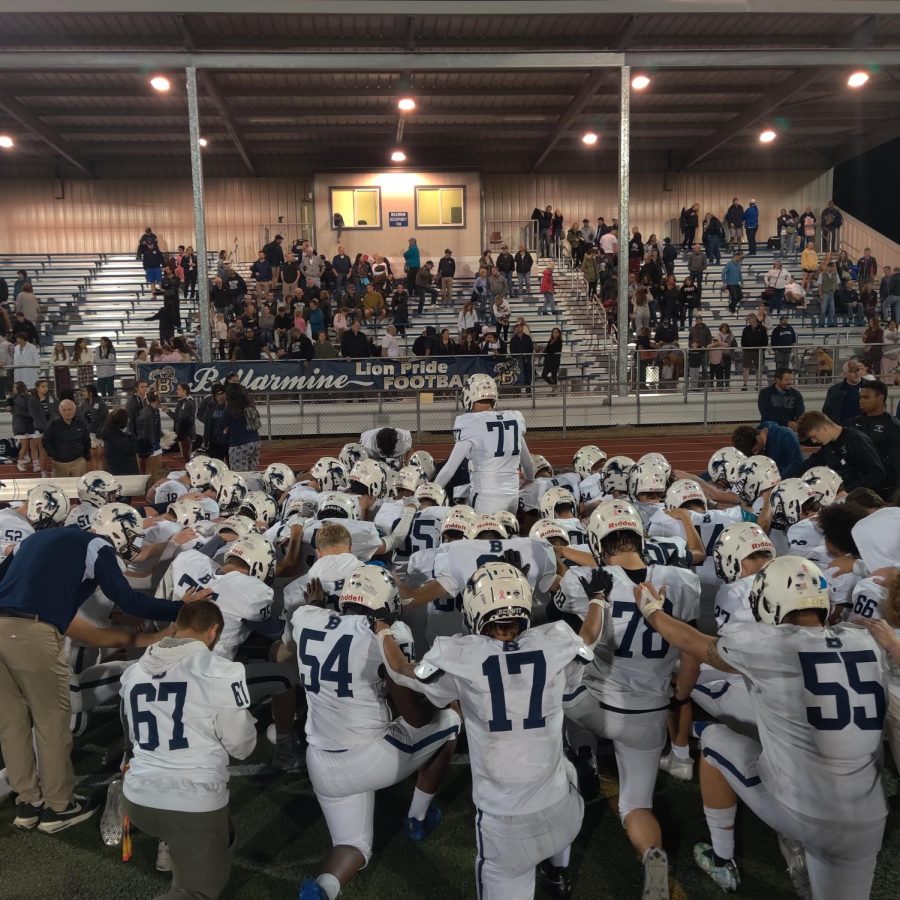 Game Stats
Curtis Drives –
80 yards, ends in 4-and-out, 1penalty on them (5 first downs)
8 yards, ends in touchdown, 1 penalty on them (0 first downs)
78 yards, ends in touchdown (2 first downs)
13 yards, ends in interception (1 first down)
76 yards, ends in touchdown (0 first downs) (1 play- 76 yard TD run)
53 yards, ends in blocked field goal/turnover on downs (2 first downs), 1 penalty on us (3 yards)
77 yards, ends in touchdown (3 first downs)
0 yards, ends in interception (0 first downs) (picked off on first play)
53 yards, ends in touchdown (2 first downs)
-3 yards, ends at end of game (0 first downs)
Bellarmine Drives:
4 yards, ends in interception, 1 penalty on us (1 yard) (0 first downs)
46 yards, ends in 4-and-out, 1 penalty on us (5 yards), 2 penalties on them (20 yards) (2 first downs)
-6 yards, ends in punt, 3 penalties on us (11 yards) (0 first downs)
19 yards, ends in touchdown (0 first downs)
5 yards, ends in punt (1 first down)
1 yard, ends at halftime (0 first downs)
79 yards, end in touchdown (6 first downs)
44 yards, ends in fumble (2 first downs), 1 penalty on Curtis (5 yards)
3 yards, ends in punt (1 first down), 1 penalty on Viks (5 yards), 3 penalty on lions (15 yards)
30 yards, ends in punt (3 first downs) 1 penalty on Vikings (14 yards)
Individual Player stats:
Joey Bambrick – 11 carries, 56 yards, 1 fumble, 2 catch, 0 yards
Jacob Hundven – 3 kickoffs, 4 punts (net 118 yards), 2/2 PAT, 1 carry, 7 yards
Dawson Hendrick – 18/29, 149 yards, interception, touchdown 3 carries, 14 yards, 4 sacks (-18)
Spencer Truebenbach – 4 returns, 47 yards
Andrew Johnson – 5 catches, 47 yards
Alex Quintinalla – 3 carries, 20 rushing yards, 1 touchdown, 1 kickoff return (13 yards), 1 catch, 3 yards
Gavin Ostrander – interception, 35 yard return
Cooper Fournier – 1 catch, 19 yards, touchdown
Lucan Kokich – 3 catches, 31 yards, pass deflected
Dagim Heiser – 1 catch, 9 yards, 2 rushes, 2 yards
Nick Nino – 5 catches, 40 yards, interception
Tyler Stowers – key punt return tackle to prevent touchdown, 1 sack (-15)
Lions defense managed 0 sacks against Curtis Offense all night.
Leaders:
Rushing – J Bambrick, 11 carries, 56 yards, FUM
Passing – D Hendrick, 18/29, 149 yards, TD, INT
Receiving – D Johnson, 5 receptions, 47 yards
Returning – S Truebenbach – 4 returns, 47 yards
Total Penalty Stats:
Lions – 9 penalties, 35 yards lost
Vikings – 7 penalties, 54 yards lost
Total Drive Stats:
Vikings – 10 drives (5 TDs, 2 INTs, 2 Turnover on Downs, 1 End of Game) (15 Total first downs, 34 points) total offensive yards: 435
Lions –  10 drives (4 punts, 2 TDs, INT, FUM, Turnover on Downs, End of Half) (15 Total First downs, 14 points) total offensive yards: 230