Here are the playoff seeding scenarios for Lions Boys Basketball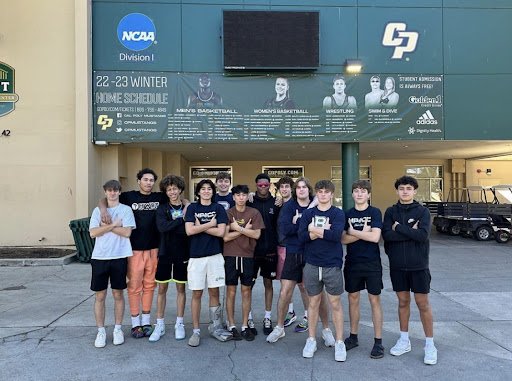 I don't like to brag, but if anyone read my article from two days ago, all four of my SPSL predictions came true, and everything went right for Bellarmine to improve their playoff chances. Now with one game left for each team, there's lots on the line.
The Bellarmine Boys Basketball team won on the road on Wednesday, defeating the South Kitsap Wolves. The win, along with Emerald Ridge losing to Curtis, moves the Lions from 8th to 7th place in the SPSL. Bellarmine, now 6-6, is actually in a four way tie for fourth place, but due to tiebreakers, the Lions are ranked last of the four. This is what happens in a league with two good teams, two bad teams, and six average teams. Everyone has a fighting chance with one game left in the season.
So here's the playoff picture. Olympia, having defeated Curtis, will likely finish in first place, with Curtis coming in second. Graham Kapowsin, another team that made state last year but was expected to regress, has locked up 3rd place with their win over Bethel to move to 8-4. In a four way tie, at 6-6, are Sumner, Rogers, Bellarmine, and Puyallup. Bellarmine lost to Sumner, but defeated Puyallup and Rogers, so there's a good chance the Lions can move up further in the standings with a win tonight. Believe it or not, there's actually a possibility that Bellarmine could climb as high as fourth place or slip back into eighth place depending on how tonight's games go down, because 5-7 Emerald Ridge could still pass the Lions with a tiebreaker.
Here's every scenario of how Bellarmine's seeding can change:
Fourth Seed: 
Bellarmine (6-6) defeats Puyallup (6-6) and Graham Kapowin (8-4) defeats Sumner (6-6)
This is obviously the best case scenario for Bellarmine. The fourth seed would give the Lions a decent chance to host a home playoff game, which would likely be against a beatable team, and offer Bellarmine a good chance at making a run at the district tournament. All Bellarmine needs is to beat Puyallup and for GK to beat Sumner, and we will be #4.
Fifth Seed: 
Bellarmine (6-6) defeats Puyallup (6-6) and Sumner (6-6) defeats GK (8-4).
The fifth seed wouldn't be that bad for the Lions, but it would lessen their chances of hosting a playoff game. This scenario involves a Bellarmine win and a Sumner win. Because Sumner beat the Lions, they would claim the fourth seed and Bellarmine would be the fifth.
Sixth Seed: 
The sixth seed is actually impossible for the Lions to get.
Seventh Seed: 
Puyallup (6-6) defeats Bellarmine (6-6), Rogers (6-6) defeats Emerald Ridge (5-7).
In this scenario, Bellarmine would fall to 6-7. Puyallup and Rogers, both with wins, would finish at 7-6, and no matter what happens in the Sumner vs GK matchup, Sumner still holds the tiebreaker. This means Bellarmine slips to seventh place, which would likely lead to a road playoff game against a good team.
Eighth Seed:
Puyallup (6-6) defeats Bellarmine (6-6) and Emerald Ridge (5-7) defeats Rogers (6-6)
In this scenario, Bellarmine loses to fall to 6-7, and ER defeats Rogers, meaning Bellarmine, Emerald Ridge, and Rogers would all be tied at 6-7. In a three way tie, Bellarmine would finish at the bottom of the bunch, which means at 6-7, they would finish 8th place. 8th place means having to play on the road against a top team in the state, and would likely be a first round exit in the playoffs.