Keiara Curtis leads Bellarmine to big playoff win
On Tuesday night, Feb. 14, the Bellarmine Women's Basketball team hosted the Bethel Bison in the second round of the WIAA District 3&4 tournament. Because of their four point loss to Camas last Friday, the Lions are in the losers bracket of the tournament, but can still qualify for the State Tournament. As the 5 seed, they hosted their game against #12 seeded Bethel.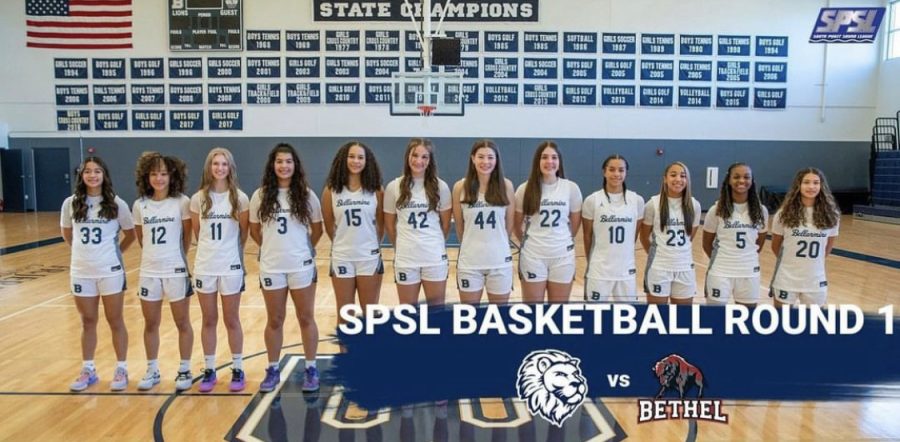 Bellarmine rolled with their starting five of senior center Taylor Teeple, junior guards Kiara Stone and Jada Travis, sophomore Guard Keiara Curtis and sophomore Center Stella Wiggins. The game started slow, but Bellarmine's speed and defense helped them take a lead halfway through the first quarter and never look back. At halftime, the Lions were up 34-21, with both Travis and Curtis having scored 11 points in the first half, and Stone right behind with 8 points of her own. All three guards were playing great and things were looking good. 
In the second half, star sophomore Keiara Curtis took over the game completely. The Lions went from a 36-23 lead to a 54-38 lead, with Curtis scoring 15 of their 18 points during that stretch. Most impressive was the way she was able to score, however; she wanted to literally control the game. She hit a three-pointer, followed it up with a mid range jumper, then a few seconds later intercepted a pass from Bethel and quickly scored with a layup. On the next possession she scored on a contested layup and added another point on a free-throw from a foul.
Bethel attempted to make a comeback by going on a small 5 point run, but Curtis and Stone followed them up by hitting back to back three-pointers to grow Bellarmine's lead to 16. It was jaw-dropping to watch Curtis find the basket from all over the court, mid-range, layups, stealing the ball, fast breaks, three-pointers, free throws. She was literally doing it all. 
Then with about five minutes left in the game, disaster struck Bellarmine's young star, as she went down with an ankle injury. Shocked looks fell over the crowd as she limped off the court to sit on the bench. After leading the Lions with 26 points, we can only hope that Keiara Curtis is going to be OK.
Fortunately, the team was able to close out the win without her, ultimately winning by a final of 62-44. Jada Travis scored 13, and Kiara Stone, with three 3-pointers, quietly scored 13 of her own. Senior Taylor Teeple also played a good game, dominating the paint and getting key rebounds for the Lions. She scored 8 points, including shooting an impressive 86% (6-7) from the free-throw line. Keira Leingang also finished with 2 points. 
The Lions will hope and pray that Keiara Curtis will be all right to play come this Friday, Feb. 17. Their offense runs through their guards, but more specifically, runs through her. It will be interesting to see how the team will look if Curtis does miss time. The Lions are already missing senior Gabi Miller, who is out for the season, which means it would likely be junior Keira Leingang who would join the starting lineup.
The offense would have to find more opportunities for Leingang, Teeple, and Wiggins to score by getting them the ball in the paint and not forgetting about them on offense. That would also stretch the Lions incredibly thin on the bench. Sophomores Saphia Lazrak and Teagan Ellington haven't played much this year, but would be expected to step up in the playoffs to give their team a chance when the starters need rest. 
The thoughts and prayers of the community should be felt for Keiara Curtis, wishing her a quick and successful recovery period. 
The win means the Lady Lions are now just one win away from qualifying for the state tournament. Meanwhile, Bethel has been eliminated from the postseason. The girls will play on Friday night at Bellarmine against the winner of today's game of #9 Union at #8 Decatur. Even if Bellarmine were to lose that game, they would have one last chance on Saturday to make state. Bellarmine is now 3-2 in the postseason after going 11-2 in league play this season.
Make sure you come out to support the team on Friday; this team is incredibly talented and exciting to watch.