Kiara Stone carries Lions to huge victory in state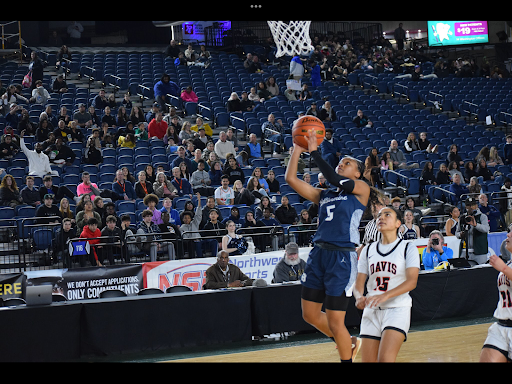 The Lions knew what they had to do. As the eleven-seed, the road to state was not supposed to be easy. Any opponent they have to face would be ranked higher. But that didn't affect Bellarmine.
-The Davis Pirates, a team that had lost just once all season, also understood the task at hand. They knew Bellarmine's strength this season had been shooting, and were prepared to do whatever they could to stop the Lions from shooting their way to a win. At the start of the game, you could tell the tension was high between both teams.
Bellarmine's starting lineup hit the court. Keiara Curtis, Jada Travis, Kiara Stone, Stella Wiggins, and Taylor Teeple. Immediately, the Lions jumped out to a 5-0 lead thanks to Stone, who hit a three-pointer early in the first quarter. Bellarmine controlled the game for the entirety of the first quarter, never trailing and building their lead to seven points. It was 18-11 when the quarter ended, and the Lions looked very strong.
In the second quarter, both teams started getting into foul trouble. Stella Wiggins and Taylor Teeple each reached three fouls by halftime, and in a cautious but smart coaching decision, the Lions opted to give more playing time to Keira Leingang, Saphia Lazrak, and the quickly improving freshman Jaela Jones in order to give their starters rest and keep them from fouling out of the fourth quarter. The second quarter wasn't the Lions best quarter, but they were able to find the basket enough times to keep their lead. At half it was 30-23 Lions.
In the third quarter the Lions encountered a brief scare when Kiara Stone, their leading scorer, went down with an apparent injury. The fans held their breaths as Stone limped off the court, but she returned after only a few minutes, and didn't look any worse. The fourth quarter began with the Lions holding a solid 50-38 lead, and hoping to close out the upset victory.
How they got to that point was extremely impressive. Bellarmine has been a team this year which has relied heavily on their ability to shoot three-pointers and from the mid-range. Their guard play this year has been incredible, particularly their shooting. Davis, however, guarded the three-point line extremely well, and forced the Lions to go into the paint and score via layups. In the first three quarters, only two three's had been made by Bellarmine, both coming courtesy of Stone, who was easily the best player on the court.
As the fourth quarter began, Davis started to find life. They went on a 7-0 run to open it up, and suddenly the Lions lead had slipped to 50-45. Davis continued to play close, and with three minutes left, Bellarmine was up 55-51. In a game in which Davis had never held the lead, it was suddenly looking like they could come back to win it. Kiara Stone said not today.
The first-team all league junior guard drained a huge three, her third of the game, to expand Bellarmine's lead to 58-51. It also brought her to 30 points on the game, an impressive feat. She then grabbed a steal and tried to drive back to the rim for a layup, but was fouled. An additional technical foul against Davis granted Stone four free-throws, and she did not miss a single one, effectively sealing the game. Now up 62-51, the Lions closed out the final two minutes, and walked away with a 63-53 victory.
Stone led the team with an incredible 34 points, over half the team's total. Keiara Curtis had a very quiet ten points of her own. Jada Travis scored five, all from free-throws. Bellarmine's centers also played very well, with Stella Wiggins scoring 6, Taylor Teeple scoring 5, and Keira Leingang with 3. They all rebounded extremely well, and played excellent defense. Teeple especially was a huge reason why the Lions were able to control the box so well with her defensive efforts, and Leingang played one of her best games off the bench, when the team needed her to perform as they were in foul trouble.
Fouls did play a big role in the game, but they ultimately helped Bellarmine more than hurt. Bellarmine wound up with 15 total team fouls, but nobody fouled out of the game, though a few came close. Davis on the other hand committed 18 total fouls, and Bellarmine cashed in on their opportunities. They shot a collective 20-27 (74%)  on free throws, highlighted by Stone who was 9-11 (82%).
Now the Lions move on to play Eastlake (#3) at 3:45 on Thursday, March 2, at the Dome. Bellarmine has actually played Eastlake already this year, and beat them 49-45, so the game should be extremely close. Eastlake is coming off a huge win against Sumner which locked them into the 3 seed, and should be ready for anything the Lions throw at them. However, if the Lions play as good as they were against Davis, and maybe mix in a few more three's, they will be extremely tough to beat. They are the lowest seeded team remaining in the State Quarterfinals, but they've beat multiple of the teams ahead of them this year, so don't count out the Lions.