Armand Brinlee and Hayden Sternod Place In State for Lions Wrestling
Ah, wrestling. The ancient art of two men battling it out in a contained area, wearing tight clothing and….well you get the point. It's a niche sport that can often be forgotten about, but according to captain Luke Connelly, wrestling is the greatest sport, because it combines individual elements of working hard and taking on challenging opponents with the team aspects of supporting each other in brotherhood and camaraderie. 
In early March, the Tacoma Dome, Bellarmine sent a pair of wrestlers to compete in the state tournament. Senior Armand Brinlee and sophomore Hayden Sternod, two of Bellarmine's standout athletes, both did very well in the tournament. Their journeys to get there have been very different.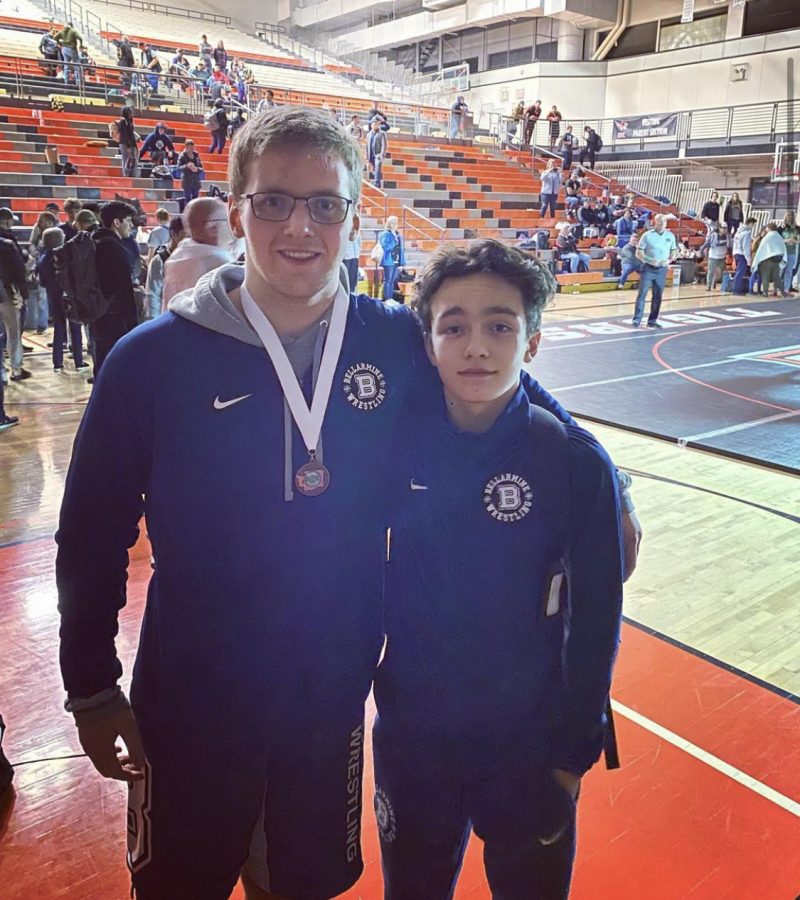 For Brinlee, it has been a constant goal of his life from a very young age. "I started wrestling when I was very young, you know, and my dad wanted me to start doing it but now I'm the reason I keep going. I'm motivated….I've been motivated." 
To those who know Brinlee, it's no surprise that he has made it this far. He was once known around the school as the freshman who would jump rope between classes and use grip strengtheners while the teachers lectured. He has made wrestling a very public part of his life, as he has chased his dream of winning the State Tournament, just as his father once won the Oregon State Title many years ago. 
Brinlee has been a varsity wrestler for four years, each year improving as he has gained experience. This year he was named a team captain along with fellow senior Luke Connelly, and he was determined to finally qualify for the state tournament at the Tacoma Dome. 
His season started off rocky, in a very difficult SPSL league, but Armand battled through setbacks and emerged as one of the top contenders for his weight class of 220 lbs. However, being on the lighter side of 220 (he usually weighed in around 205), Brinlee decided that for the final round of tournaments, he would drop down to the 195lb weight class to increase his odds of winning. 
In the district tournament, competitors need to place in the top 6 to move on to Regionals. Brinlee lost his first match, but battled back to place 5th, and earn himself a trip to Vancouver for the regional round. In regionals, the challenge was considerably harder. In a field of 8, he would need to place in the top 4 to move on to State. Armand found himself ranked as the 7 seed, meaning the road would be difficult. 
Brinlee lost the first match once again but pulled off a victory to move into a win-and-in match against a wrestler from Graham Kapowsin who was ranked 4th. The GK wrestler had defeated Brinlee by 9 points in the district tournament a week previously, but Armand didn't care. "I knew no matter what I was gonna have to go up against some freak, and I knew I had to beat him." Armand fought through two rounds and in the final round, he pinned his opponent. The huge upset victory earned him his first-ever trip to state. "I'm stoked to be there….whoever faces me is gonna get my all, I'm going all out," he said two days before the tournament. 
For the younger Hayden Sternod, the road to state has been much different. Sternod, who would have qualified last year as a freshman if not for an injury during districts, was one of the favorites in the SPSL to win in his weight class of 105 lbs. He placed 2nd at districts and followed it up by finishing 2nd again at regionals. 
"I like wrestling because it's fun, and I'm pretty good at it," Sternod said bluntly before the state tournament. He went into the tournament with high expectations. Unlike Armand, who was one of the lowest seeds in the 16-man bracket, Sternod was ranked as the 6th seed for his weight class. 
 The first day of the tournament went about as well as it could have for the Lions. Hayden won both of his matches and Brinlee, despite losing in his first match, won two straight upsets. This meant both Lions were headed to Day two of the tournament, and both were guaranteed to place in the top eight. 
Day two did not go as well for Brinlee, who was eliminated early on, but by all means, the tournament was a massive success. Brinlee was not even originally projected to qualify for state. He barely secured a place in regionals, but an incredible stretch of upsets delivered Armand an 8th-place finish, a huge success by any account. For Sternod, day two began with another victory. He found himself in the semifinals, and despite a loss, Hayden wound up finishing third place in state. If this was the Olympics, he would have been on the podium. This also makes Sternod Bellarmine's most successful winter athlete this year.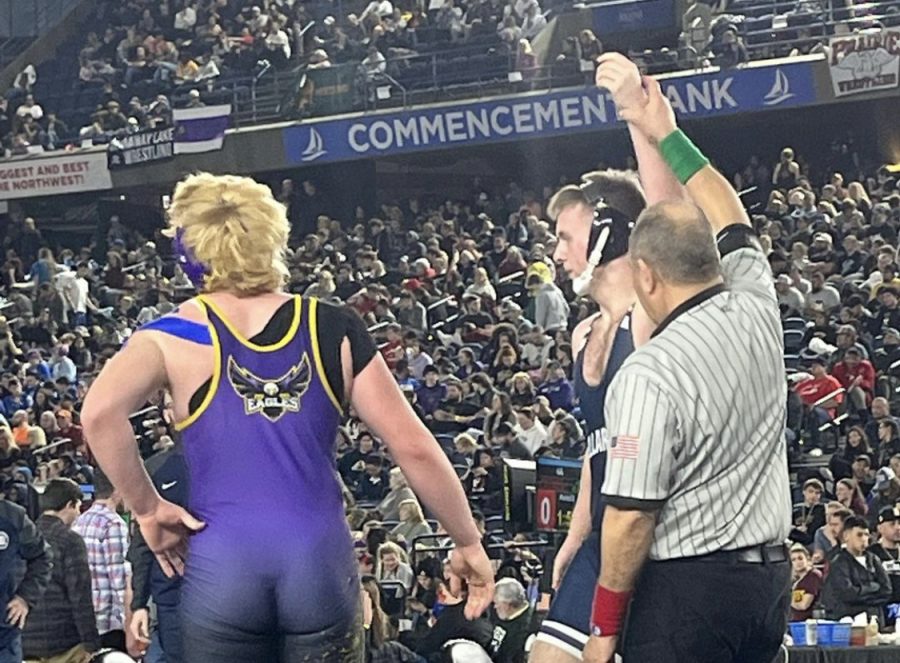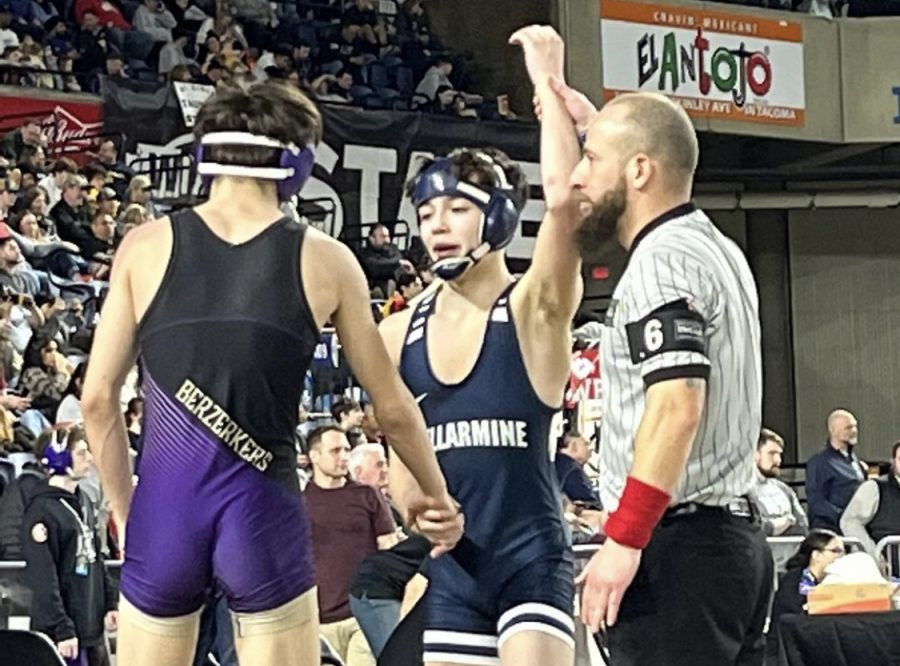 Both Lions outdid their expectations and placed higher than their seeding would have projected. Both had incredible seasons and should be celebrated for their successes. For Brinlee especially, a man who has devoted so much of his high school life practicing for this moment, it is an impressive feat. He plans to wrestle in college next year, likely somewhere in Oregon, and he will be missed as both a leader and an incredible person of great skill and humor next year.