Bellarmine loses SPSL opener to Emerald Ridge in pitchers' duel
On Tuesday, March 14, the Lions took on the Emerald Ridge Jaguars in a home game to open up SPSL play for the 2023 season. Both teams were coming off of losses over the weekend, and both teams went into the game prepared to throw their aces. 
For Bellarmine, that meant senior Drew Welk, committed to Bellevue College. Welk emerged as one of the best starting pitchers in the SPSL last year, and is the ace starter for the Lions this year. 
For the Jaguars, that meant WSU commit Nick Fazio. The 5-11 Junior is also a feared pitcher in the SPSL. He and Welk squared off in a pitchers matchup for the ages. Through the first three innings, the game was tied at 0 runs apiece. A wild pitch and passed ball allowed Emerald Ridge to finally get on the board in the 4th inning, taking advantage of a leadoff single to take a 1-0 lead, but the Lions answered back in the bottom of the 4th. Hayden Morrison knocked a base hit and advanced via a sacrifice bunt and a wild pitch, before scoring on a double steal.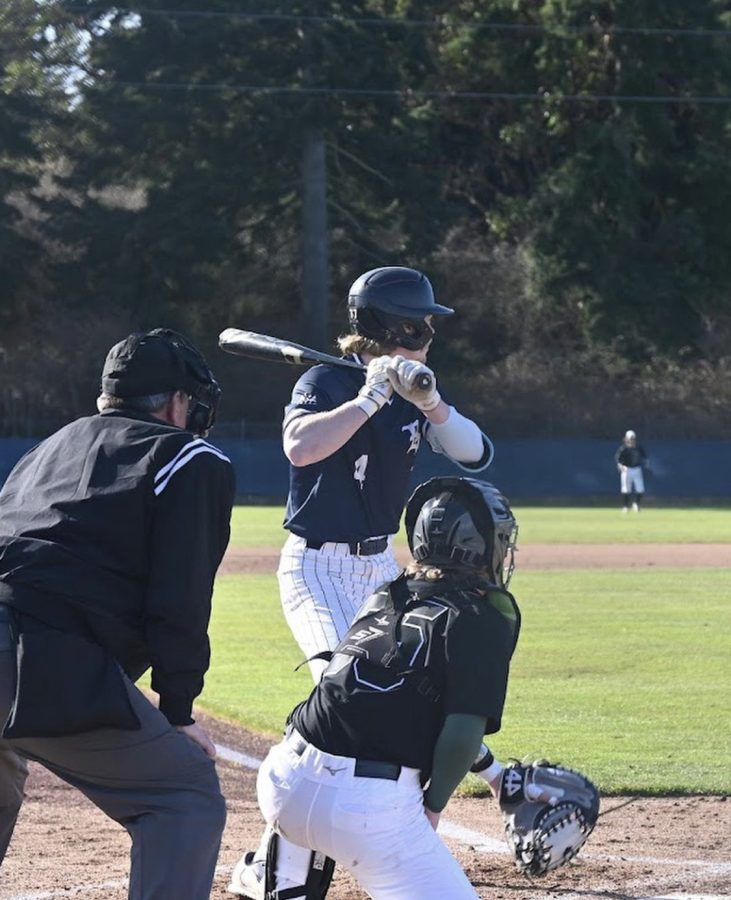 Welk threw a terrific 5 innings, allowing just two hits and one run while striking out five. However, in the sixth inning, it was Hayden Morrison who entered the game to replace him. Morrison started the inning with a walk and hit batter, and a sac bunt advanced the runners into scoring position. Still, it looked like Hayden might get out of the jam after a three-pitch strikeout for out #2. Unfortunately, the next two batters both drew walks, allowing Emerald Ridge to take a 2-1 lead.
That score remained headed into the bottom of the seventh inning. With Fazio still on the mound, and nearing 100 pitches, the Lions looked to take advantage. With two outs, Spencer Truebenbach singled and Raiden Calcote was hit by pitch. That brought up Nick Nino, who loaded the bases by reaching on an error. The Lions, down one, brought sophomore Dolan Wynne to the plate with the bases loaded and two outs. This is the type of moment players usually can only dream about. 
Unfortunately, this time around, Wynne and the Lions will have to keep dreaming. A deep fly ball to center field was caught for the final out of the game. The Jaguars snagged a 2-1 victory, a devastating defeat for a young Lions team that would have loved to start their season with a win. 
Top performers include Welk's 5 strikeout performance on the mound, and sophomore Spencer Truebenbach, who collected two of the Lions' three hits. For the Jaguars, this game was all about Fazio. He dominated the Lions the whole game, striking out 8 and allowing just one run on 3 hits and 4 walks.