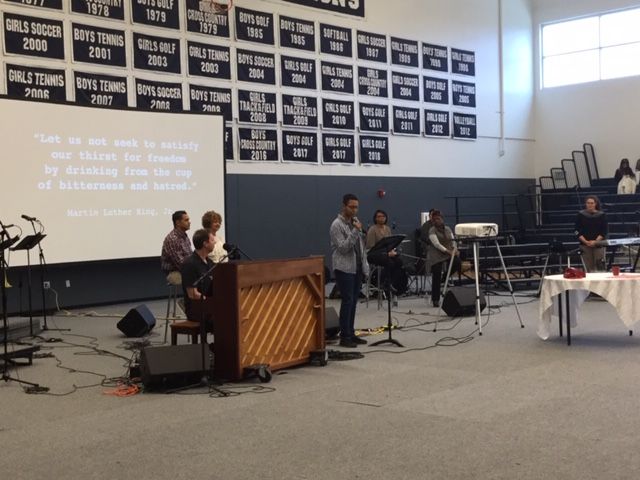 Julia Maher, Broadcast Team Member
March 15, 2019
On Jan. 17, the Bellarmine community held a Dr. Martin Luther King, Jr. assembly to encourage cross-cultural understanding, social justice and service, to form a global perspective in students, and to inspire everyone to stand up for truth, justice and righteousness. Alumnus Jay Kors B'81 underwrote the production company who engaged the audience in a multimedia presentation entitled "At the Table with Dr. King."
The assembly commenced with the moment that Dr. King felt called at his kitchen table. Although he heard an ugly, threatening voice, he also heard a voice within himself that motivated him to stand up for his beliefs. This epiphany sparked his reform.
Following this scene, the assembly commemorated many other revolutionary events in his life, such as his Letter from Birmingham Jail, "I Have A Dream" and "I Have Seen The Mountaintop" speeches, the March on Washington and Rally in Memphis and, later, his assassination. Throughout these scenes, the production immersed the audience in the experience through many songs, such as "At the Table," "This Little Light of Mine," "Lean On Me" and "Precious Lord, Take My Hand."
Gary Mayne, counselor, reflected on his experience playing music in the production. He said, "I have been fortunate in my musical career to perform all over the world, and having this musical literacy has allowed me to collaborate with people I can't actually talk with using words. Whenever I get to perform, especially in such important programs like 'At the Table with Dr. King,' I feel fulfilled and grateful for the opportunity." The production's emphasis on music universalized its message.
"At the Table with Dr. King" not only commemorated Dr. King's selfless service to our world but also focused on a central theme of solidarity. Toward the end of the production, a slideshow of different people and their callings was presented to the audience, while "Lean On Me" played in the background. This encouraged the Bellarmine community to support each other and acknowledge their connections, regardless of seeming differences.
The assembly ended with a quote by Dr. Martin Luther King, Jr., "We are all caught in an inextricable web of mutuality."
Maliyah Sek, senior, reflected on how this quote resonates with her. "That quote to me means we are all caught in the same system, even though we might agree or disagree we are in this big huge web of us being stuck together with no way out."
Currently, the importance of recognizing our solidarity and standing up for truth, justice and righteousness is greatly significant. Although we may differ on a surface level, we are unified fundamentally as humans. We all deserve a place at the table.