Despite COVID, Adopt a Family 2020 continues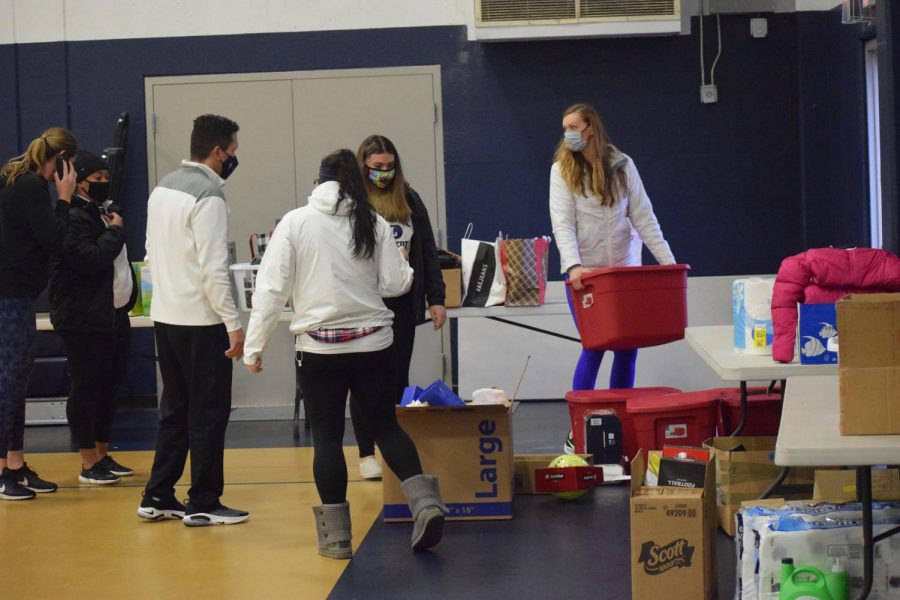 Despite this year's circumstances due to COVID-19 with social distancing and remote schooling, Bellarmine is still committed to giving back to the community through the annual Adopt a Family service event.
Each Ignatian Formation has contributed to the community using online tools to plan the annual service project that has become so important to the local community. Using online tools, students signed up to collect household necessities, groceries and gifts for sponsored family members.
In early December, students dropped off their donations at Bellarmine. The Ignatian Formation teachers and volunteers collaborated for a drop off that minimized exposure in the current pandemic environment. The donations will reach the families in need just in time before Christmas.
Although the many aspects of the service event that allow students to grow relationships with their peers are missing this year because students are not physically together, they are still aware of their blessings, and the sense of giving back is still much apparent.
Religion teacher Rick Keller-Scholz shares his thoughts. "This year is different of course, but I believe the same things are happening in those families who will be receiving our school's gifts this time. Dignity. Compassion. Blessings beyond what we can imagine," said Keller-Scholz.
The students bring a sense of dignity to the struggling families by keeping a strong and steadfast commitment with the new innovative processes so Bellarmine can continue the Adopt a Family ministry during the pandemic.
For many students, such as freshmen and new students at Bellarmine, it is their first time experiencing Adopt a Family.
Junior transfer student Jack Opitz shares his new experience with the service project, "As I am an incoming transfer, I did not have the chance to participate in Adopt a Family my freshman and sophomore years of high school. It is also not something we did at my old school. Having the opportunity to experience this, although virtually is still very impactful for me. I am very glad I get to help make a positive impact in someone else's life during these hard times," said Opitz.
Although this year is different from past years, the service event displays Bellarmine commitment to giving back to the community.
Math teacher and football coach Tom Larsen,who has been involved with the Adopt a Family project for 25 years, expresses his thoughts on the importance of this year's project, "The impact of the pandemic has overwhelmed so many families that I know what we do this year for Adopt-a-Family can only help provide some much needed hope. It will not solve all the difficulties that families are facing, but hopefully it will share some much needed joy," said Larsen.
For long-standing teachers like Larsen, this year's 2020 Adopt a Family will be very memorable and very different from past and years to come.
Despite the tradition of wrapping the donations together as a class and not getting to do the group deliveries, the spirit of service is still very much alive in the Bellarmine community this 2020 holiday season.