2022 Midterms: Some thoughts on a few elections
Kari Lake – Candidate for Governor, Arizona (AZ)
Even more so than Blake Masters, Arizona's GOP senate candidate, Kari Lake has run on a platform explicitly centered on election denialism and a staunch allegiance to former President Donald Trump. Her insistence on the election having been stolen has played a large role in her persona as a candidate and is evident in at least one such occasion when she appeared in front of an audience of reporters and rattled off a variety of isolated instances of alleged voter fraud as evidence for a nationwide Democrat conspiracy to steal 2020.
Lake has argued that voting should be limited to a single day, Election Day, based on a strict constructionist interpretation of that section of the constitution, saying "Going back to when I first started voting back in the '80s, we had Election Day. Our Constitution says Election Day. It doesn't say election season, election month … And the longer you drag that out, the more fraught with problems there are." When asked if she will concede if she loses the election to Katie Hobbs, she replied, "I'm going to win the election and I will accept that result." This does raise questions about whether or not she plans to concede peacefully if Hobbs comes out on top.
In fact, Lake, Masters, and the Republican National Committee (RNC) are involved in a lawsuit with Maricopa County, Arizona for "hiccups" over voting machines, requesting that the voting machines be open until 10 p.m. on Nov. 8, Election Day; however, Lake tweeted the following day on November 9: "🚨 ELECTION UPDATE 🚨 Brand New ELECTION DAY vote of 55,000 ballots from Maricopa County is HUGE for Kari Lake Kari Lake – 70.6% Katie Hobbs – 29.4% We got this, Arizona!"
Lake's promises to improve Arizona as governor in a variety of ways. Similarly to Masters, who hinged a large portion of his campaign on border security, Lake has said that she would declare an "invasion" at the border on day one. Legal action to do so may be unfounded, because it rests on the idea that the state has the power to prevent an invasion if the government has been unable to do so. Lake would end previous Governor Doug Ducey's busing of certain asylum seekers to Washington D.C.. In the realm of education, Lake advocates for a dual credit program in high schools, has supported restricting cities from taxing groceries and rent payments. Lake does not plan to impose a more restrictive abortion ban.
As of today, Lake has closed in her lead on Katie Hobbs, trailing only 1% behind her opponent with 93% of the race called.
Blake Masters – Candidate for Senator, Arizona (AZ)
The protégé of tech entrepreneur and investor Peter Thiel of Thiel Capital and Thiel Foundation, Blake Masters ran an aggressive campaign against Mark Kelly, standing in front of an audience on November 7 and yelling that he and his supporters are going to "send Mark Kelly back to space." Despite the passionate efforts, Kelly managed to secure reelection although Masters' platform is still worthy of analysis.
Both Thiel and Masters have expressed libertarian leanings in the past, but ultimately aligned themselves with the Republican Party. In his teenage years, Masters was a contributor to the paleolibertarian website lewrockwell.com, a website named after anarcho-capitalist theorist Lew Rockwell, and promoted isolationist foreign policy, an incredibly limited if not nonexistent federal bureaucracy, and supported unrestricted immigration, which is basically the polar opposite of his stance today, making border security a top priority.
Masters' campaign focuses around three primary points: pro-Trump, clamping down on the southern border, and painting Mark Kelly's Joe Biden's biggest ally.
In terms of election denialism, Trump cautioned Masters on letting up on election denialism claims, saying, "Look at Kari. Kari's winning with very little money. And if they say, 'How is your family?' she says the election was rigged and stolen. You'll lose if you go soft. You're going to lose that base."
Masters' website is interesting for a variety of reasons. Obviously, he styles himself as an incredibly pro-Trump candidate, calling himself "Arizona's true MAGA candidate" and listing out his policies in a series of three articles entitled "Make America Safe Again," "Make America Prosperous Again," and "Make America Free Again." Perhaps unsurprisingly, Donald Trump praised Masters, saying, "Blake Masters is a terrific guy. Competent, smart. In politics you either have it or you don't – and Blake has it. He has my complete and total endorsement!"
Despite running an exciting campaign, Mark Kelly managed to squeeze by with a relatively narrow victory of 5.3% of the votes with 93% reporting; however, Masters's platform sheds light on a fascinating trend among Republicans' campaigns this midterms. Like Lake and JD Vance, who won in Ohio, Masters's image was staunchly pro-Trump.
John Fetterman – Senator Elect, Pennsylvania (PA)
Beating out Mehmet Oz, who is better known as Dr. Oz, John Fetterman ran on an explicitly working class platform. While some have criticized the Democratic Party as an elitist entity that stands only for well-educated and upper-middle class to upper class liberals, Fetterman managed to capitalize on the need for a candidate who is "man of the people," winning by a margin of less than 5%.
Presenting himself as a "different kind of Democrat," Fetterman appeared in many campaign speeches as well as his victory speech in a sweatshirt instead of the usual suit and tie. Although elected as Lieutenant Governor, Fetterman chose not to reside in the Lieutenant Governor's Mansion, instead choosing to live in a restored car dealership and opening up the pool of the Lieutenant Governor's Mansion to children.
Serving previously as the mayor of Braddock, Fetterman tattooed the dates of nine people who died violently in his city on his arm. When it comes to policy, Fetterman most aligns with "progressive" politics including "cut[ting] taxes for working people" and prohibiting Congresspeople from trading stocks during their tenures in Washington. Unlike Lake and Masters, Fetterman lists crime lower on his list of issues, at least on his website. Instead, Fetterman focuses on issues such as "Keeping Our Promise to Veterans," "Guaranteeing Health Care," "Legalizing Cannabis," "Investing in Rural Communities," and "Securing LGBTQIA+ Rights."
As the midterms continue to shift the political make-up of the United States of America, it is clear that polarization has become a major feature of modern American politics.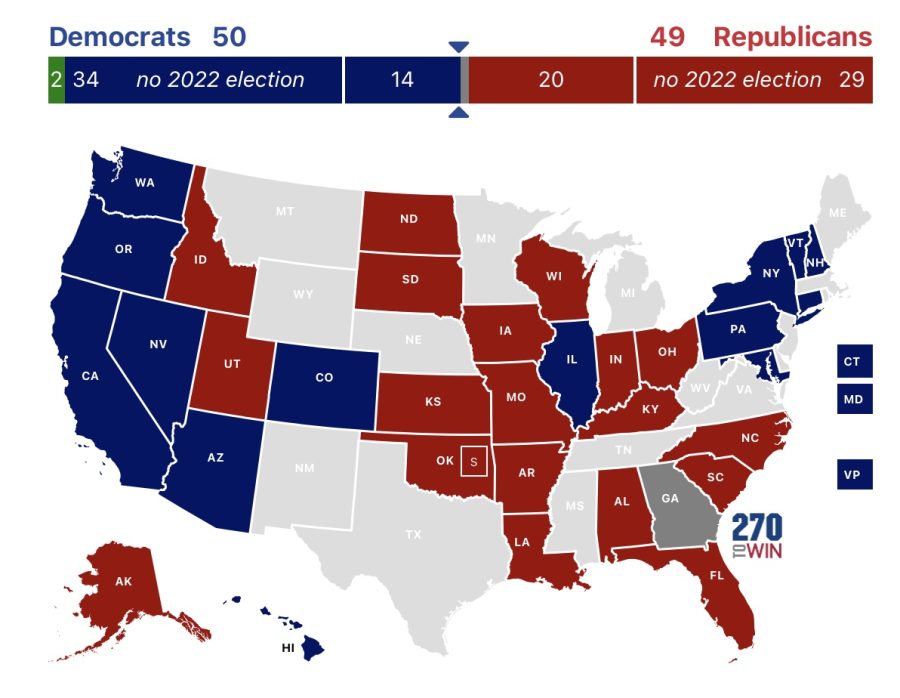 Sources:
https://people.com/politics/john-fetterman-reveals-the-story-behind-his-tattoos-after-tucker-carlson-called-them-fake/
https://www.usatoday.com/videos/news/nation/2022/11/09/gops-kari-lake-slams-az-polling-issues/8312400001/
https://www.theguardian.com/us-news/2022/nov/02/trump-playbook-us-midterms-republicans-election-denial