Class of 2024 tours the campus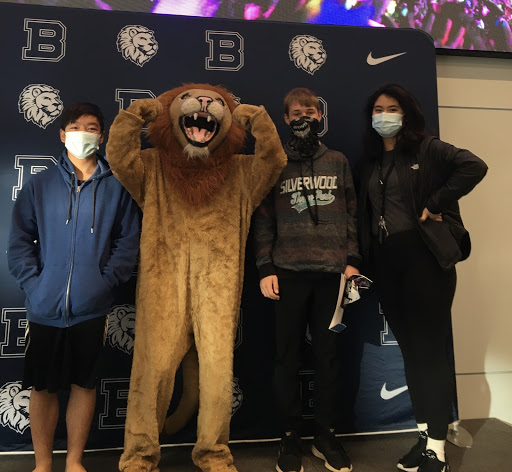 Bellarmine has a history of prioritizing new students' transitions into high school. With events such as Experience Bellarmine Days and Open House as well as groups like Link Crew, Lion Outreach Team and Breakaway Crew, Bellarmine ensures that all freshmen feel welcomed.
Unfortunately, this year COVID has put a damper on many of our regular welcome traditions. However, on two Fridays, Oct. 23 and Oct. 30, Bellarmine freshmen were finally able to visit our school up on the hill. Student volunteers from Team 24 (a combination of Breakaway and Link Crew) were also able to join the freshmen in their allotted times.
Social studies and Team 24 instructor, Jim Dempsey, remarked, "We had some kids who had never been to campus before. We wanted to provide them with a level of comfort in the school before any in-person learning."
This was a crucial opportunity for freshmen to see their classrooms and get to know the school as well as each other.
Bellarmine faculty enforced COVID safety measures such as hand sanitizer, Bellarmine spirit masks and social distancing. Even down to the separate whiteboard markers they provided, the planning was impeccable. This event allowed for all of the class of 2024 freshmen to come visit the school in just two days. The times were spread out, classrooms were used only by groups of six or less and masks were on at all times.
Despite all of these measures reminding us of the existence of COVID, the Bellarmine spirit was alive. It was rejuvenating to see new and old faces and truly feel at home again on the hill. The freshmen were troopers in following all of the guidelines and it made for a fun time with various activities such as filming six feet apart Tik Toks and taking a grand tour that featured our newly named Bellarmine Hall (previously the A- Building).
If anything, this event just restored some Lion spirit and reminded students and faculty that we are always stronger together. Take care of yourself and your friends, stay healthy and hopefully we'll all see each other soon on the hill! Go Lions!