Sporadic Support for Sacred Hour
Hang on for a minute...we're trying to find some more stories you might like.
The start of a new school year brings about many changes. New teachers, new facilities and the main issue for students, the implementation of Sacred Hour program. In an email to students, Jessica Achziger, administrative assistant, explains how students are invited to participate in Sacred Hour, during weekly liturgy community period and all use of electronics will not be permitted. Students are continually encouraged to attend mass, and those who chose not to will "unplug" and instead of using their iPads are given an opportunity for spiritual reflection. It is described as an opportunity to "quiet the mind and allow the Holy Spirit to work in silence."
There has been a substantial amount of controversy and lack of student support around this new program. Senior Sydney Lenoch expresses her opposition to it: "Honestly, I don't get it because I don't think it says 'technology isn't sacred' anywhere in Catholic teaching. Show me the Bible verse that says ,'Thou shall not go on thy iPad.'" From Lenoch's perspective, Sacred Hour doesn't seem to be backed by any teaching.
Senior John DeVita also expressed his frustration: "I think it is counter productive and they can't force kids to go to church. So much of our school work is on our iPads and it prevents us from doing work. Not everyone is Catholic and values the reflection time. It just makes me not want to go to mass more." DeVita's comments reflect what seems like a contradictory system Bellarmine is promoting by encouraging iPad use for class and homework, but forbids use during a period seen by students as a study hall.
Bellarmine freshmen express different opinions on the issue. As newbies to Bellarmine, they are just beginning to realize the value that many see of a study hall during community period. Freshman Evan Baerg expresses his support of student mass attendance. "It's always fun going to mass with your friends. I think that if iPads are used responsibly then they should be allowed, but because there is the possibility of abuse, they are not always the best idea. Students should also take time to reflect."
Freshman Andrea Johnson understands the school's intention, but sympathizes with students. "CP is a good time to get homework done. But, I also understand why the school is doing it. However, it could be difficult for kids not brought up in the Catholic tradition."
On Oct. 2, a link to a Care2 petition site was passed around the school. A student under the name "Mike H." appears to be the creator of a petition titled "Studies Over Sacred Hour," advocating for the end of Sacred Hour. As of the afternoon of Oct. 3, the petition had close to 100 signatories.
One signer of the petition, junior, Rachel Garman points how these Bellarmine polices contradict themselves. "How can the school expect students to be able to focus on their learning if they are forbidden to use the one tool that the school requires they use? Sacred Hour is not only unproductive and contradictory, it is discriminatory by forcing those students who are not Catholic to be punished for not attending a non-mandatory mass."
Senior Allie Smith also holds a critical view of the program: "I attend mass routinely so it doesn't affect me, but I still don't like it. I have always liked how Bellarmine provides the choice of going to mass and the inclusion of non-Catholic students, and although this may not be the intent, it comes across as a passive aggressive way to encourage mass attendance. I disliked the way the policy was worded and was very exclusive to non-religious students. It is very aggressive and frankly not fair and there are better ways to go about Sacred Hour and carry it out."
Many students seemed puzzled about why the school would choose to implement Sacred Hour. Principal Cindy Davis and Father Tom Lamanna, S. J., in conjunction with Dean of Students Kevin Meines, decided to bring Sacred Hour to Bellarmine, inspired by the success of similar programs at other Jesuit high schools, like Jesuit and Gonzaga Prep.
In an interview with Davis, she explained how the decision to bring Sacred Hour to Bellarmine was a decision that they made rather soon before the start of school, and implemented it first, and then would evaluate. She explained how the roots of Sacred Hour trace back the foundation of Jesuit curriculum, under the Ignatian Pedagogical Paradigm (IPP).
Davis explains what kind of foundation the IPP creates for learning at Bellarmine: "The IPP invites student into experience followed by reflection, to draw students into a deeper understanding. We apply this to all classes at Bellarmine, and through Sacred Hour, seek to implement this in Community Period. We believe that students are overloaded with too much information through their use of technology. Sacred Hour provides an opportunity to unplug and recharge, and most importantly for reflection. The purpose of Sacred Hour is not to encourage mass attendance or us trying to say that technology isn't valuable."
She further explained how students have become very reliant on technology and students should know how to learn and work independently of it. Davis sympathizes with student opinion on it and welcomes feedback, "We need to evaluate what the pitfalls are."
English department chair, Dan O'Connor, expressed his sympathies for both students and administration. "I think the idea that during mass students should have time to unplug is good, but I understand students want to use their iPads to do homework as well. If we are going to allow students to do their homework, what is the difference between on or off the iPad?"
Because of the vastly different views that students and administrators hold toward Sacred Hour, many hope that a compromise or solution that would appease both parties is on the horizon.
The school's technology department assured reporters that one solution may be to temporarily turn off bps2, the wi-fi network exclusively for students. This way students would still have access to any iBooks, documents, notes, etc, but would not receive any "push" notifications or messaging services. Students would not be able to access Moodle or Showbie, but a little planning ahead would behoove them. Teachers and faculty, who use a different wi-fi network, would still have access in case of emergencies, but Davis explained how all Bellarmine faculty and staff, even teachers who do not have Community Periods are highly encouraged to participate in Sacred Hour, to set an example for students. The tech department explained how turning off the wi-fi for the duration of mass would be an easy feat, as would turning it back on after mass, practically with the flick of a switch.
Sacred Hour, like it or not, appears to be here to stay, but not without student input. In fact, Dean of Students Kevin Meines welcomes input, but wants to remind students that Community Period is not designed as a study hall, but, rather, was created for community building.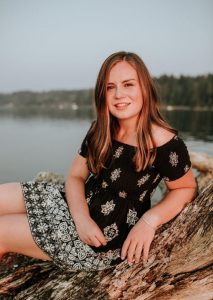 Cristina Shaffer, Online Editor
Cristina Shaffer, senior and editor of BellarmineLion.com, is excited for another year of Bellarmine Lion Journalism! Besides covering breaking news and...